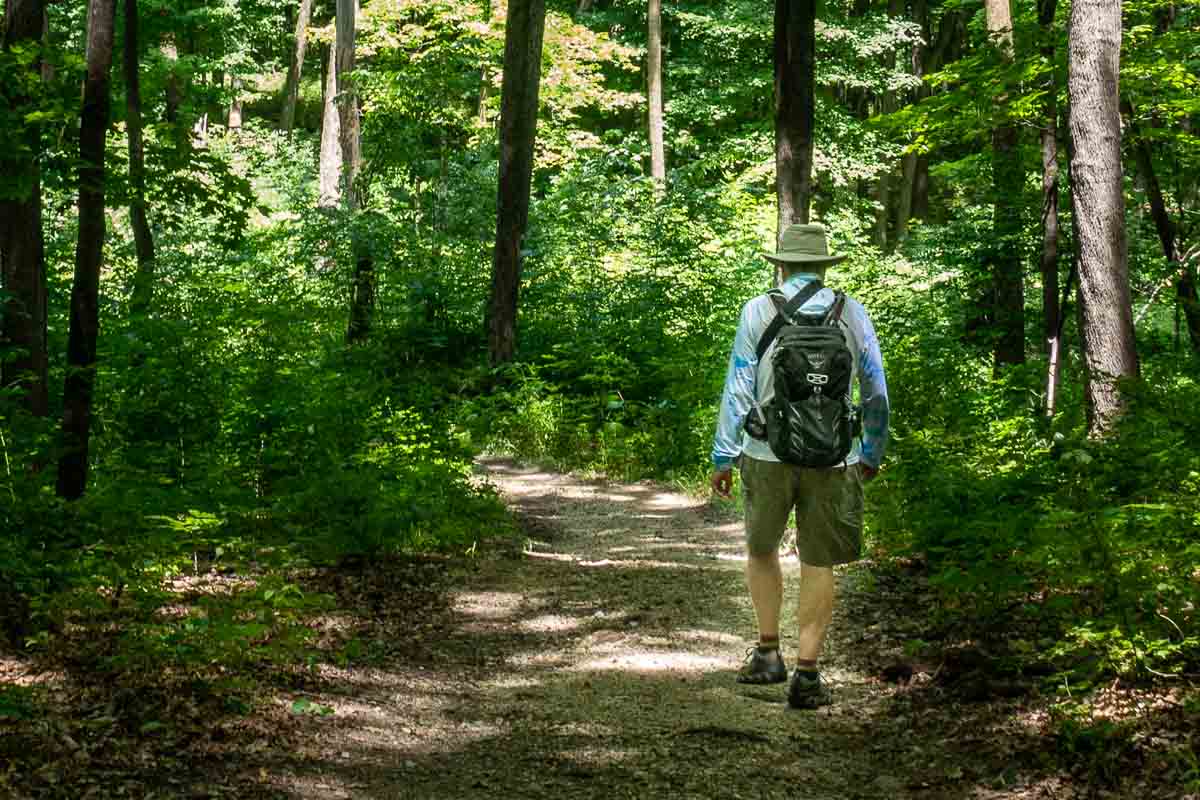 We do a lot of day hiking. We've done it pretty much all over the world: Minnesota (where we live), France, Spain, Guatemala, Tasmania, and Cambodia, to name a few. Over those years and miles, we've gotten pretty good at knowing what we should carry – and what we can leave behind. And that's the real key to day hiking: have everything you need; don't carry any weight you don't have to; and be ready if something doesn't go exactly according to plan.
So, this list will be comprehensive, and prepare you in case you're hiking somewhat far from civilization – and where you parked your car. There, you're going to need to be more self-sufficient. Obviously, there are some things you can leave behind if you're hiking in more urban environments, where you're not far from help if you need it.
Some posts on MN Trips may contain affiliate links. If you buy something through one of those links, we may earn a small commission. As an Amazon associate, we earn from qualifying purchases.
So, let's get started on the list.
Note: some of the links on this page may be affiliate advertising links. That means if you buy through one of those links, MNTrips may receive a small commission at no extra cost to you.
What is the best hiking day pack?
The answer to that depends on your own preferences, but here are the packs for day hikes that we carry.
The best hiking day pack for men
Tom carries the Osprey Talon 22. The 22-liter size is plenty to carry all the gear you need, and leaves plenty of room for extra clothing such as a warmth layer and rain jacket should the need arise.
Here is why we think the Osprey Talon 22 is the best choice for a men's day pack. It's very light. The small/medium version weighs 1.9 lbs (0.94 kg) and holds 20 liters. The large/XL version weighs just a little over 2.3 lbs (1.06 kg) and gives you the full 22 liters. Note, it's a great advantage that these packs come in sizes. Choose the one that fits your torso.
The pack is organized to carry what you need and give easy access to the things you're likely to want along the trail. First there is a separate top pocket that you can open without opening the main compartment. That's where I put my Buff gator, my phone, a lighter, and my energy bar snacks. I also put my headlamp and extra batteries in there.
The Osprey Talon also has my favorite feature: small pockets on both sides of the waist belt. That's where I keep my pocket knife, lip balm, insect repellent, and a small pack of tissues. Those make it so easy to get to things without taking off the pack.
On the outside, The Talon has clever elastic ties and two outside mesh pockets on the sides that come in handy for stashing your trekking poles, a water bottle, and whatever else you want to keep extra handy. There's also a larger center mesh pocket, which is where I usually stash my sunglasses case, sunscreen, and my trail map.
In the main compartment, there is a mesh interior pocket for the smaller stuff, like your compass. That's also where I put my wallet and keys when I'm hiking.
In the large main compartment, the Talon 22 easily carries all the stuff we list below with room left for a rain jacket or extra warm shirt for layering – or for stuffing in a few extras for an impromptu overnight trip. Note: you also might want to get a rain cover for your pack, just in case there's something in there that would suffer from being wet. The pack itself is probably somewhat water resistant, but I'd want to be sure in case you get caught in a downpour.
Finally, there's a separate compartment for a hydration bladder. There's plenty of debate about whether to carry a bladder or a water bottle. But I carry a bladder for one reason: it's easy to take a drink by bringing the tube up to your mouth, as opposed to reaching behind you into a side pocket for your water bottle, and then struggling to put it pack in its pocket. Sometimes, to avoid that hassle, I've been known to just skip the sip of water. Avoid dehydration. Make drinking your water as easy as possible.
The best hiking day pack for women
Kris uses the Osprey Skimmer 20, which is slightly smaller, and lighter than the Talon, and is sized for a petite woman.
It has most of the same features as the Talon, but is a bit smaller and lighter – 1.37 lbs (0.62 kg.) And, the Skimmer has one big advantage: the hydration bladder is included in the price, which will save you about $70 over the price of the Talon and separate bladder.
Like the Talon, the Skimmer has a separate top pocket, a small interior pocket, and exterior side pockets. The only thing it's missing is the large exterior center pocket and the pockets on the waist belt. What all that means is you might have to swing the pack off and do a little more digging around to find what you need. Not a bad trade to save $70, probably.
Buy the Skimmer 20 from Osprey
Buy the Osprey Skimmer 20 on Amazon
The essentials for your day hiking pack
Water
As I said above, I'm a fan of the hydration bladder. The other big benefit of the bladder is that it holds up to three liters of water. You can fill it all the way up if you think you're going to need it, or part way for a shorter hike. Aside from the weight (a liter of water weighs one kg, or 2.2 lbs) it certainly is better to have too much water than to run out half way through your hike.
I use the Osprey 3-liter hydration bladder. I like the ease of filling it with its wide mouth, and when I get home, I like that I can just hang it upside down, and put the plastic slide closure device into the mouth to hold it open so it can dry out. Another feature I like is the magnet on the tube near the mouth piece, which sticks to a corresponding steel ring on the pack's chest strap. Consequently, the bite valve is always near your mouth, not flopping around as you walk.
If 3 liters is more than you need, the bladders also come in 2.5, 2, and 1.5 liter sizes.
Buy the 3L bladder from Osprey
Buy the Osprey bladder on Amazon
The compass
You may debate whether you need a compass. And, honestly, if you're mostly sticking to urban and other well-marked hikes, you probably don't. But, as they say, better safe than sorry. Of course, a compass doesn't really do you much good unless you know how to use it. I'd highly recommend, before venturing into slightly more wild areas, that you take the excellent orienteering course offered by your local outfitter, orienteering club, or REI.
A compass, even if you don't use necessarily use it to orient yourself is kind of fun. If you have a good topo map, and know how to orienteer, it can be a lifesaver.
The headlamp or flashlight
I prefer a headlamp for ease of use, and for keeping your hands free. It's especially important if you're using hiking poles. But I also have a serious flashlight which throws a very strong beam. I actually usually carry both, because, well, if you need light, it's better to have a lot. Be sure to bring extra batteries.
Technology has advanced a lot since I bought my last headlamp, so I haven't personally tried the Black Diamond Spot 400 one linked here. But The Wirecutter, my favorite product review site, gives it its highest rating, so that's good for me. Kris has a Black Diamond headlamp – although not this exact model – and likes it a lot.
For a lighter and smaller alternative to a headlamp, consider the Fenix E05R rechargeable flashlight. It's about the size of your little finger, weighs less than one ounce (25 grams) and packs a 400 lumen punch. I like that it's small enough to fit in the belt pocket of the pack, too. And, of course, it's also convenient just to attach it to your everyday key ring. Be sure it's charged before you take it on a hike.
Buy the headlamp at Black Diamond
Pen with duct tape and writing pad
I wrap a couple yards of duct tape around a pen I picked up in a hotel somewhere. You don't have to carry an entire roll. This has come in handy more than once – like when you catch your pack on some barbed wire and rip it. And, you can use the pen and pad to take notes on interesting things you see on the trail.
Sun protection: sunglasses
Your sunglasses are a personal choice. (In my case, they're prescription.) If you're buying some, get good ones. Your eyes are precious. I carry my sunglasses in a Nite Ize rugged glasses case. It is rugged.
Buy the glasses case on Amazon
Sun protection: sunscreen
Again, sunscreen is a personal preference. You can get it anywhere. Just be sure you use it, especially on your face, neck, and ears.
Sun protection: a good hat
A good hat that shades your face, ears, and neck is an essential part of your sun protection scheme. I've had my Tilley Air Flow hat for about 15 years now and it still looks as good as new. I've hiked over 1000 miles in the hat. It's washable, fairly cool, and has strings that tie on both front and back to make sure it doesn't blow off in the wind. One feature I particularly like is you can just dip it in water, wring it out, and wear it. Very cool.
Also, when it gets dirty or sweaty, you can hand wash it in mild soap, or even toss it in the washing machine on delicate cycle.
Sun protection: sun-protective clothes
The Mobile Cooling shirt by Fieldsheer is simply a marvelous solution to two problems on the trail, sun and heat. First, it can cover you from head to waist completely as it has both a gaiter for your face and neck, and, if you like, a light hood you can also pull up to cover your head. With SPF factor of 50, that provides plenty of sun protection. Often, if the sun is particularly strong, I put the hood up and put my hat on over it to shade my face. Also, the shirt wicks away perspiration and then any breeze that you get will add tremendously to the evaporative cooling effect. I've worn it both hiking and biking nearly every day since I got it.
Rain jacket
You can spend a lot or a little on a rain jacket. My best advice is to go to REI or your local outfitter and try them on and talk to the REI sales consultants (they are always very good, I've found.) And just pick one you like. There are plenty of good brands. I currently have a very old Columbia jacket that has served me well, and I just bought a Patagonia rain jacket that has already taken over as my favorite.
Extra pair of socks
I always carry an extra pair of socks in my pack. Wet feet on the trail are a real pain, and can lead to blisters. So, if you trudge through a puddle or wet grass, you've got backup. Also, I've got into the habit of taking a break halfway through a long hike and drying my sweaty feet, applying foot powder, and changing my socks. Lately I've been partial to Farm to Feet socks. They are well padded, which is nice when you're hiking on mixed terrain. And, they're mostly wool, so they wick away moisture, helping to keep your feet dry in the first place.
A knife or multitool
The Swiss Army knife I carry is more utilitarian for the outdoors than the usual suspects. First, it's the knife the Swiss Army actually carries. And it has a very strong serrated blade. And a saw. No corkscrew though. If you're lugging wine with you on your hike, I recommend the stuff with screw tops.
If you're into camping, you might want a little more robust tool, like the Leatherman Signal, which is specifically designed more for camping (it has a hammer for your tent stakes.) The Signal also has a few other things such as a whistle, knife sharpener, and fire starting kit. Still no corkscrew, though.
Buy the Swiss Army knife on Amazon
Buy the Leatherman Signal on Amazon
Buy the Leatherman Signal at REI
A lighter
Pick up a cheap lighter at the counter in any gas station. You'll probably never use it, but should you need to start a fire, it's a lot easier than rubbing two sticks together.
Insect repellent
When it comes to bug repellent I go for the strong stuff – 100 percent DEET. Some don't like it, but my experience is that it works. And, I'm one of those people that mosquitos seem to love.
Whistle
I have a Fox sports official whistle left over from my younger days as a soccer referee. The Fox whistle is loud. And, if you're lost or separated from your companions, you want loud.
Trowel and wipes
We always carry these Combat wipes and a trowel and practice the "Leave no Trace" philosophy. This trowel is a good one as it will cut through small roots and get through hard packed soil. And the Combat Wipes are biodegradable, so you can bury them, too. As they say, when you gotta go, you gotta go.
Trekking poles
I don't skimp on hiking poles. When you are going for distance, weight matters. And these Black Diamond sticks are ultra light and strong. They are expensive perhaps, and there are certainly cheaper alternatives. But, when you hike as much as we do, why not? Be sure you buy the length that's right for you. They come in shorter versions for women.
Here's my favorite tip for using trekking poles. If you're on a long descent, stop and lengthen your poles. That makes it much easier to brace yourself as you're going down.
Buy Black Diamond poles at REI
Buy Black Diamond poles on Amazon
First Aid kit
You can make up your own day hiking first aid kit, or buy a light weight one that has the essentials. As for essentials, that's several Bandaids, a larger bandage or two, adhesive tape, tweezers for splinters, ibuprofen, alcohol wipes, sterile gloves, antibiotic cream, and antihistamine or cortisone ointment for insect bites.
Optional gear
If you're going to be hiking in any areas where there is a chance you might be lost, have to stay after dark, or otherwise might be in peril, consider carrying these two items. Just in case.
A personal locator beacon
A personal locator beacon is an expensive tool, but, obviously, if you're lost in some wilderness, it could be a life saver. The deluxe models are a combination satellite phone and beacon that can tell rescuers exactly where you are. If you are hiking in deep wilderness, give one of these every consideration. Also be aware that these devices usually require a service subscription.
Buy a locator beacon on Amazon
Emergency bivy
Luckily, I've never had to use this emergency bivy, but I do carry it in my pack. It's basically a very light bag/blanket made of high-tech insulating material that will retain your body heat if you have to stay out over night. It only weighs a few ounces, so I carry mine all the time.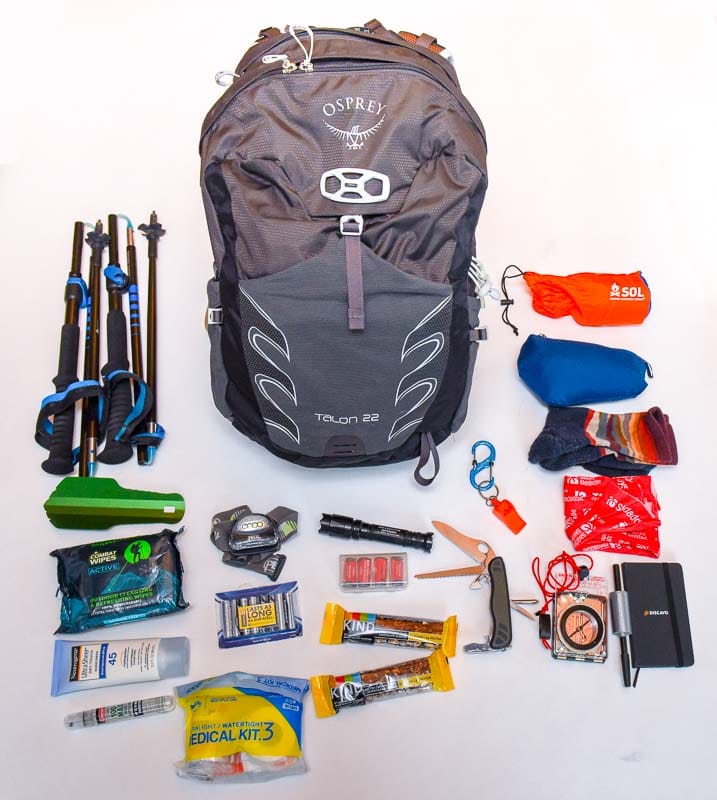 You can see all the products in our hiking day pack in one place at our Amazon shop.
(Note: this is an update to a post originally published in June 2021.)
More info from MNTrips
See the list of all Minnesota State Parks, including basic permit information. We also have a list of all Minnesota Historical Society sites. We're adding our commentary for the park and historical sites as we visit them.
When you plan on hiking or biking the Minnesota State Parks, be sure to download the Avenza Maps app to your phone. The app allows you to download the trail maps for almost every state park, and they are invaluable for navigation, especially because many of the parks don't have as many directional signs as they should.
Also, if you're planning on camping at Minnesota State Parks, you'll need a reservation. Here's the online reservation form.
Some of the links on this page may be affiliate links, which means we may receive a small commission if purchases are made through those links. This adds no cost to our readers and helps us keep our site up and running. Our reputation is our most important asset, which is why we only provide completely honest and unbiased recommendations.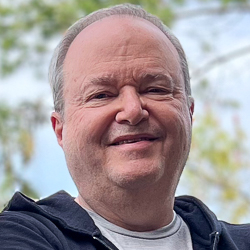 Latest posts by Tom Bartel
(see all)