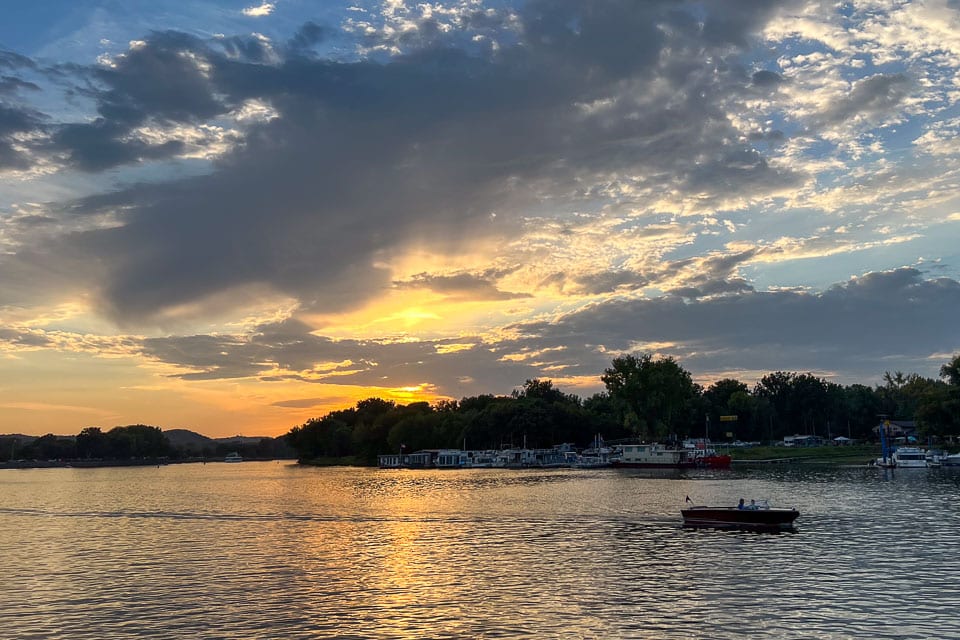 Red Wing, Minnesota, makes a pleasant weekend getaway from the Twin Cities. In just over an hour drive, you're transported to a small historic river town where it's perfectly acceptable to slow down and enjoy the scenery.
True to its geographic location on the banks of the Mississippi River, Red Wing offers an interesting mix of things to do – indoors and outdoors. With small-town charm, Red Wing is ripe for browsing, from its cute and historic little Main Street to its parks and riverfront.
Some posts on MN Trips may contain affiliate links. If you buy something through one of those links, we may earn a small commission. As an Amazon associate, we earn from qualifying purchases.
Red Wing's famous legacy pottery production and its iconic Red Wing Shoes industry are evident today in small shops and free museums. Sightseeing might include hiking trails along the Mississippi, gazing at passing river cruises, or hunting for antiques. The Historic St. James Hotel is a charming museum unto itself. And friendly downtown Red Wing – as well as the highway into and out of town – is dotted with welcoming local restaurants.
Red Wing MN History
Red Wing is said to gets its name from Hupahuduta, the early 19th Century chief of the local Mdewakanton Dakota Sioux Indian Tribe. The name indicates a swan's wing, dyed red. (He was also known as Tatankamani, or Walking Buffalo.) In the late 1800s, the Mdewakanton were removed to the Prairie Island area further up river, and the city of Red Wing was incorporated in 1857.
Like all important locations on Minnesota's stretch of the Upper Mississippi River, this Native land was appreciated for its spiritual and practical reasons. The big river bend at Red Wing marked the junction of river and land transportation. The famous Barn Bluff provided a lookout point for protection. Eventually, the natural and human resources of the area played into the booming industrial age.
Today, Red Wing is a stop for passenger river cruise vessels and a popular destination not only for history buffs but for outdoor recreation enthusiasts, especially boaters. History comes to life when you take to the river. From Red Wing it's just a short boat trip down to Lake Pepin, the 20-miile-long natural lake in the Mississippi separating Minnesota from Wisconsin. Lake Pepin is the birthplace of water skiing, so you're in the right neighborhood for fun.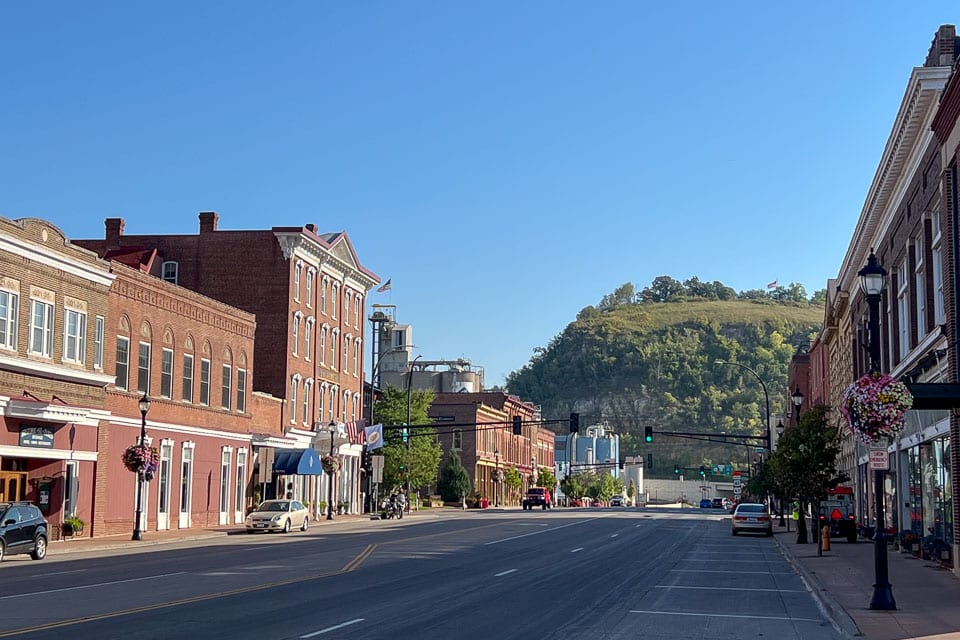 Things to Do in Red Wing
One of the best things about visiting Red Wing is that the cultural attractions are accessible from all sorts of angles. Whether shopping or walking or entering a museum or historic sites, the character of the town, past and present, shines through.
Museums
Pottery Museum of Red Wing. This historic site is a museum and a store, impressing with a great display of Red Wing's legacy stoneware produced from 1877 on through contemporary times. (Pottery production ceased in 1967, was revived, and ended again in 2019.) The original best sellers were the functional urns and pots used to preserve and deliver food, and lengths of sewer pipe put to use in the fast growing region. Soon the sought-after pots were customized for advertising purposes, and stoneware dinner sets were introduced and continually refined with new artistic designs and glazes.
Collectors covet the mid-century beauty of Red Wing pottery. Visitors to the museum can trace the progress through 20th Century tastes and function, glimpse the life of the workers involved in production, and perhaps spot a familiar piece that matches some long lost vase or platter used in the family decades ago.
Reproductions and some antiques are for sale in the shop.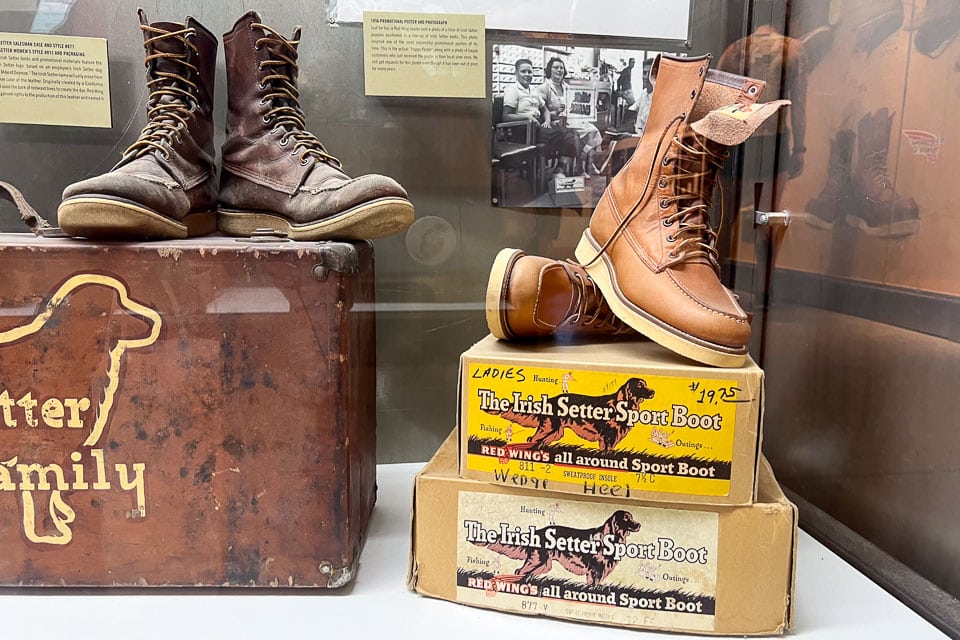 Red Wing Shoe Store and Museum. If you are lucky enough to have experienced a pair of Red Wing Shoes or Boots (the iconic "Irish Setter" style was a favorite in our household), you'll be especially keen on seeing where these hard working boots got their start. It's interesting to see how the development of styles met the needs of the growing country and its laborers, and how each pair is made. A 'wall of fame' documents the range of aficionados from all walks of life. For fun, take a picture in front of the World's Largest Boot.(It seems like that should be capitalized.) For more fun, shop Red Wing's outlet store in the lower level, or get your foot properly sized and buy the latest variation to suit your lifestyle. Red Wing Shoes last a lifetime, or until you grow out of them.
Goodhue County Historical Society Center. The History Center in Red Wing, county seat of Goodhue County, is home to Minnesota's very first county historical society. This small museum offers permanent and revolving exhibitions related to Red Wing and the county's geology, Native and immigrant people, industry, agriculture, river ecology, and more. For good measure, the History Center puts on events and curates vast collections available online.
American Ski Jumping Museum at the St. James Hotel. Though this may seem an unlikely place for a ski jumping museum, just look to the prodigious bluffs along the Mississippi, and imagine. This is dubbed the birthplace of American Ski Jumping because organizaed tournaments here date back to 1887. Norwegian brothers and early Red Wing settlers Torgus and Mikkel Hemmestvedt instructed a dozen local men and organized the Red Wing Aurora Ski Club, winners of regional and national competitions.
Sheldon Theatre. Built in 1904 and remodeled many times over, the Sheldon is home to performing arts. Season packages include the regional Pheonix Theatre group and national music and comedy acts.
Red Wing Marine Museum. A funky museum showcasing marine engines, outboard motors, fishing tackle and other river-related artifacts. The historic site was a manufacturing hub for boats and motors, and is located on Levee Road just across the river from the fascinating boathouse village.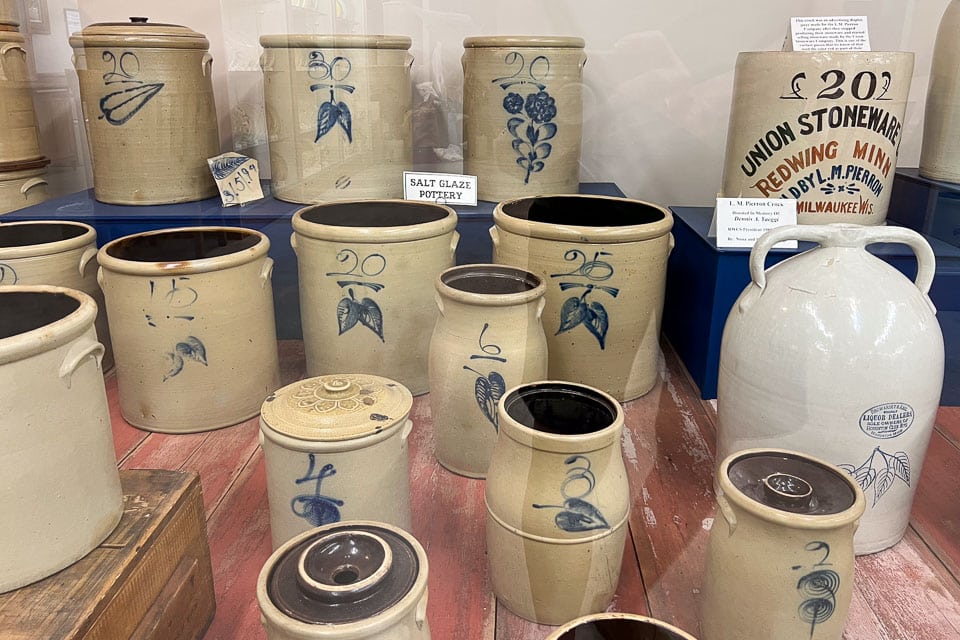 Shopping in Red Wing
Red Wing might be the perfect place for a holiday shopping day trip. This solid assortment of local shops will supply you with practical gifts and fun surprises.
Pottery Place Antiques. Just across the street from the Red Wing Pottery museum is the appealing and huge Pottery Place Antiques, housed in the historic building once used for manufacturing. It's billed as the largest antique store in Minnesota, we won't argue. Among all the usual categories, find things of special interest to Minnesotans, like Hamm's beer paraphernalia, items you'll recall from that cabin in the woods or your grandmother's house, and yes, pieces of Red Wing stoneware and pottery.
Uffda. Specializing in Scandinavian designs and items, this is a great gift shop for those who want to spread the Minnesota Nice vibes. Books, toys, tabletop, sweaters – it's a department store condensed into one lively shop.
Duluth Trading. It turns out Duluth Trading Company was not only not founded in Duluth, but not exactly in Minnesota, either. Nevermind. The founders could probably see Duluth from their original factory, on a barge in Lake Superior. Enjoy shopping for clothes, accessories and gear for outdoorsy people.
Though we mentioned the Red Wing Shoes Store above under museums, it's worth mentioning again, because it is both a museum and the place to get fitted for your new Red Wing boots or shoes. Like their tagline says, 'Red Wing Shoes last a lifetime, or until you grow out of them.' Some decades and two children later, I'm ready to size up and start again with a new pair of heritage boots.
Art Gallery in the Depot. Don't miss this gallery and shop, not on Main Street but right in the historic train depot. Managed by the non-profit Red Wing Arts Association, this gallery feature top local, regional, and national artists, exhibiting everything from textiles to clay to painting to multi-disciplinary works.
Red Wing Arts also administers the Clay and Creative Center, providing space for arts education and exhibits.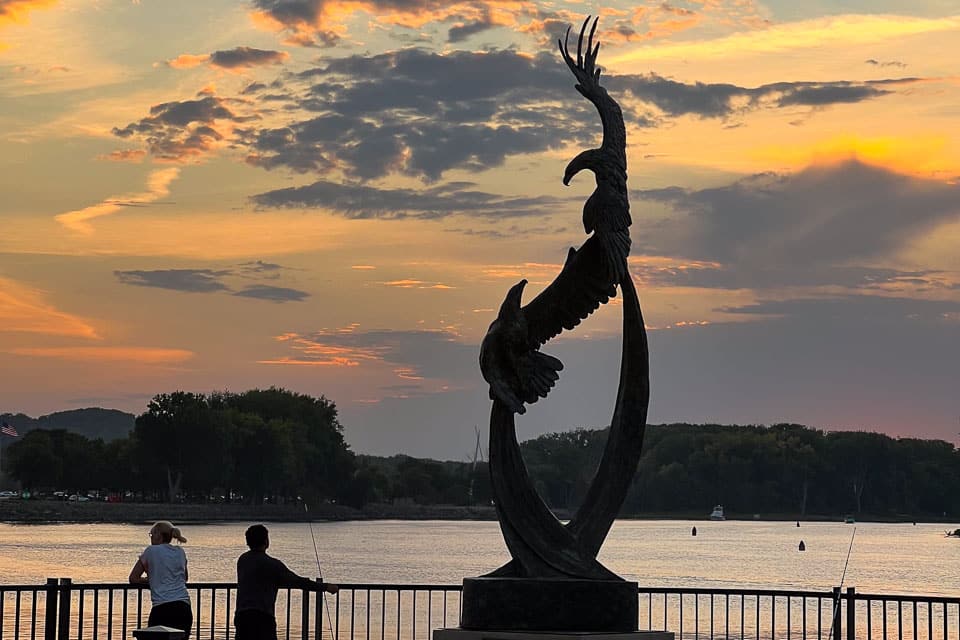 Outdoor Recreation
It seems you can't really get to know Red Wing without participating in some good outdoor activities – in any season. For the most part, it's not even necessary to get in a car to find fun hiking and biking trails, or access to the river.
Levee Park. This is the first site river cruise or train passengers will see upon arriving in Red Wing. Built in 1904, it is now a pleasant place to view sunsets, the river, boat parades and passersby. Those who take the time will also see a smattering of sculptures and signs filled with stories of historic interest.
Barn Bluff. This is the one you see from main street. Yes, you can walk up to the top for wide wonderful views of the river and valley, from the islands to the north to Lake Pepin to the south.
Red Wing Marina. Who doesn't like to check out a marina and imagine life on the river. Or rent a boat and get out on the water. From the water it's easy to imagine the scenic beauty of hundreds of year ago, or to appreciate the rejuvenation of the bald eagle population
Memorial Park. Situated atop Sorin's Bluff, this park offers great 360-degree views, hiking and biking trails, disc golf, and picnic areas.
Frontenac State Park
Just 15 miles south of Red Wing, Frontenac State Park is the perfect place to enjoy hiking trails and stellar views along the river at Lake Pepin. The park offers some great scenic overlooks of the Mississippi River from tall bluffs, accessible for all abilities. Trails either sift through the woods following the river or carve through the prairies above the bluffs.
We chose the shadier option on a warm day and hiked both at the top and bottom of the bluffs beside the river. Take note that the steep steps or paths connecting upper and lower routes can be challenging or slippery. The lower trail is still 20-25 feet above the water's edge. So don't expect to be skipping stones unless you take one of the deadend spurs leading down to the river.
In the fall or on cooler days, we'd select the Hikers Club trail which winds through the prairie and still offers some viewpoints overlooking the Mississippi.
Did you know that there's a Minnesota State Park within 50 miles of every resident? See all our Minnesota State Park coverage here.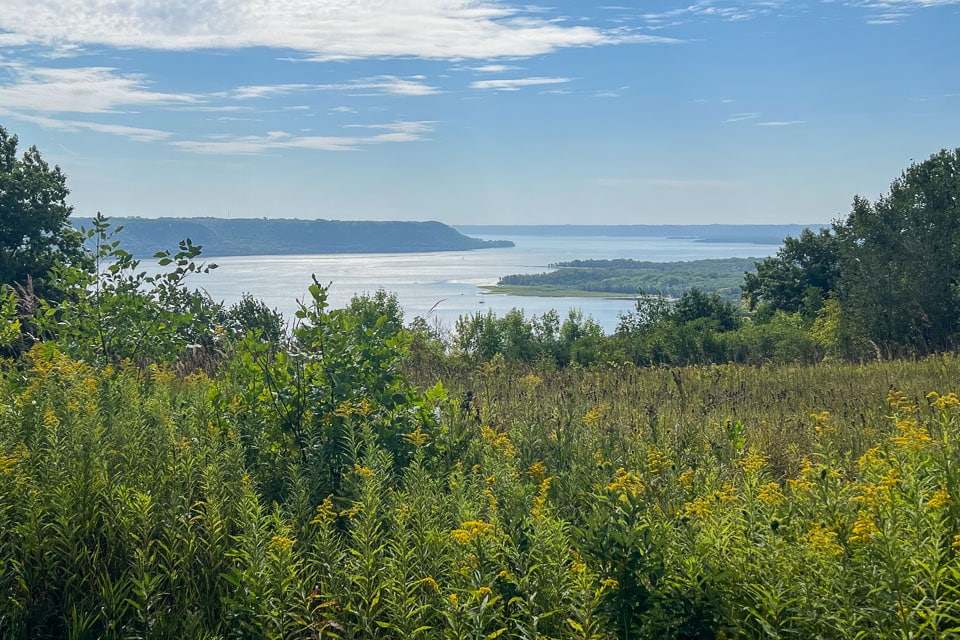 Best Restaurants in Red Wing
Smokin Oak Rotisserie & Grill. This turned out to be our favorite restaurant in town, even though it's not downtown and we weren't expecting to eat. Once we pulled up at the bar for a beer, though, the appetizers called to us. We made a meal of the Smokin Oak BBQ Nachos. As you can guess, the smoked meats are the specialty here.
Red Wing Café. Best breakfast, both for the classic fare and for the ambience, which consisted of bright lights, a table of old men downing coffee and commenting on most everything, and a pieces of store-bought birthday cake offered to diners in honor of one of the staff's birthdays.
Liberty's Restaurant and Lounge. This must be the old standard of Red Wing. The bar was packed with football fans when we were there on a Sunday, and a brunch buffet had morphed into the afternoon lunch and dinner menu without losing a beat. Burgers and pizzas seemed to be in equal demand, followed by the soup of the day. Or just shuffle over to the weekday lunch buffet.
Scarlet Kitchen and Bar is the American restaurant in the St. James Hotel, attracting both out-of-towners and locals ready for a special treat. Outdoor seating and booths with big windows provide views across the depot to the river. This is the place to go to find more inventive offerings than the usual menu in town. Some may be more successful than others, but the full bar and festive atmosphere carry the day.
The Port. For a real bar in the speakeasy tradition, head to The Port, located downstairs below the St. James Hotel lobby.
Fiesta Mexicana. We tried to do our research and found Fiesta Mexicana recommended. Or maybe they meant another Mexican restaurant on that side of town? The chile rellenos were sent back because they were so overcooked they couldn't be sliced with a steak knife. We almost finished an alternate dish before a smoking plate of food delivered to the next table literally drove us out of the restaurant. We suggest upping the flavor and reducing the heat.
Red Wing Brewery. Visit Red Wing Brewery to check out whats on tap. Find craft beers, root beer, and pizza, calzones and appetizers.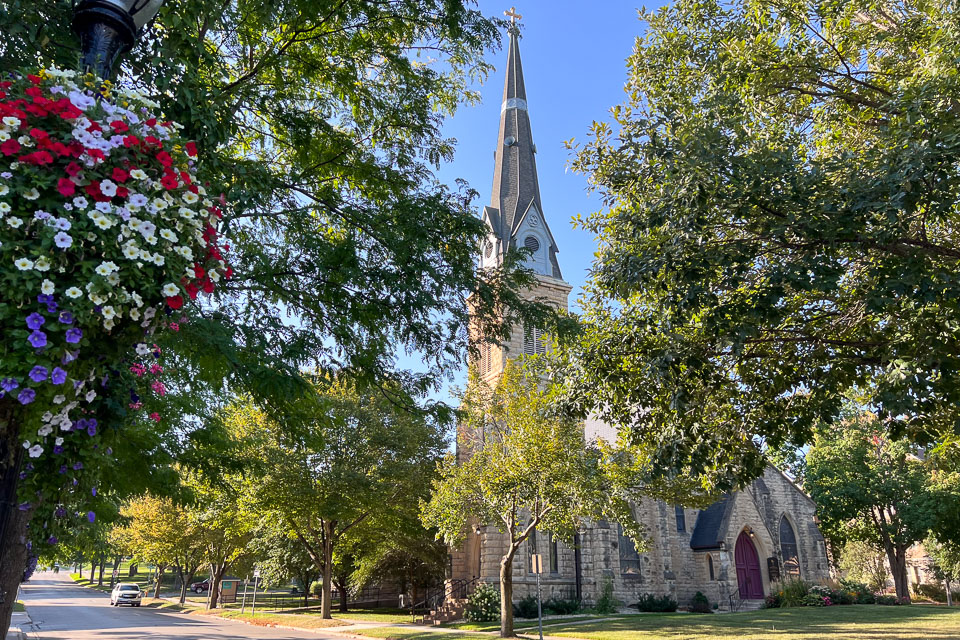 Places to Stay in Red Wing
St. James Hotel. You might say there is only one place to stay in Red Wing if you want the full historic experience.
Over the years, the hotel has expanded its event space and added guest rooms, but it all still retains its historic charm. Browsing the lounges, the portraits of civic leaders, the detailed woodwork and river-themed room names, the sense of civic history, business deals, and social occasions wafts through the air. The hotel's bar and and restaurant (mentioned above) are top choices for locals. And everything except the Pottery Museum is within a few minutes' walk.
Country Inn and Suites by Radisson
This and other national brand hotels are near the popular Pottery Museum.
For a more bed and breakfast feel, and to be closer to downtown, check out the White House of Red Wing.
More Attractions near Red Wing
Treasure Island Resort and Casino
Lake Pepin. Mississippi Valley Partners is a joint effort of the Minnesota and Wisconsin tourism offices designed to promote Lake Pepin and the small communities on both sides of the river, including Lake City, Minnesota, and Stockholm, Wisconsin.
Cannon Valley Trail is a bicycle, walking and ski trail extending almost 20 miles, from Cannon Falls to Red Wing. This rail-to-trail paved path is not a state trail, but funded by users fees.
Fresh Art Fall Tour. This annual event is designed as a self-guided tour of home studios and galleries spread along the eastern side of Lake Pepin, especially concentrated around Stockholm, Wisconsin.
More info from MNTrips
See the list of all Minnesota State Parks, including basic permit information. We also have a list of all Minnesota Historical Society sites. We're adding our commentary for the park and historical sites as we visit them.
When you plan on hiking or biking the Minnesota State Parks, be sure to download the Avenza Maps app to your phone. The app allows you to download the trail maps for almost every state park, and they are invaluable for navigation, especially because many of the parks don't have as many directional signs as they should.
Also, if you're planning on camping at Minnesota State Parks, you'll need a reservation. Here's the online reservation form.
Check out our recommendations for what to carry in your hiking day pack when you check out the extensive Minnesota State Park and National Park system.
Some of the links on this page may be affiliate links, which means we may receive a small commission if purchases are made through those links. This adds no cost to our readers and helps us keep our site up and running. Our reputation is our most important asset, which is why we only provide completely honest and unbiased recommendations.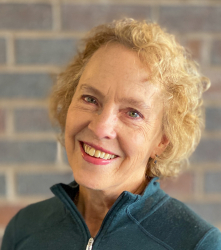 Latest posts by Kristin Henning
(see all)