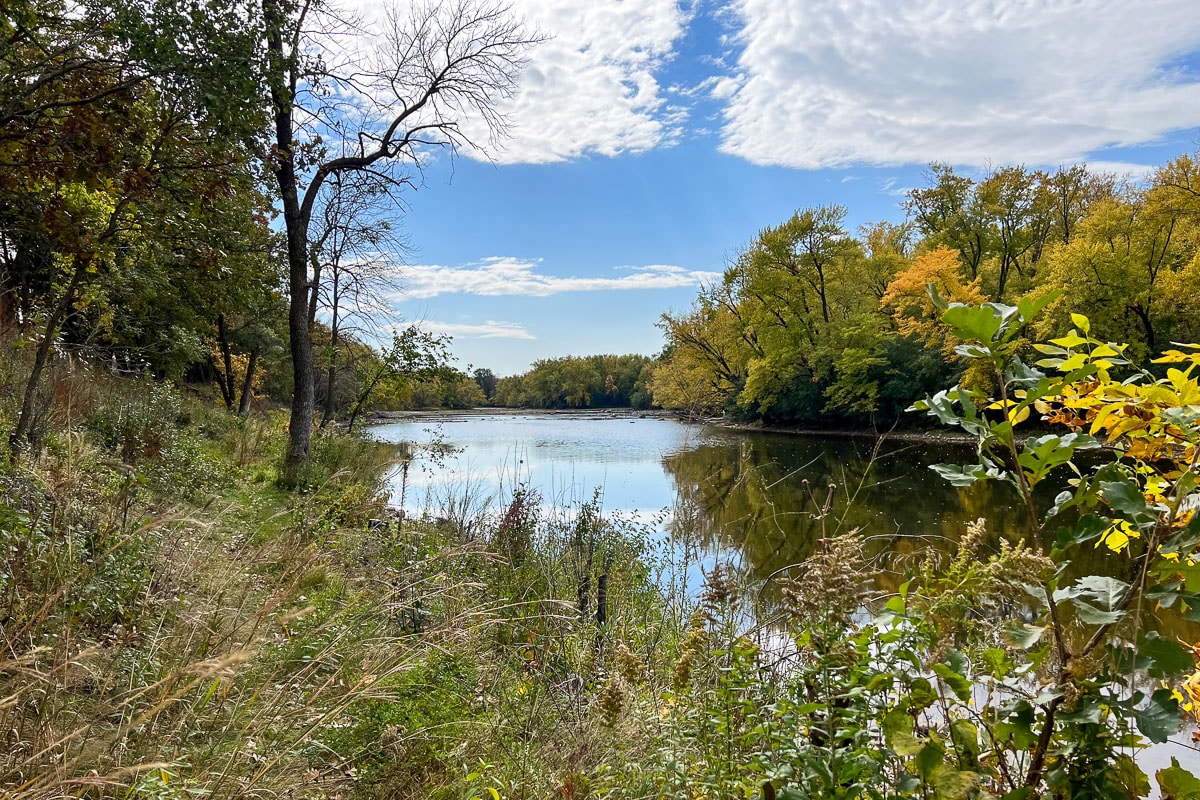 I grew up in St. Cloud and both my parents were born there. So revisiting this college town on the Mississippi River, just over an hour upriver from Minneapolis, is a particularly layered experience.
There are, as far as I can tell, two types of St. Cloudites: those who never leave and those who rarely return. When I visited in October 2022, it had been years since I'd even driven through, though I regularly visit a friend at her lake place about 12 miles west of town.
Still, St. Cloud hosts a lot of visitors each year, attracted by the college campuses, regional conferences, the river town's plentiful parks, concerts at The Ledge Amphitheater, or cycling Lake Wobegon Trail. It's easy to discover a distinct Midwest culture through St. Cloud's restaurants, historic sites and museums.
Some of the links on this page may be affiliate links, which means we may receive a small commission if purchases are made through those links.
St. Cloud History
When my parents bought their first house, they were parents of two with another (me) on the way. At that time, St. Cloud was known as a growing community. It drew – and still draws – energy from the three college campuses (what are now St. Cloud State University, St. John's University, and College of St. Benedict) and has long been a hub for the surrounding farming communities. Granite pulled from its several quarries has been used in monuments – and headstones – across the country, and in the 22-foot walls of the landmark Minnesota Correctional Facility in St. Cloud, what we called the Reformatory.
The town's location, I was often reminded, was strategic for its ancient indigenous trading routes and eventual early settlements. Besides the river traffic, horse trails became cart paths, which became prosaic roads described in the earliest automobile texts: to reach the Red River Valley and waterways flowing North, for example, bear left at the oak tree, follow the creek past the rookery.
Major creeks carved ravines in our neighborhood as they spilled into the Mississippi. It was a short walk from our house to the steep banks on the west side of the river, and a ritual pastime to "walk the bridges" at every time of year. Years later I learned that beneath our block of homes (now part of the SCSU campus) was a 19th Century burial ground.
Today the St. Cloud Metro Area is the 4th largest in the state (after the Twin Cities, Rochester and Duluth), though it's officially included in the Twin Cities "combined statistical area". With a population of 65,800, it crosses over the river from Stearns County to include parts of Sherburne and Benton counties. All three counties are among those still gaining population between the 2010 and 2020 censuses.
At any rate, St. Cloud is only 65 miles from Minneapolis and makes a do-able daytrip or a nice weekend getaway for anyone wanting to explore authentic central Minnesota. The main draws? Colleges, parks and quarries, bike trails, concert and sports venues, and local hospitality to welcome visitors.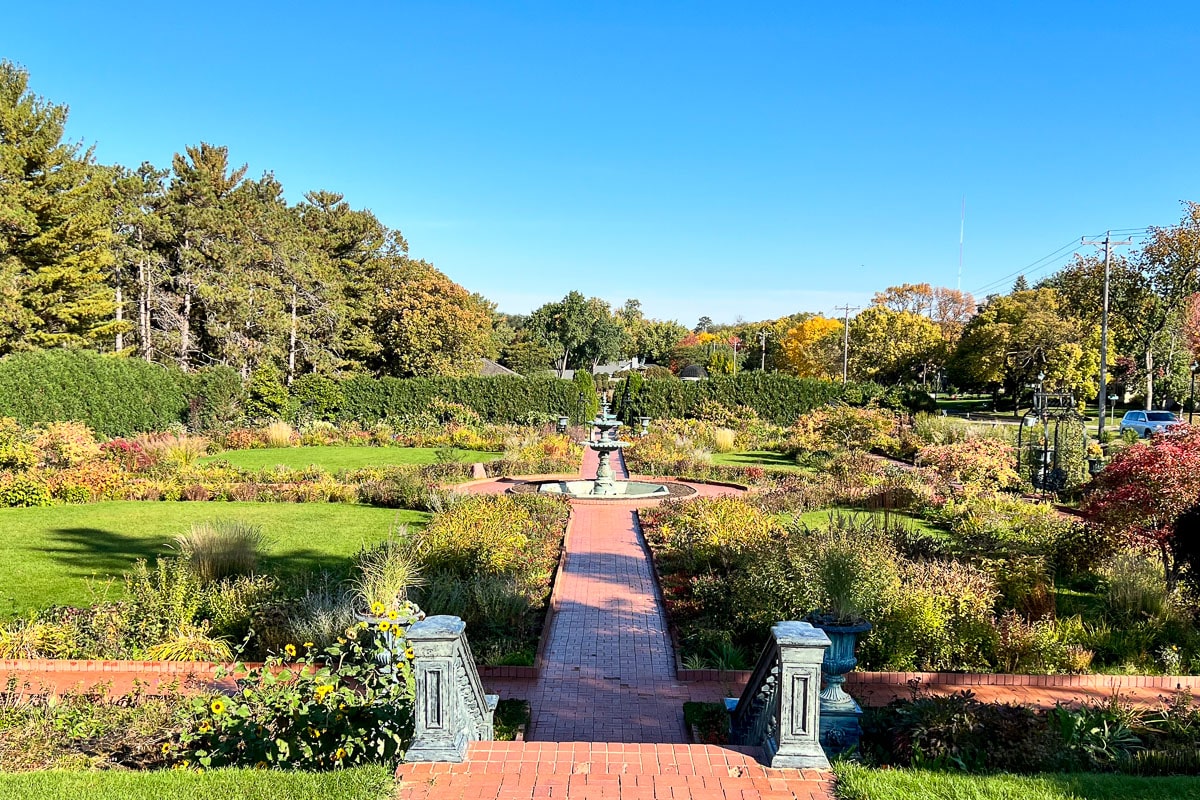 What to Do in St. Cloud
Parks and Trails
The best way to enjoy St. Cloud is to get outdoors. We've outlined our favorite places to walk below. But you can get an overview of all the city and regional parks by visiting St. Cloud's park and rec website.
Munsinger and Clemens Gardens. Along the east side of the Mississippi, opposite the University campus, find a lovely park beneath tall pines. Paths lead through perennial and annual gardens, past a wishing well, and to several well-placed benches for river viewing. Up the hill from Munsinger park, the Clemens Gardens offer a more formal design with rose gardens, trellises, fountains, statues, and a gift shop/snack bar open in season.
Riverside Park. Just south of Munsinger, enjoy Riverside Park for views of the St. Cloud dam and entry to trails along the banks beside the Beaver Islands. Enjoy the quiet backwaters, a sanctuary for birds and people. (Note, another Beaver Island Trail more suitable for bikes runs down the west side of the river from the SCSU campus.
Wilson Park. Another riverside park up in the northeast part of town. This huge park is good for dogs, kids, picnics, and views of the ever-growing St. Cloud Hospital across the river.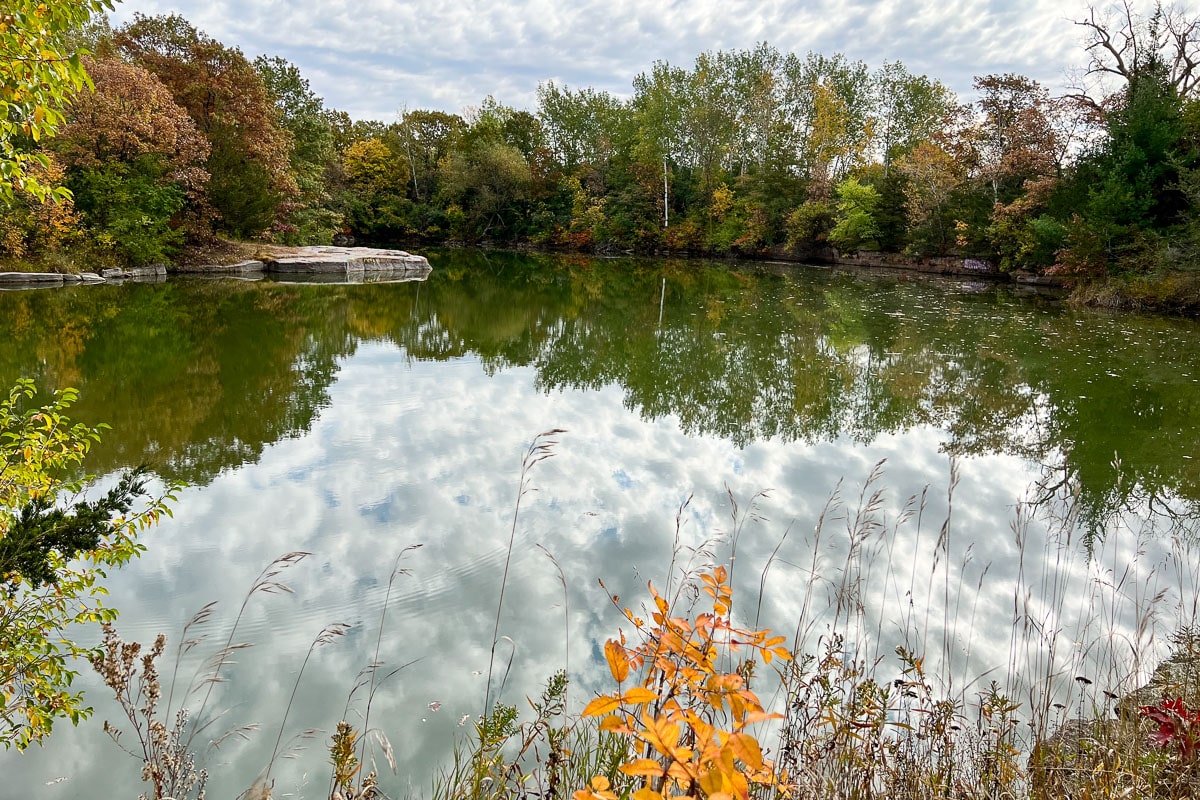 George Friedrich Park. I prefer this to the larger Quarry Park out west, because these were the quarry waters I swam in as a kid and sunned at as a teen, before this was public land. Follow University Drive east to parking, then walk in.
Lake George. A civilized city park surrounds Lake George, now well-manicured with a walkway circling the lake and a multi-use park building within the complex.
Quarry Park and Nature Preserve. The latest pride and joy of St. Cloud, the Quarry Park complex includes historic quarry exhibits, hiking trails, swimming holes, and groomed winter sports activities. Entrance fee per car.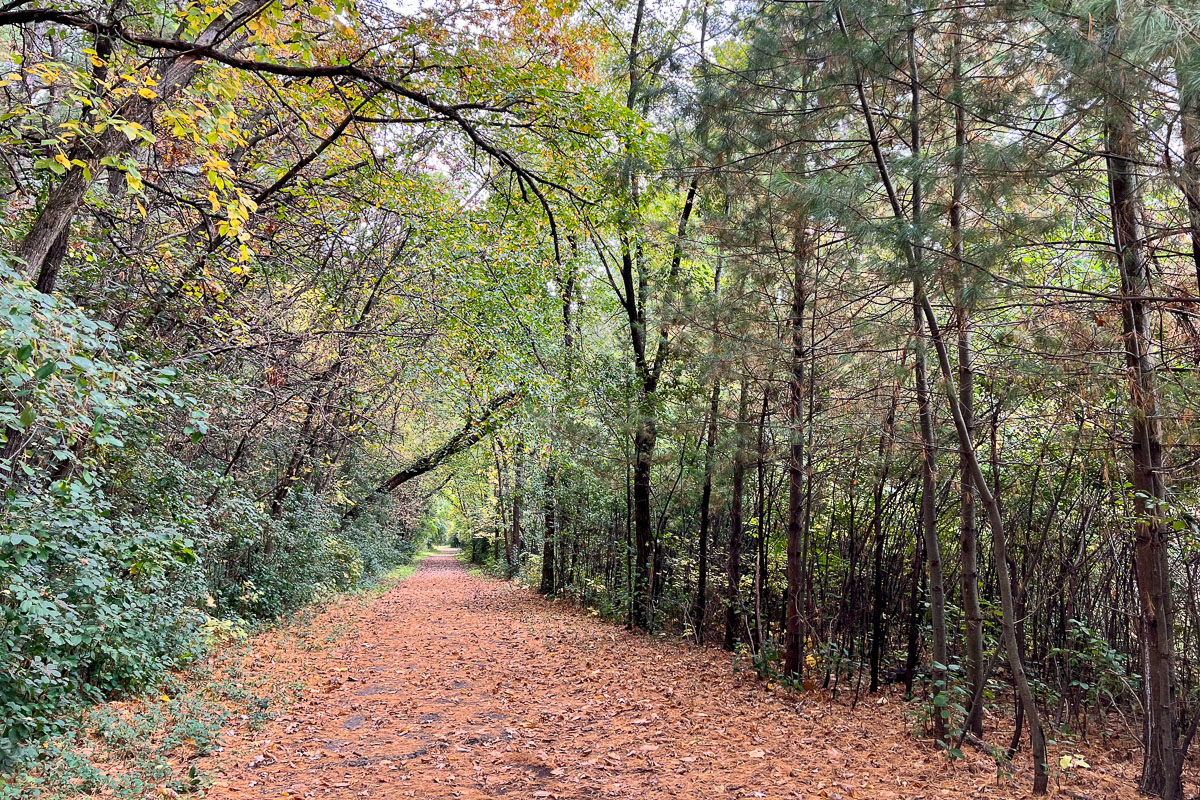 For more, including Lake Wobegon Trail info, please visit the Stearns County parks page.
Museums, Venues, Attractions
The Ledge Amphitheater. An outdoor venue holding up to 6,000 guests for concerts, movies, and community events.
Stearns History Museum. This county museum is surprisingly well equipped with rotating and permanent exhibits, a research center, museum store and, outside, a spacious Veterans' Memorial. The exhibits span ages and cultures. The Research Center with able staff assistance might offer you some insights into family history and ancestry, as it did me.
Paramount Center for the Arts. Whether there is a performance scheduled or not, it's worth a visit to see the renovated theater, once a movie house. Originally built in 1921, it now seats 800 for performances and also plays host to a visual arts studio, gallery St. Germain, and a gift shop. Duck your head in to see what's going on around town, artistically.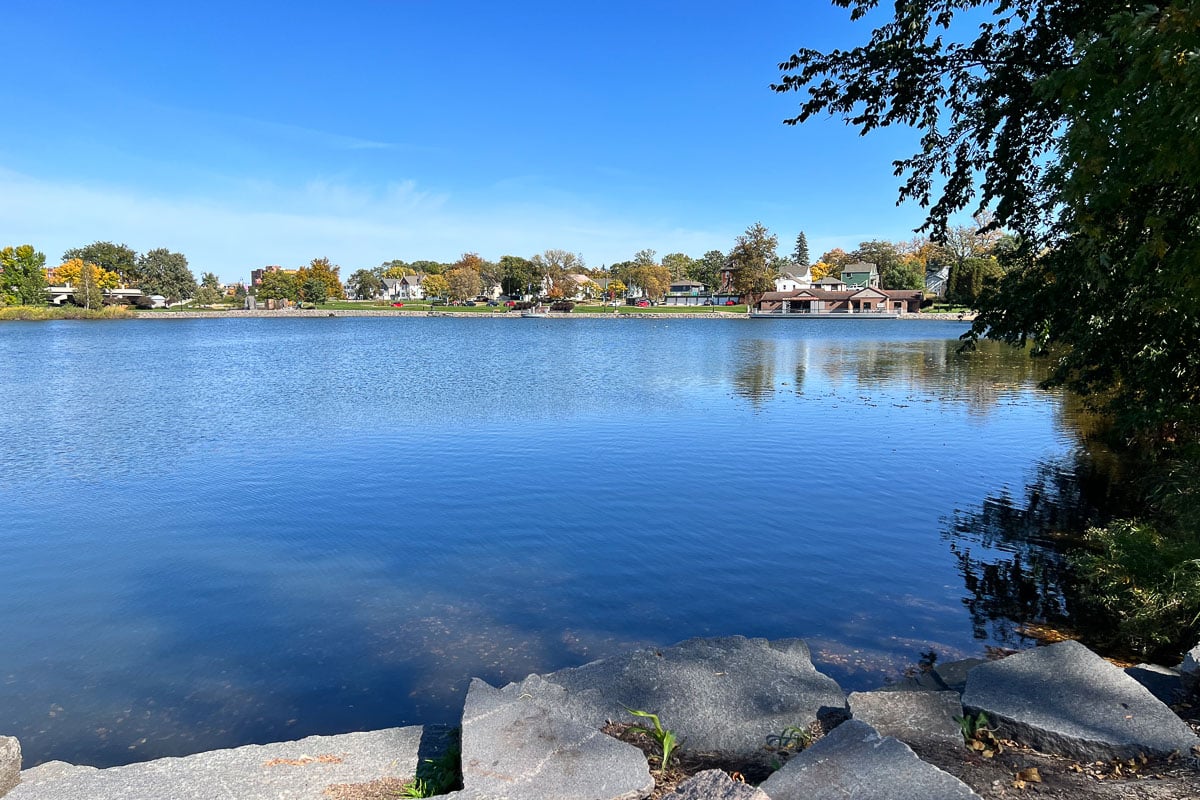 Main Street, Downtown St. Cloud.
St. Germain Street in downtown St. Cloud has changed, of course, and not only from the impact of sprawl and COVID. Notably, the Convention Center built in 1989 disrupted the street's route east across the river. (The St. Germain Street Bridge now connects East St. Germain with First Street North.)
But St. Cloud's best architecture is around here. Start with the First National Bank. This imposing 1889 building on the corner of 5th and St. Germain was once home to my Dad's insurance office, down in the basement where the bank vaults were. The vaults are still there, the massive doors removed for easier access to restaurant supplies. The space is currently home to MC's Dugout Bar and Grill. Nearby, the historic D.B. Searle building and Pioneer Place, both on 5th, have so far avoided the wrecking ball.
From 8th Avenue and St. Germain, look north to see the Stearns County Courthouse built in 1921. South on 8th a couple blocks is St. Mary's Cathedral, built in 1930 to replace the 1865 original church. The basilica-style cathedral is notable for its Bavarian touches; it was founded to serve the German-speaking population of the area.
Please note: if you are interested in historic homes of St. Cloud, walk to the Lower Town neighborhood just south of downtown, between the river and 6th avenue. Much of this area has been taken by the expanding University, but some Victorian and early 20th Century homes remain, as well as cute Barden Park with its bandshell.
St. John's Abbey and University. Architecture lovers will be interested in seeing the Marcel Breuer Abbey and bell tower on campus. It made a modernist statement in the middle of the prairie when it was finished in 1961. While you are there, don't miss the St.Thomas Hall dormitory, also by Breuer, and the retreat center tucked in the woods.
Hill Museum & Manuscript Library at St. John's University features collections of art, rare books, and handwritten manuscripts, plus a display on the Saint John's Bible.
More Arts and Events
Fine Arts Series at College of Saint Benedict and St. John's. Another advantage of the collaboration between these two private colleges is their joint presentation of performing and visual arts, providing culture and entertainment for town residents and visitors both.
College Sports. Check all three campuses are crazy about their sports, but St. Cloud State's Huskies are fun and competitive in all seasons' sports.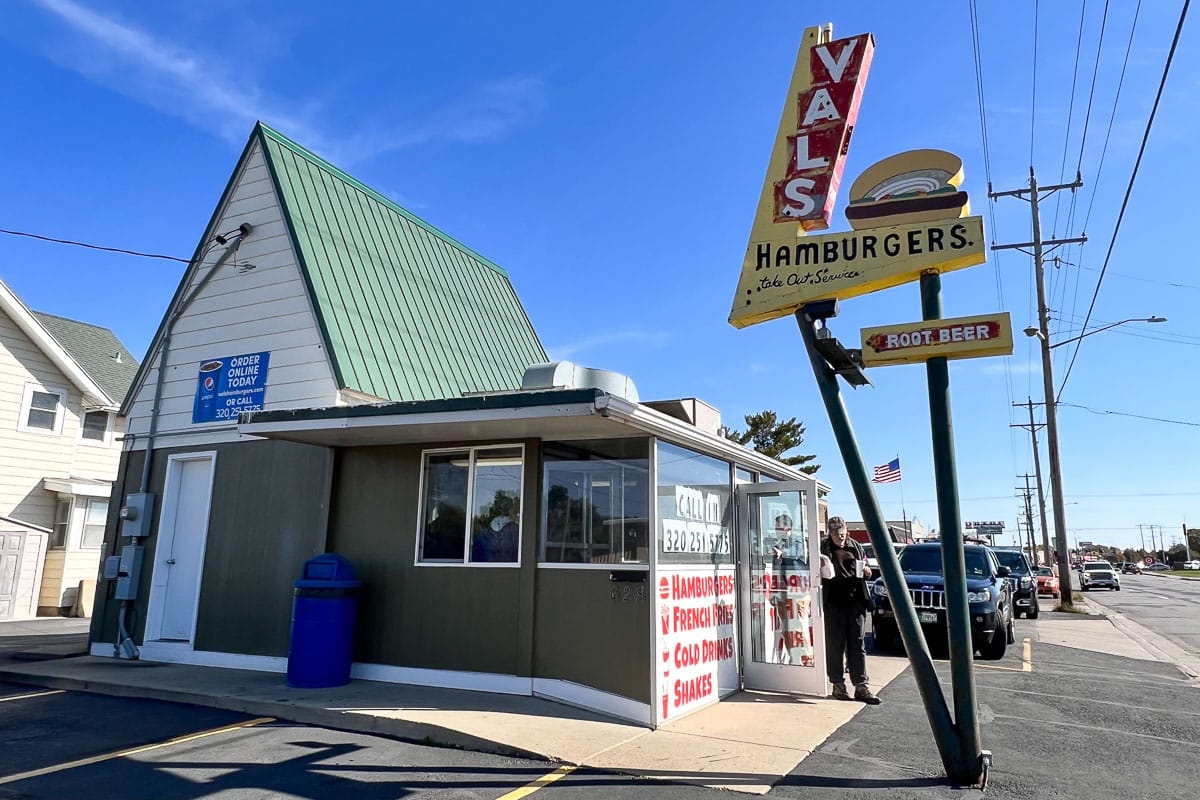 Where to Eat and Drink in St. Cloud
Bars and Restaurants
Brigitte's Café. Don't be surprised if you'll need to wait in line for a table. The down-home cooking features breakfast all day, biscuits and gravy, hot sandwiches, burgers, dinner plates, and kids' menu. But what? Out of biscuits before noon?
Val's rapidserv hamburgers. Gotta love this tiny, take-out only place serving the essentials: burgers, fries, milkshakes and drinks. Grab and go to one of the riverside parks to chow down.
House of Pizza. For me, the soundtrack here will always be Credence Clearwater Revival (yes before "CCR"). Even though the original location downtown is no longer open for sit-down, two other locations offer visitors a St. Cloud original pizza.
Olde Brick House. An Irish pub with a second location in Rochester.
Popular downtown places to eat and drink include two restaurants operated by Minnesota hospitality groups with several location across the state: Brick & Bourbon Craft Bar and Eatery and 7 West Taphouse.
Great Blue Heron Supper Club. A classic in Cold Spring. (Oh, and the bakery in Cold Spring is worth a visit, too.)
Anton's Restaurant. Steak, Scotch, and views of the Sauk River.
Café Renaissance Euro Style. Mediterranean menu, espresso, and wine.
Where to Stay in St. Cloud
Best Western Plus Kelly Inn. We always favor the places downtown. The added attraction of this hotel is that it was the site of our wedding reception, a long time ago before current branding.
Courtyard by Marriott. Set up your Bonvoy rewards and stay a while.
Around St. Cloud
St. Joseph, Minnesota. If St. Cloud isn't small-town enough for you, check out Saint Joe or, in today's marketing-speak, JoeTown. Since the dedication of Lake Wobegon Trail, the town has stepped up with cool coffee shops, cafes, art installations and events catering to outdoorsy locals and visitors.
Lake Wobegon Trail. Managed by Stearns County, this popular trail runs about 65 miles along a former railroad corridor. Trailheads are open year round for hiking, biking, rollerskating, and even snowmobiling in winter. The same website provides information on canoeing the adjacent Sauk River.
Sauk Centre. The birthplace and childhood home of Sinclair Lewis, the first American to win the Nobel Prize in Literature. Enjoy tours or participate in the annual Writers Conference.
Little Falls and the Charles A Lindbergh State Park. The birthplace of Charles Lindbergh is also home to an historic state park and Minnesota's Fishing Museum and Hall of Fame.
Sherburne National Wildlife Refuge More than 30,000 acres of nature can be easily accessed from either the Twin Cities or St. Cloud. Great for birding, wildlife observation, hikes, and snowshoeing.
More info from MNTrips
Some of the links on this page may be affiliate links, which means we may receive a small commission if purchases are made through those links. This adds no cost to our readers and helps us keep our site up and running. Our reputation is our most important asset, which is why we only provide completely honest and unbiased recommendations.