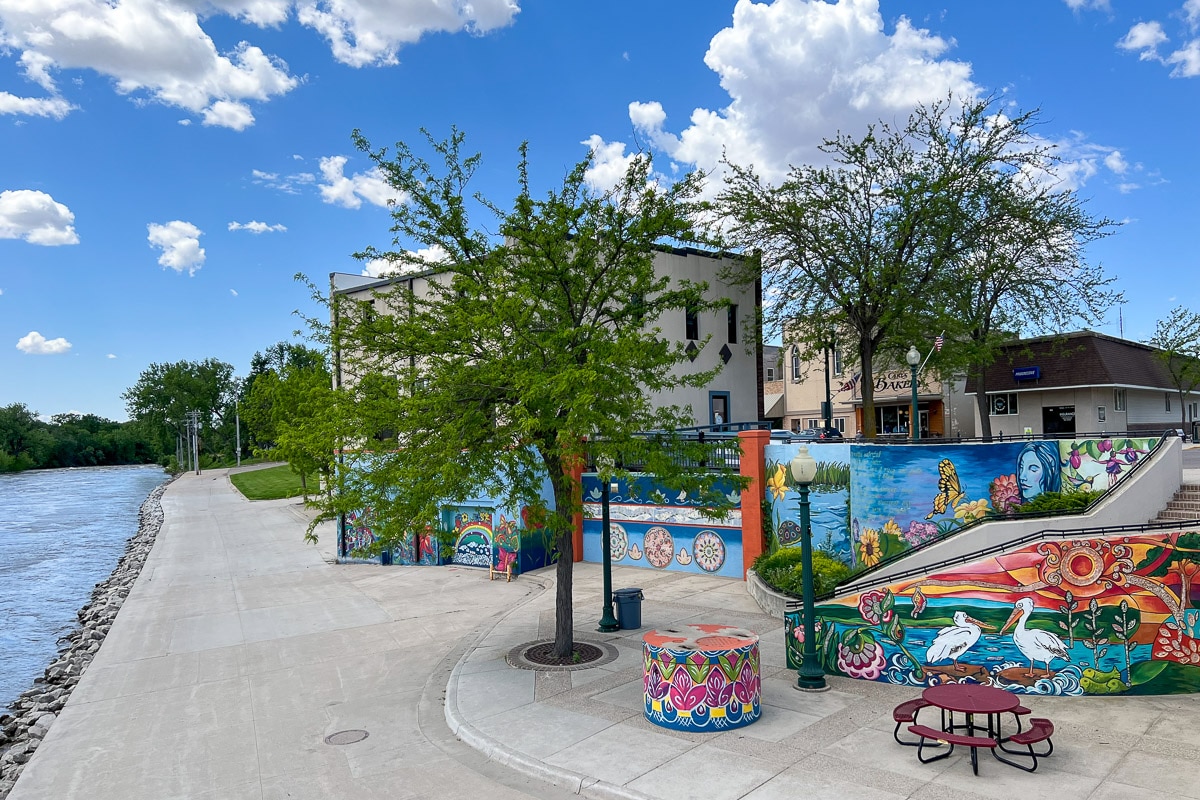 The small town of Granite Falls, Minnesota, population somewhere around 2,600, is a two and a quarter hour drive west of Minneapolis. That's just about the right time and distance to shift mentally, too, from the city to farmlands, and from strip malls to independent businesses.
We were looking for a short getaway from Minneapolis, wanting to check out the countryside in the late spring, survey water levels in the Minnesota River, and take in Granite Falls' attractions and historic sites. In advance, we knew we'd visit the Volstead House, tour the WWII air museum, stay at the casino, and visit nearby State Parks.
As you drive along Hwy 212, green suburban lots filled with trees become larger lots. Larger lots, some trimmed with barns and outbuildings, become small farms, then larger and larger farms. We lost the Twin Cities radio station with about 50 miles to go.
Even though Granite Falls is smaller than we expected (we were both surprised the population was under 5,000), we found surprising energy in the community, stoked by many adults who've returned to family homesteads for retirement or to be closer to family. Now these high school alums turned newcomers are engaged in the local scene. The result is one of Minnesota's best small towns, a fun place for a weekend getaway with easy access to sports, nature areas and state parks.
Here's what we found.
The Volstead House Museum
The historic Volstead House was home to Andrew J. Volstead, most famous for his penning the National Prohibition Act, or Volstead Act, which prohibited "intoxicating liquors" as of January 1920. The task fell to Volstead because, as a Minnesota Congressman, he was the Chair of the House Judiciary Committee when states were quickly ratifying the 18th Amendment.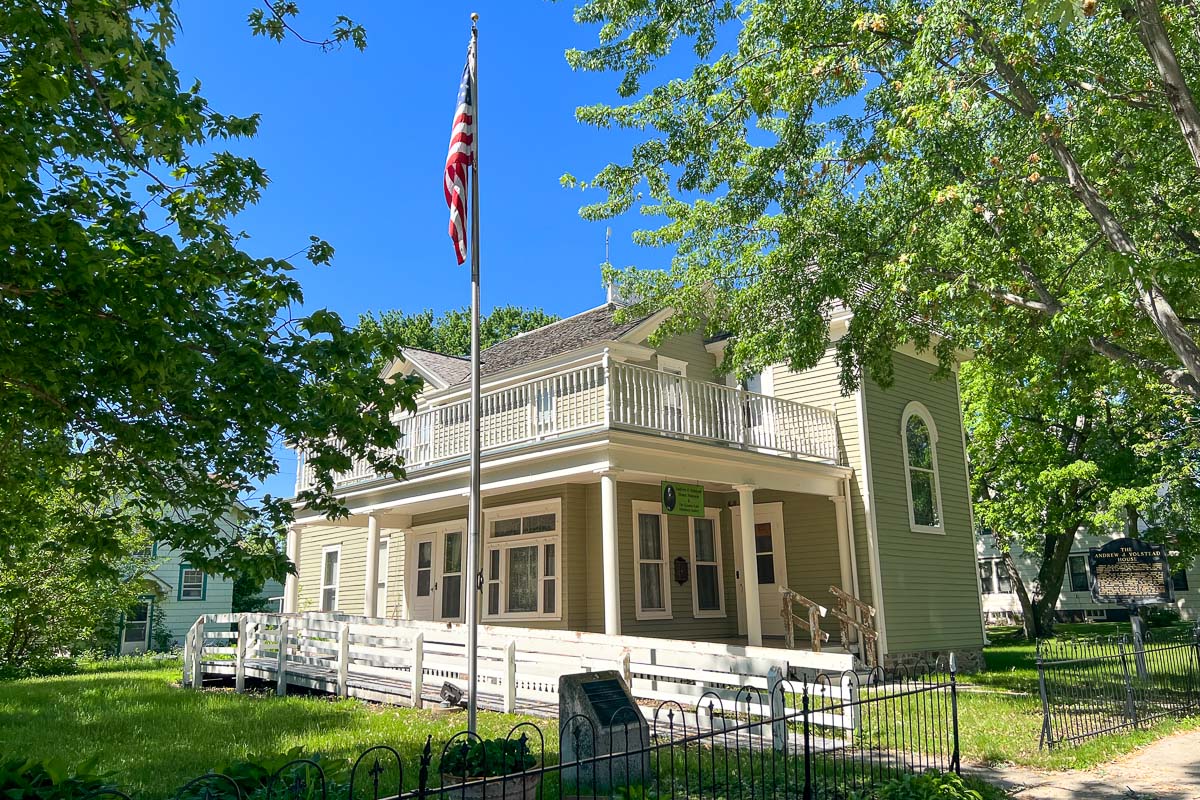 Background information at the Volstead House Museum offers context on the issue. Saloon keepers and brewers had significant political clout, but church leaders and anti-German sentiments especially around World War I were powerful, too. (It's not coincidental that the "dries" wanted to oust the Pabst, Schlitz, Blatz and Miller beer families.) No worries: the 18th amendment, in case you haven't heard, was repealed in 1933.
In fact, as exhibits point out, Mr. Volstead's much longer-lasting legacy was the establishment of cooperatives. The Capper-Volstead Act of 1922 was designed to protect farmers from price-gouging middlemen. The co-op concept, with operations benefiting all members and membership restricted to farmers – not distributors – has carried on across other industries. Some of today's consumer protection laws hearken back to the Capper-Volstead Act.
The house itself, built in 1878 and purchased by Volstead in 1894, is a simple two-story arrangement featuring a lovely stairwell he added on later.
Besides the rooms dedicated to Volstead's important legislative work, the kitchen and an upstairs bedroom are dedicated to Nellie Volstead and their daughter Laura. Nellie, a Scottish immigrant, met Andrew when she was working in the County Courthouse. Laura was a law school graduate, worked with her father briefly, and eventually moved to Alaska with her reindeer rancher husband.
Now you know why a live reindeer event is held every winter at the Volstead House. That doesn't explain, though, why the kitchen in the house is rented out for "Nellie's Escape Room" games.
More Granite Falls History
It's worth spending some time upstairs at the Volstead house where the largest room has become an ad hoc Granite Falls history museum. That's because Volstead House took on archives from city hall when it flooded and was subsequently moved to a new building.
We learned Granite Falls claims Archibald G. Bush as a hometown legend. Bush is famous for his leadership of Minnesota's 3M Company (as in 'Minnesota Mining and Manufacturing') even though he started as a bookkeeper in 1909 and rose through the ranks. His Scotch heritage might explain 3M's "Scotch Tape" with the trademark Scotch plaid package design. Bush is also well known throughout the Upper Midwest for the Bush Foundation grants still awarded to innovative people of Minnesota, North and South Dakota, and 23 Native nations.
Another favorite son of Granite Falls is Michael J. Dowling. The triple amputee (as a result of frostbite) actually lived in Olivia, Minnesota, in the next county. He attended Carleton College for a year and later served as a school principal in Granite Falls. But his fans love him for championing the Yellowstone Trail, an early 20th Century motor route he drove (in a three car motorcade!) from St, Paul west to Yellowstone Park. Later he completed the Eastern portion of the route. The Yellowstone Trail ("Plymouth Rock to Puget Sound") is an Historic National Automobile Route, essentially following Hwy 212 across Minnesota, then Hwy 7 to Ortonville on the South Dakota border. You can find highlights in brochures along the way or by visiting the Yellowstone Trail Alliance website. To dig deeper. check out the Department of Transportation page about Highway History.
The Yellow Medicine County Historical Museum in Granite Falls is worthwhile not only for its 19th and 20th Century artifacts, collected from homes, farms, business and medical offices, but for some prehistoric bison finds. There's a nice view of the river here, too, with a plaque memorializing the town's founder.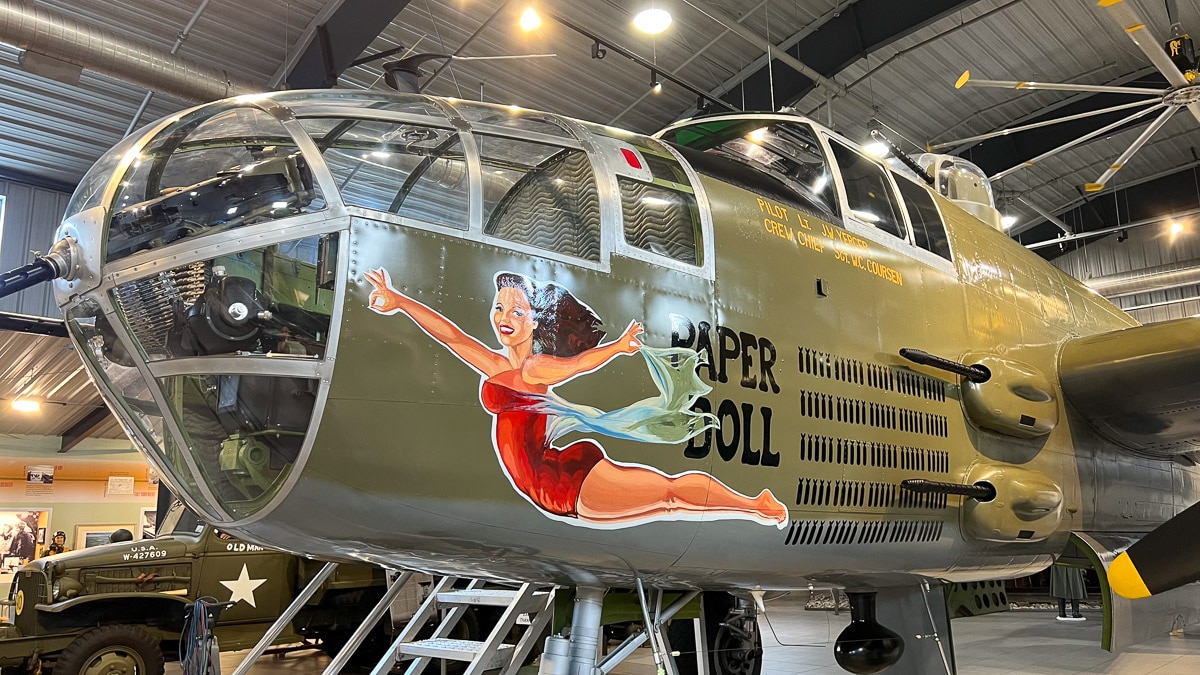 Fagen Fighters WWII Museum
Aviation fans and World War II buffs will enjoy this impressive not-so-little museum. It's located about four miles south of Granite Falls at the Lenzen-Rose-Fagen Memorial Airport.
Fagen, as any visitor will see, is a decidedly big name in Granite Falls. Fagen, Inc., an international success in industrial construction, engineering, and manufacturing (involved in ethanol plants and wind turbines, for example), is headquartered in Granite Falls where it was founded and is still led by Fagen family members.
It's also a household name in patriotism. Just look for the HQ display of American flags at the corner of Highways 23 and 212, or tour the WWII Museum to sense the veneration for the Greatest Generation and aviators in general, and for the family's patriarch and D-Day participant Ray Fagen specifically.
At any rate, the Museum covers three hangers filled with trainer planes and period relics, fighter planes, and bombers. Its claim to fame is that almost all the planes on display are still taking to the sky. (The F6 "Hellcat" was out for the day, and we later saw a Facebook post it had joined the Blue Angels at a show in Wisconsin.)
Special displays include a huge combat glider, and a complete boxcar hauled here from Germany for an exhibit on the holocaust and POWs.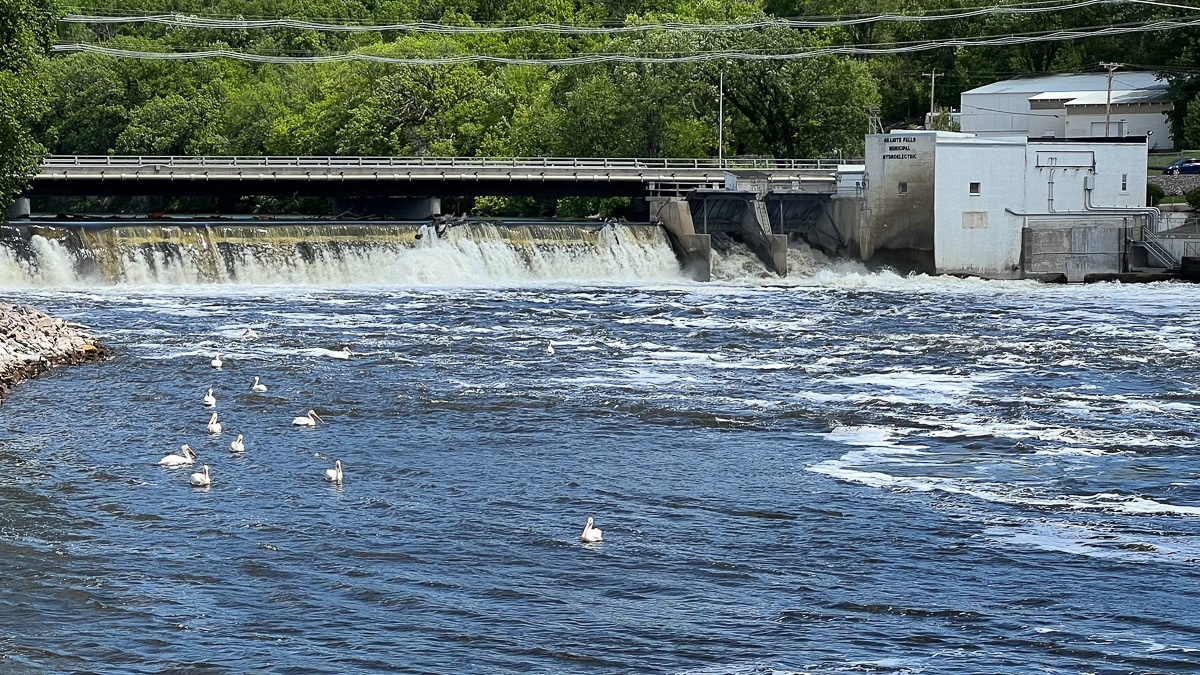 Riverwalk
Granite Falls is a river town, and the quintessential experience is to walk along the banks of the Minnesota River. From the main street (Prentice), take to the lower Riverwalk for a closer look, then head across the footbridge to the park on the other side. You'll get a good look at the the town's falls, now a hydroelectric dam.
Note: the Minnesota River joins the Mississippi at Fort Snelling State Park in the Twin Cities. It's a fine place for a hike and river watching.
Granite's riverfront didn't always look like this. Persistent flooding, climaxing in 1997 with high waters flowing into homes, shops, and streets, resulted in removal and relocation of more than a block of commercial buildings (including City Hall). Across the river, rows of homes were relocated, too, making way for the park.
In early June the racing waters had receded from their high point brushing up against some waterside foundations. Carp flopped out of dark pools and kids on shore cast their lines to try to catch them. Bobbing around below the dam were several incongruous pelicans.
These American White Pelicans, normally associated with ocean environments, breed in the vicinity – especially up in the Lac qui Parle area up river – and migrate to the Gulf of Mexico in winter.
Shopping in Granite Falls
Just walk up and down Prentice to find the pulse of the town. Though some places have not re-opened following the pandemic, a spirit of mutual support and encouragement among local entrepreneurs is propping up individual and commercial ventures. (Apparently, a number of grants are targeting this and other Minnesota rural communities, and account for attracting and retaining a number of local artists.)
One hub of activity is the Makers on the Minnesota shop. It features exhibit space for a rotating selection of artists plus a gift shop. The historic building, which backs up to the river and was saved from demolition, is an arts education space as well.
Up the street, Falls Boutique is jammed with gifts, jewelry, kitchen and housewares, toys, clothes, local artisan products, and…more gifts. It's big and browse-worthy.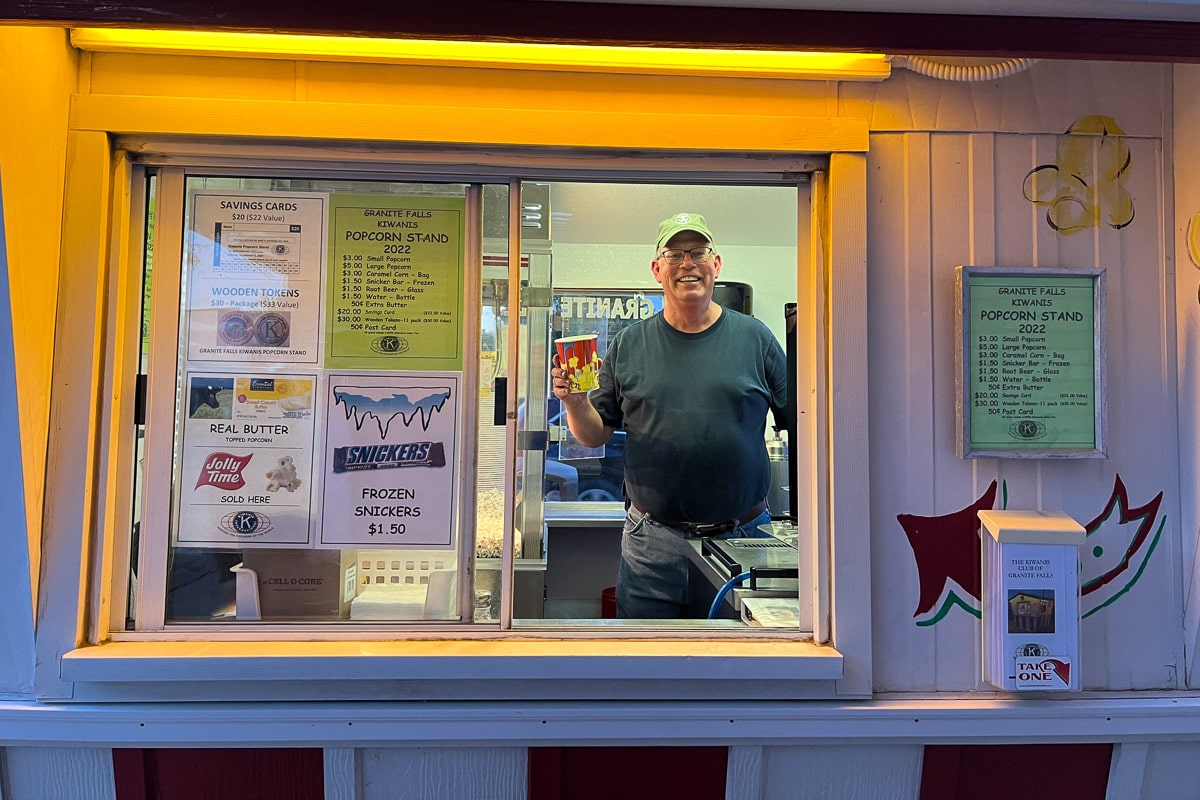 Taste Treats in Granite Falls
Probably the most iconic establishment on Prentice is Carl's Bakery. We ended up going there three times, because it was good and because it was one of the only lunch options. Excellent donuts and pastries, coffee, breakfast sandwiches and lunch wraps are on the menu, and you might find a bag of fresh spinach from the farm, too. The Streblow family with nine children (that's 18 helping hands) bought the bakery in 2019 and are keeping the founding Carl Aus family proud, we're sure. The bakery has been operating here since 1957.
If you really have to eat and run, there's a drive-up window for take-away. More donuts for the road, please.
The other highlight of hanging out in 'downtown' Granite Falls is the Popcorn Stand, first established in 1919 for summer events. Currently operated by the Kiwanis Club, the stand is now a permanent fixture at Prentice and Eighth and open all season from 7 to 9:30 p.m. Good old-fashioned popcorn is served with delicious 1919 Root Beer. The root beer is a Minnesota product, too, founded in New Ulm in 1919 when brewers were facing Prohibition. The Popcorn Stand is a perfect place to rest a spell and chat with the locals who gather here on summer evenings.
Where to Eat in Granite Falls
Besides the bakery?
Granite Run Golf Course came highly recommended, but we arrived too late to order dinner.
Meadows Restaurant and Firefly Lounge at Prairie's Edge Casino has a pretty large menu of sandwiches, burgers and salads. (No buffet these days). There's a no smoking section in the restaurant, but not in the lounge.
Bluenose Gopher Public House I had to have Tom explain the name's reference to me. Huh, well I'll be a…. Anyway, this is primarily a bar. Though a limited menu was offered the evening we were there, it was also crowded with people from the season's first Makers Market event, overwhelming the small staff. We'd recommend selecting one (or two) of the many local brews featured, and check out the menu of wraps, panini sandwiches and such for lunch.
The American Legion Granite Falls serves food, too. See specials on their Facebook page and give it a try.
When to Visit Granite Falls
Summertime is naturally the season filled with special events and more reasons to take a road trip to Granite Falls.
We traveled specifically to catch the First Thursday Makers Market on the Riverwalk.
Other events to look for (and reasons to book early) are June Western Fest Rodeo at LeeMar Ranch, and the Ray Fagen Memorial Air Show, also in June.
Discover more events and recreation ideas on Granite Falls' visitor site.
Where to Stay Southwest Minnesota
Prairie's Edge Casino Comfortable rooms in this four level hotel with pool, restaurant and bar and yes, a casino with slot machines and table games.
For more places to stay in Southwest Minnesota, check out the larger town of Montevideo about 15 miles up the road, or the college town of Marshall, 30 miles southwest.
With some advance planning, you can also consider RV parks and campgrounds in the area's Minnesota State Parks. You'll need a reservation. Here's the online reservation form.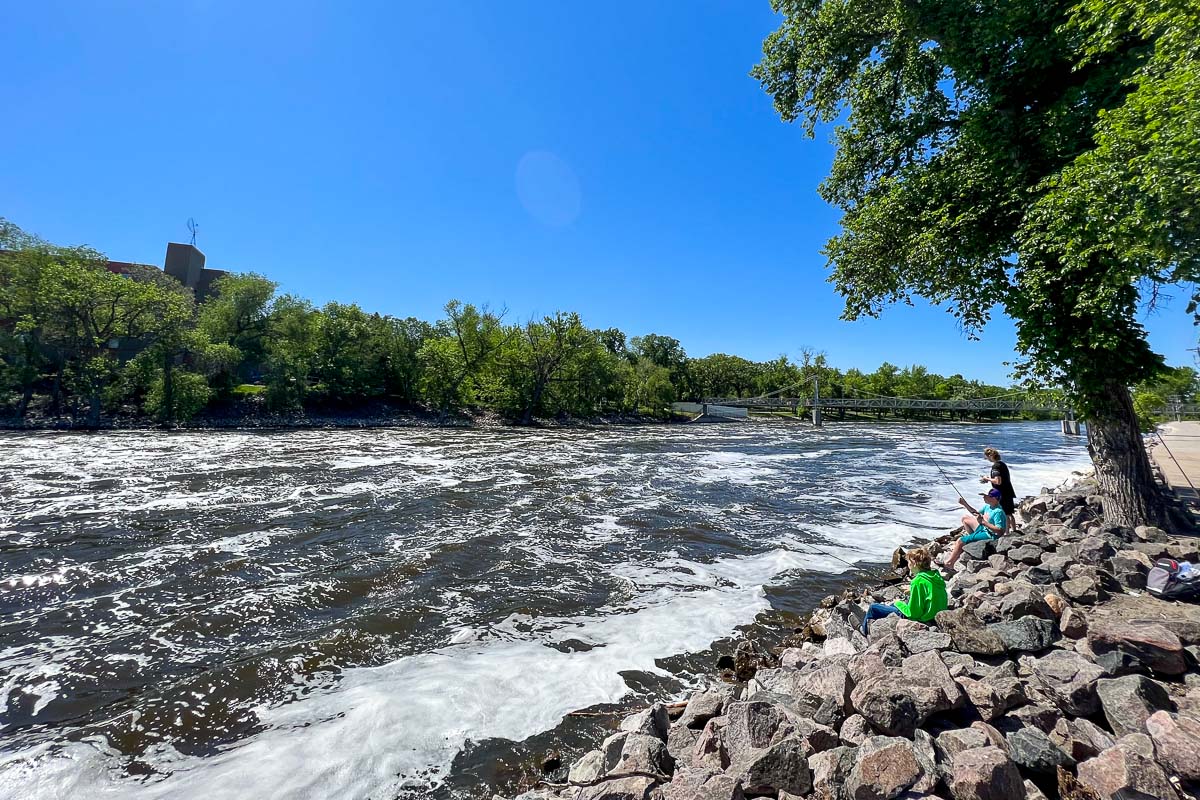 Nearby State Parks and Road Trip Notes
Before we knew we were driving the old Yellowstone Trail (see above) we drove right through Olivia Minnesota without seeing the World's Largest Ear of Corn!
Be sure to visit the State Parks near Granite Falls. We've visited both Lac qui Parle Mission and State Park about 25 miles north of Granite Falls, and the Upper Sioux Agency State Park about eight miles south of town.
And a final note: Driving back to the Cities on Highway 7 after our Lac qui Parle stop, we found a most tasty and friendly home cooked lunch at Molly's Cafe in Silver Lake. The Cafe and Motel are situated on the Luce Line State Trail, great for a bike ride.
More info from MNTrips
See the list of all Minnesota State Parks, including basic permit information. We also have a list of all Minnesota Historical Society sites. We're adding our commentary for the park and historical sites as we visit them.
When you plan on hiking or biking the Minnesota State Parks, be sure to download the Avenza Maps app to your phone. The app allows you to download the trail maps for almost every state park, and they are invaluable for navigation, especially because many of the parks don't have as many directional signs as they should.
Also, if you're planning on camping at Minnesota State Parks, you'll need a reservation. Here's the online reservation form.
Check out our recommendations for what to carry in your hiking day pack when you check out the extensive Minnesota State Park and National Park system.
Some of the links on this page may be affiliate links, which means we may receive a small commission if purchases are made through those links. This adds no cost to our readers and helps us keep our site up and running. Our reputation is our most important asset, which is why we only provide completely honest and unbiased recommendations.