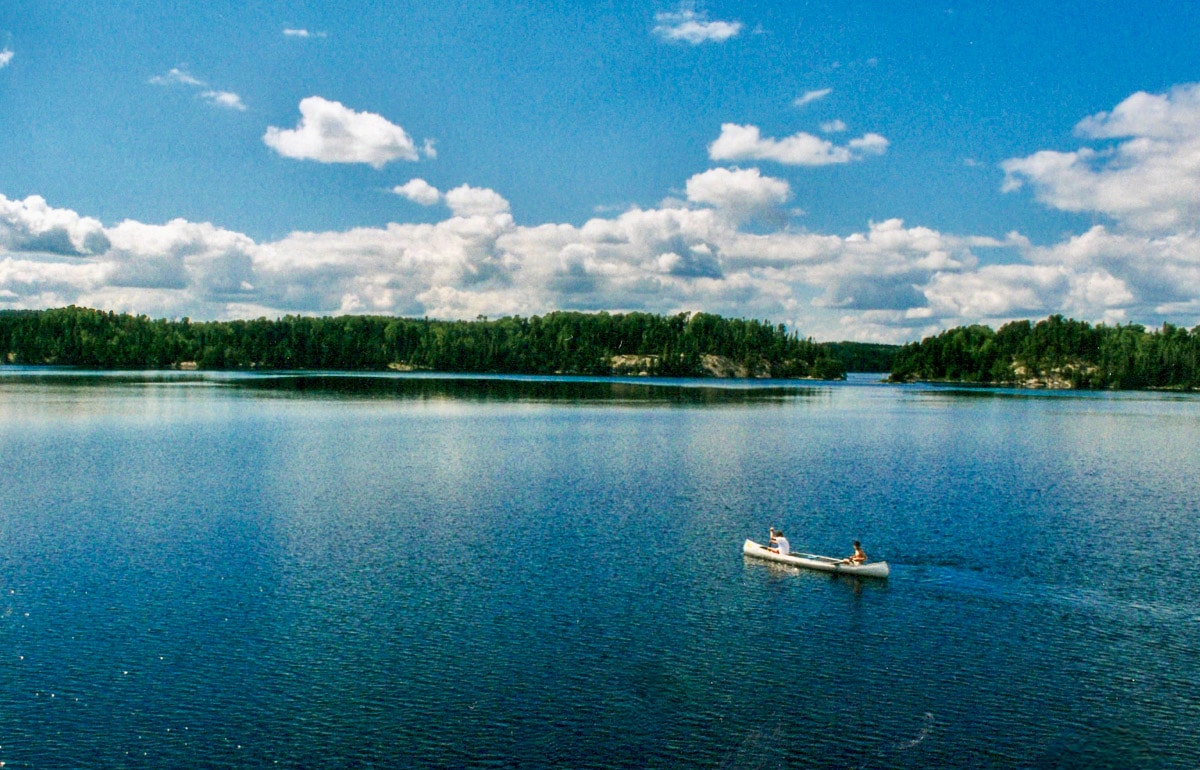 For people who like to "get out in it," nothing in Minnesota compares to the Boundary Waters Canoe Area Wilderness, or simply "The Boundary Waters" as everyone other than stiff-necked bureaucrats call it. At 1.1 million acres or 3000 square miles, 20 percent of which is water, there's a lot to get out in. And that's before you start counting the other 1800 square miles and 600 lakes of Quetico Provincial Park blending in right over the border in Canada.
Despite a minimum five-hour drive north from Minneapolis, the Boundary Waters attract something in the range of 150,000 visitors in season, meaning from ice-out – usually in early May – until winter returns, often with a vengeance, sometime in late October.
Some posts on MN Trips may contain affiliate links. If you buy something through one of those links, we may earn a small commission. As an Amazon associate, we earn from qualifying purchases.
You will need a permit to enter the BWCAW
Traffic during COVID though was intense, with permit demand up nearly 20 percent over an average year. Access is strictly governed, with an on-line permit/reservation system and a half dozen ranger check-in stations that ring the area, plus one in Duluth, two hours south. Off-season, from October 1 through April 30, is an easier "get" for permits. But you still need one if you want to cross country ski in or winter camp. (Last winter the BWCAW announced it was reducing the number of permits it was issuing for 2022, because of, well, damage from the horde that passed through in 2020 and 2021.)
With all that (clean) water, 1200 miles of canoe routes and 2000 campsites – some better maintained than others – the area is critical to the surrounding economy. At last count there are over two dozen outfitters in the immediate area offering pretty much everything you might need for a trip in, even if you show up with nothing more than a t-shirt, ugly shorts and flip-flops.
If you're a novice to canoeing and everything that it entails, allow me to briefly share my first experience in the Boundary Waters.
I was a 17-year-old junior in high school, goaded by my buddies to join in on a two-week, Explorer Scout trip from a camp outside Ely, Minnesota, (with a permanent population of 3300, the commercial center of the Boundary Waters universe.) I knew less than nothing about anything to do with boats, much less canoeing. Even which way was up on a paddle was news to me. Plus, I wasn't even a scout. Somehow a $50 fee papered over that detail.
There were 10 of us, the squirelliest newbies you can imagine, two very long-suffering dads, and a college age guide who we later realized was regularly indulging in medicinal herbs throughout the journey – a journey he plotted to an obscure lake miles up into Canada he always wanted to see.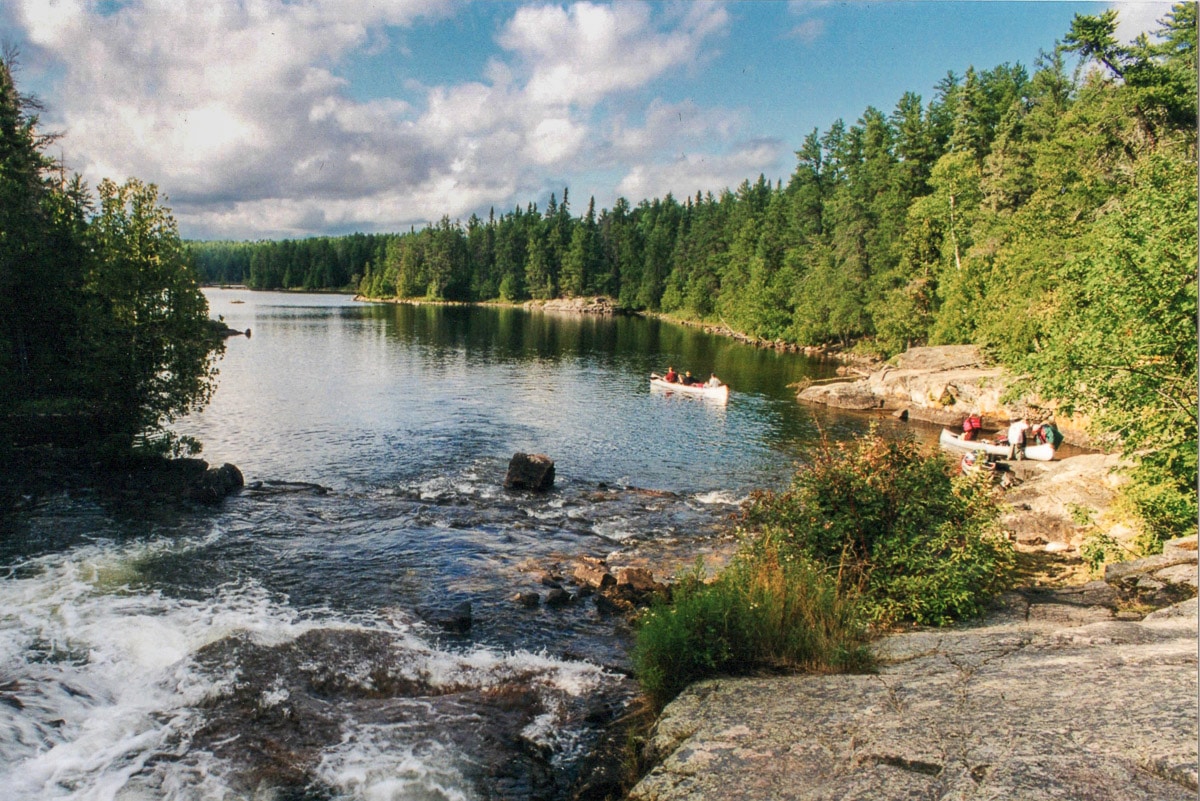 The fact that said journey required a three-mile portage, i.e. carrying all gear and the heavy, aluminum canoes through a bog with chest deep mud only to reveal itself to be nothing more than a bug-infested slough, never phased him. (You can imagine why.)
But despite our obnoxious whining and muttering about hours of non-stop paddling, zinc oxide running off our noses, bugs, mud, slop in our shoes and underwear, none of us have ever forgotten it, and more to the point, still talk (and laugh) about it as one of the most memorable trips we've ever taken.
The moment our seven canoes turned a bend in a narrow creek leading out from that desolate Canadian swamp and encountered a full-size bull moose lazily munching on grass a couple yards off our path is seared in our memory like a brand on a cow's butt.
With no way to reverse course, we waited for maybe 20 minutes before filing by that moose in the slowest, quietest parade of fear-struck gawkers you've ever seen, all while the big fellow (they have pretty bad eyesight) continued thrashing his lunch.
Moose and black bears are a possibility on a trip you might take into the Boundary Waters, and rangers and outfitters will give you "the speech" about what you need to do to avoid or deal should there be a bona fide wilderness encounter. But desolate swamps are not something you have to worry about.
Choose a good outfitter
Any ranger or outfitter can give you good advice on easy-to-access, photo-contest worthy campsites, some on islands, others on peninsulas (with bug-abating breezes) and some with delightful, though usually small, sandy beaches. They want you to enjoy yourself. So take their advice and mark your maps/GPS.
Let me emphasize that none of the outfitters would be in business long if they dispensed bad advice, or failed to accurately assess their customers' outdoor savviness. The point being, don't be embarrassed by what you don't know. The internet is full of Yelp reviews and such about BWCA outfitters. Shop and contact the one you choose well in advance of when you plan on going. Be honest with them both about your skills and what you need. Some may try to upsell you with equipment that isn't critically necessary, but the cost for extra dry bags (big sacks that keep your stuff dry) or whatever is pretty minimal compared to the entire trip in the BWCAW.
Ely is the main western entry point to the Boundary Waters Wilderness Canoe Area, while Grand Marais on the North Shore of Minnesota is the eastern point of entry. Both towns have numerous outfitters where you can reserve canoes or kayaks, often in advance.
You can spend a lot of time trying to judge the best, least-trafficked routes with the best chance at the best campsites. But given the current demand for Boundary Waters permits, a small piece of advice would be to suck up the two (additional) hours of driving from scenic Grand Marais on Lake Superior inland, up the Gunflint Trail, to an outfitter in that area. We've had good experiences with outfitters on Lake Saganaga, off the Gunflint.
By no means will you be entirely alone. But you'll at least be a hundred miles further than the relative slackers who turned in for the first access they could find.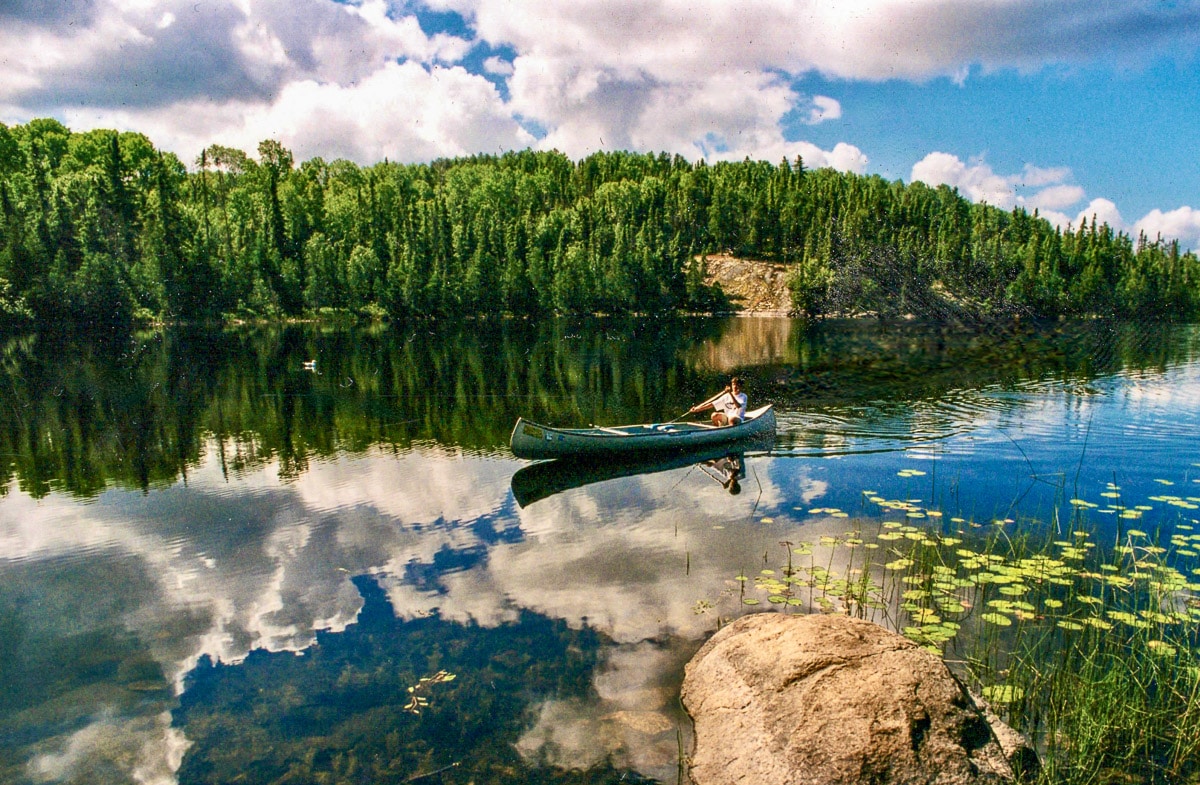 Be aware of, and prepared for, the weather
As with everything "up north", don't assume the weather will always be balmy. I've had the experience of getting caught in a 50-mph wind and spending a couple hours standing in waist-deep water against a rock wall waiting for the blow to pass over. In good weather, out on the water, the sun is an issue to be prepared for, much like insect repellent once you reach shore and set up camp.
Note too, that this year's deep winter snows and unusually high rainfall this spring have caused high waters and flooding in the BWCAW and surrounding areas. Be careful, and know exactly where you are going, especially this year.
My apologies if I've painted a less than thoroughly paradisiacal picture of the Boundary Waters. But I'm only trying to impress you with enough reality so that you're prepared for everything involved in the experience, an experience that does – mostly – involve sublime quiet, endless acres of fresh, swimmable water and the opportunity for the kind of truly away-from-it-all comradeship that comes from camp fires (where allowed) and beverages (not in glass or cans) or medicinal herbs among family or friends.
Enjoy the dark skies
All that, and nights in the largest Dark Sky Sanctuary in the world, according to the International Dark Sky Association, "This designation confirms what people in this area have enjoyed for thousands of years: naturally dark skies, starry nights, and astounding northern lights displays. Boundary Waters is a mixture of glacial lakes, streams, rocky cliffs, towering rock formations, sandy beaches, and forests."
I can't improve on that. Other than to say, when scheduling your trip, don't so completely wear yourself out paddling and portaging all day you're too tired to stay up and experience one of the most magnificent displays in nature.
Brian Lambert is a long-time Twin Cities journalist and regular back country traveler. Currently, he writes for Wry Wing Politics. By the way, all the photos in this post are his.
More info from MNTrips
See the list of all Minnesota State Parks, including basic permit information. We also have a list of all Minnesota Historical Society sites. We're adding our commentary for the park and historical sites as we visit them.
When you plan on hiking or biking the Minnesota State Parks, be sure to download the Avenza Maps app to your phone. The app allows you to download the trail maps for almost every state park, and they are invaluable for navigation, especially because many of the parks don't have as many directional signs as they should.
Also, if you're planning on camping at Minnesota State Parks, you'll need a reservation. Here's the online reservation form.
Check out our recommendations for what to carry in your hiking day pack when you check out the extensive Minnesota State Park and National Park system.
Some of the links on this page may be affiliate links, which means we may receive a small commission if purchases are made through those links. This adds no cost to our readers and helps us keep our site up and running. Our reputation is our most important asset, which is why we only provide completely honest and unbiased recommendations.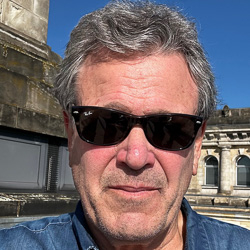 Latest posts by Brian Lambert
(see all)