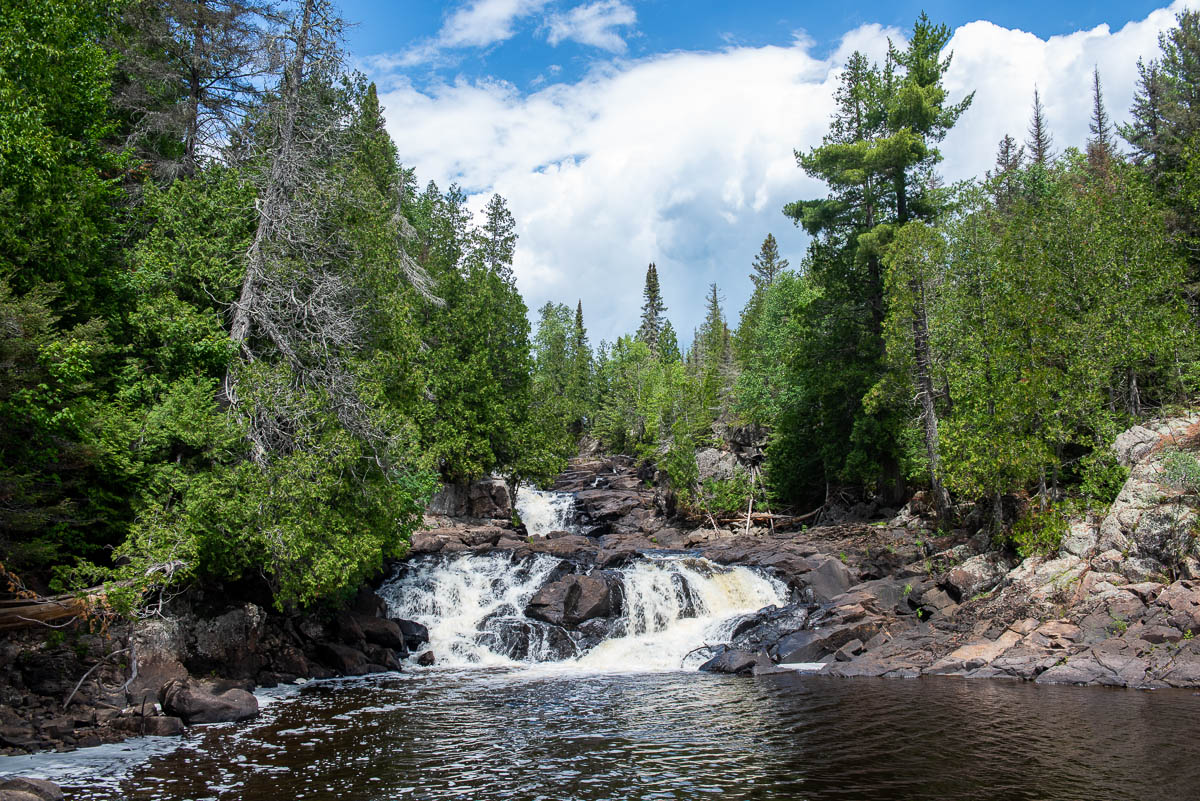 The most remote of the North Shore state parks, George H. Crosby Manitou State Park is the least visited of all the "waterfall" parks along Lake Superior. And for good reason. While all the other state parks along the North Shore reward relatively easy walks with views of the iconic waterfalls, at Crosby Manitou you're in for a more difficult hike to reach the Manitou River cascade. And from there, if you continue along the hiking loop, it gets a lot tougher.
Getting to the park
Crosby Manitou is the only of the North Shore parks that isn't directly accessible from Hwy. 61. It requires about a 20-mile detour off the highway, mostly on dirt and gravel roads. But if you're looking for a park where you won't have to fight the crowds to get a look at the waterfall, this is the park for you.
Here is the Google Map from Tettegouche, the nearest park on Hwy. 61.
Crosby Manitou hiking overview
There are 24 miles of trails in the park. These trails include the easiest loop around Benson Lake. This is less than a mile and can be done in an hour. The rest of the trails require a bit more commitment. I chose the so-called Hiking Club Trail route which includes the Middle Trail to the falls and the Humpback Trail. These two combined complete a loop of about three miles. The Hiking Club trails in the State Parks are usually the most maintained trails, best marked, and relatively accessible to the casual day hiker.
Here is a map with your choices.
However, as advertised, the rest of Crosby Manitou is not your typical state park hiking experience. It's very much a wilderness trek, with lots of climbing, sometimes steep descents, and frequent rock fields in which you will have to step carefully. Those rock fields also obscure the trail sometimes; it's not always apparent where the trail picks up on the other side. Twice, I had to make circles through and around the rocks to find the trail again.
With no markers among the rock fields, the Avenza maps weren't much help either due to their scale. Also, there's a large section of the park where you will have no cell signal, which is disconcerting for a couple of reasons. If you need to call for help, you're going to need a satellite phone. If you're relying on the electronic version of Avenza Maps to determine where you are with your phone, you'll likely be disappointed.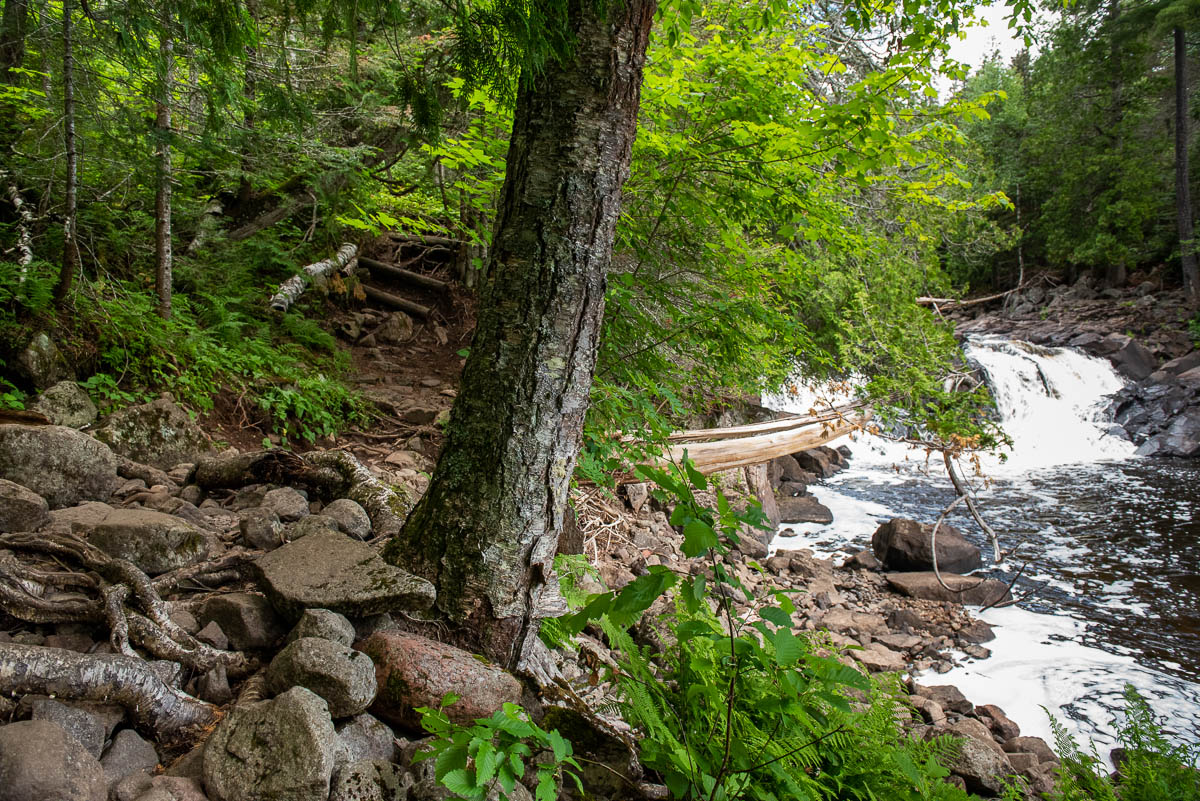 Hike to the waterfalls
It's just short of a one-mile hike up the Middle Trail to get to the waterfalls on the Manitou River. Above the falls, you will need to take 60 steps down a wooden stair to get to the vantage point. Once you're there, you'll have to carefully pick your steps over some largish boulders to your right to get the best head-on look at the cascade. After that, resist the temptation to walk back up the stairs looking for the trail (like I did). It's in front of you, to the left of the falls, over some slippery rocks then up a steep hillside. There are some log steps to help, but it's a scramble.
From there, the hike is really beginning. The rest of the Humpback Trail section is relatively difficult. There are no "technical" climbs, but you will be going uphill frequently. And, downhill. There's really not much level ground where you can take it easy.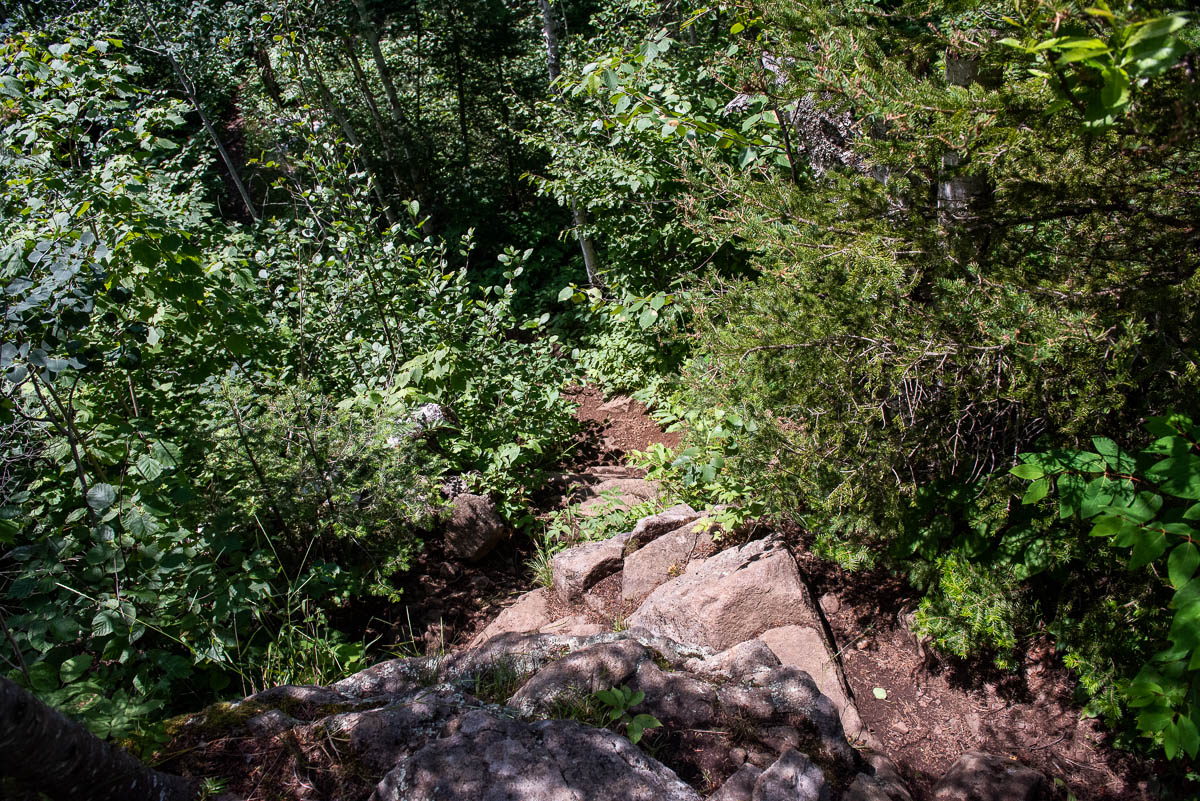 In at least two spots along the Humpback Trail, I encountered steep sheer rock faces that took me several minutes to figure out how to navigate. There's no way around them, and the footholds are not readily apparent. I ended up having to take off my camera and day hiking pack and lower them down onto small ledges so they wouldn't upset my tenuous balance as I tried to descend. All the while, frankly, I was afraid I would fall to the rocks below. It was only ten feet or so, but I could foresee a broken leg as a likely conclusion.
But, with exceptional care and by moving very slowly, I managed to negotiate the two sheer rock faces and made it without any more injury that a stubbed toe.
Preparing for your hike
This is probably a good time to admonish you that Crosby Manitou is not a good place to hike alone, as I (foolishly) did. In fact, if I did it again, I certainly would go with a partner and, probably, be sure I was carrying a GPS device that could be used to signal in case of emergency. At the very least, let someone else know exactly where you will be hiking, so they can alert someone to come looking for you if you don't report in.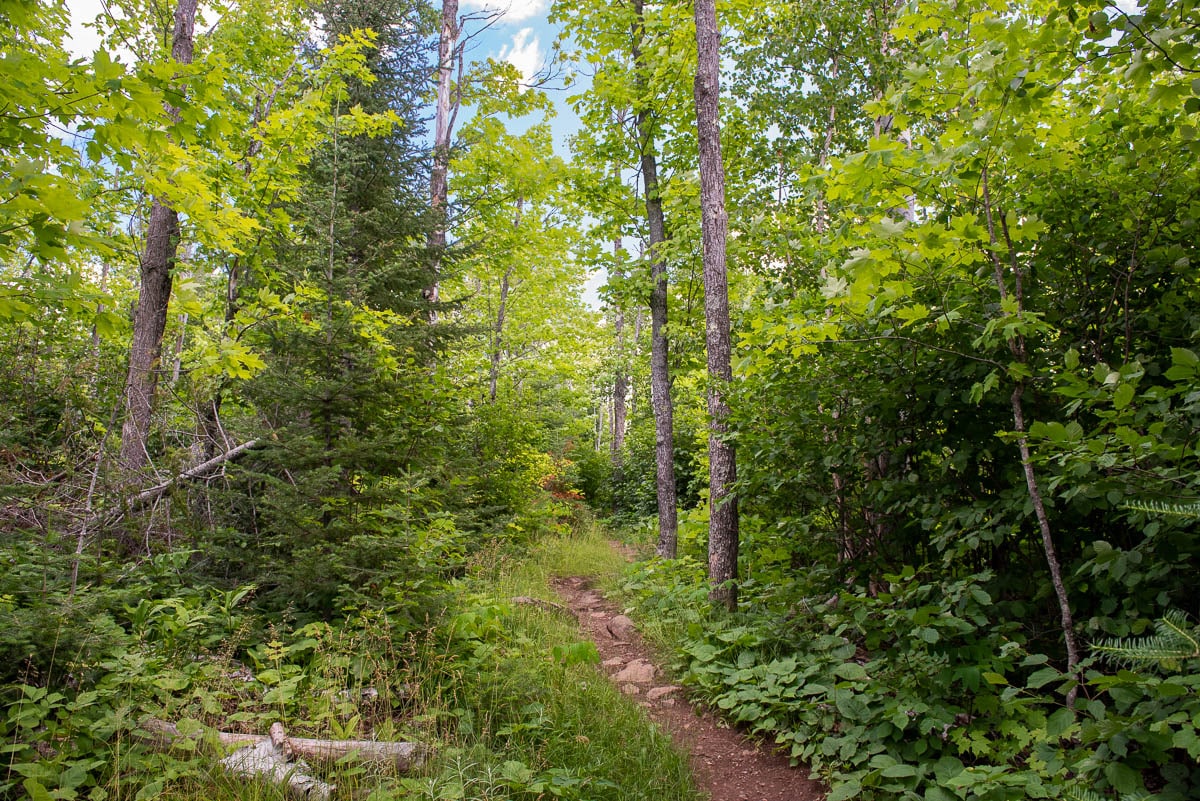 Some other suggestions: wear long pants. The path is often overgrown and you'll be hiking through brush. Save your skin.
Also, I'd suggest trading your usual trail shoes for your hiking boots – the ones that have thick soles, sturdy toes, and cover your ankles. There are lots of rocks, roots, and vines that will do their best to stub your toes and roll your ankles all along the Middle and Humpback Trails.
And, it should go without saying, but bring lots of insect repellent and wear your best repellent-treated clothing. Be sure you cover yourself right down to your finger tips. Believe it or not, I got two mosquito bites near the ends of my fingers, where I'd evidently neglected to spread the DEET.
Crosby Manitou Park History
The parkland was donated to the state by George H. Crosby, a mining magnate who was involved in the development of both the Mesabi and Cuyuna iron ranges. Minnesota established it as a state park in 1955. From its inception, the decision was made to limit development of this park. Instead of the customary campground, primitive campsites are scattered throughout the park and are accessible only by hiking trails. And these trails seem to receive very minimal maintenance. In general, they are barely – if at all – marked, and the trails are overgrown narrow foot trails. Crosby Manitou State Park was the first park in the Minnesota State Park System to be designed primarily for backpackers. It remains a backpack-only park. There are no drive-in campsites.
About five miles of the Superior Hiking Trail runs through the park.
More info from MNTrips
See the list of all Minnesota State Parks, including basic permit information. We also have a list of all Minnesota Historical Society sites. We're adding our commentary for the park and historical sites as we visit them.
When you plan on hiking or biking the Minnesota State Parks, be sure to download the Avenza Maps app to your phone. The app allows you to download the trail maps for almost every state park, and they are invaluable for navigation, especially because many of the parks don't have as many directional signs as they should.
Also, if you're planning on camping at Minnesota State Parks, you'll need a reservation. Here's the online reservation form.
Check out our recommendations for what to carry in your hiking day pack when you check out the extensive Minnesota State Park and National Park system.
Some of the links on this page may be affiliate links, which means we may receive a small commission if purchases are made through those links. This adds no cost to our readers and helps us keep our site up and running. Our reputation is our most important asset, which is why we only provide completely honest and unbiased recommendations.