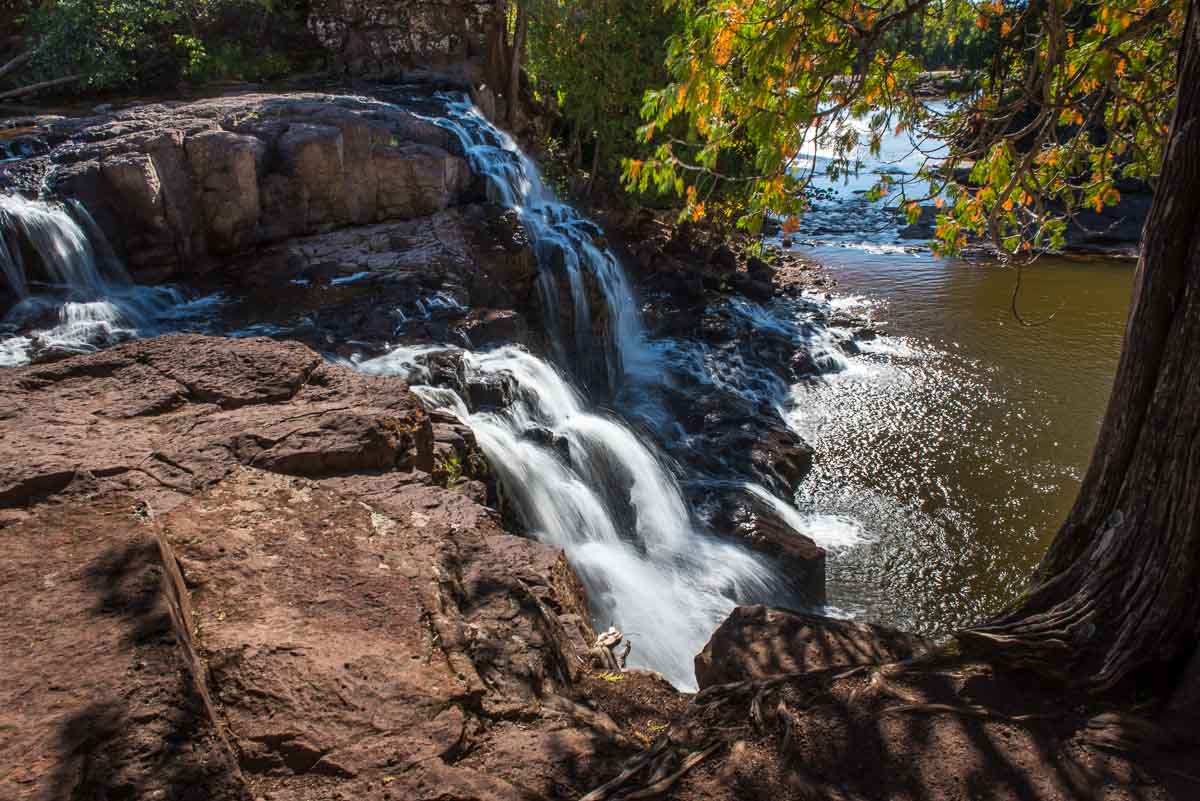 One of the most popular stopping spots as you make your way up the North Shore of Lake Superior, Gooseberry Falls makes for an easy walk and a rewarding view.
Gooseberry Falls State Park is the first one north of Duluth in the chain of eight parks that line the North Shore from Duluth to the Canadian border. The falls are just a few hundred yards up a paved path that runs under the Highway 61 bridge from the parking lot. You'll be presented with a head on view of the falls as you approach, but if you continue up the path a bit to the left, you'll get this view looking over the falls and back down the Gooseberry River as it makes its short journey to Lake Superior. I like this view better.
And, when the water level is low, you can walk (carefully!) out on to the rocks and cross almost all the way over to the other side. Like I said, be very careful.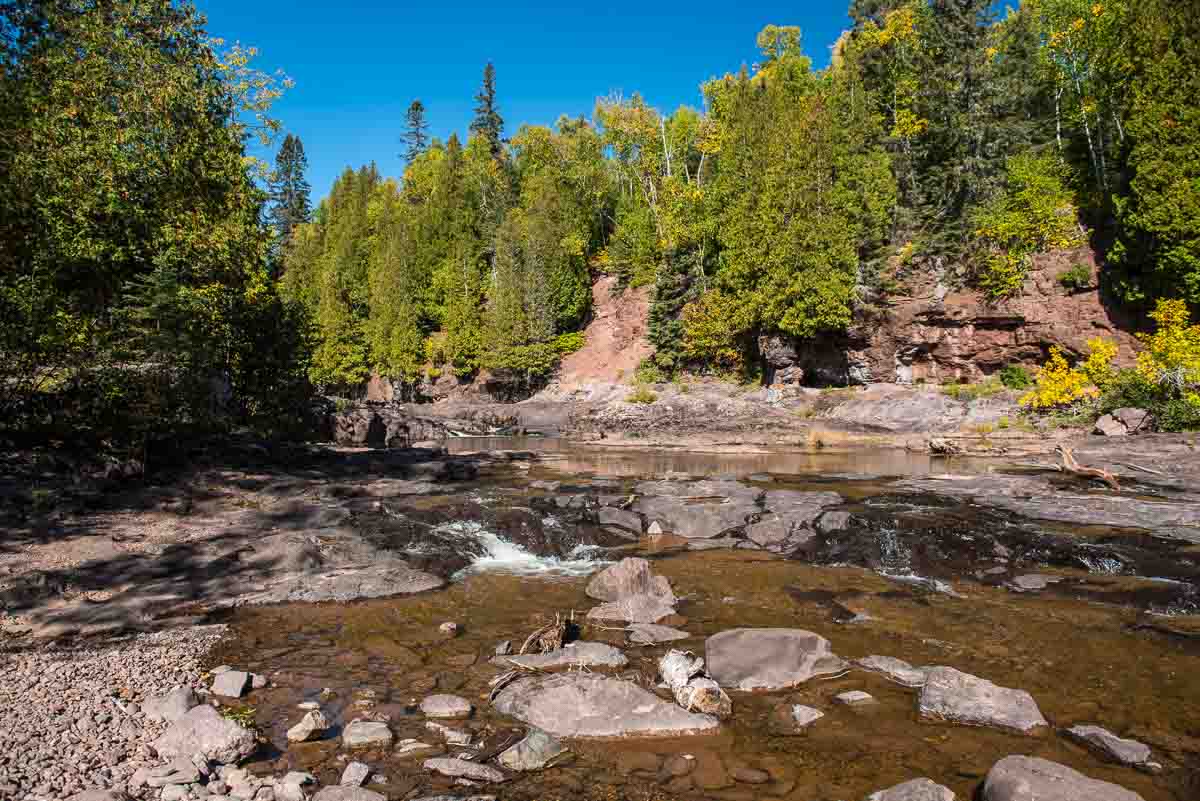 If you're up for more of a walk, continue up that path past the Middle and Lower Falls to the left until you reach a footbridge over the river. After crossing the bridge, take an immediate left to follow the Fifth Falls Trail past the Upper Falls and along the east side of the river up to the Fifth Falls. It's a little more than half a mile to that set of gentle falls, and you're actually walking on a portion of the Superior Hiking Trail.
I love walking portions of the Superior Hiking Trail because you're almost sure to meet people who are making multi-day hikes on the trail, and it's a nice chance to exchange greetings and maybe hear some short tales from those more serious hikers. You can always tell them because they're carrying bigger backpacks, and look like they've been a few days without showers. As one hiker told me, "You do get used to your own smell."
The Fifth Falls loop will take you back over another bridge and down the west side of the river back to the parking lot. Total distance is about 2.4 miles and the hike should take around an hour, with plenty of time to stop for pictures and a chat.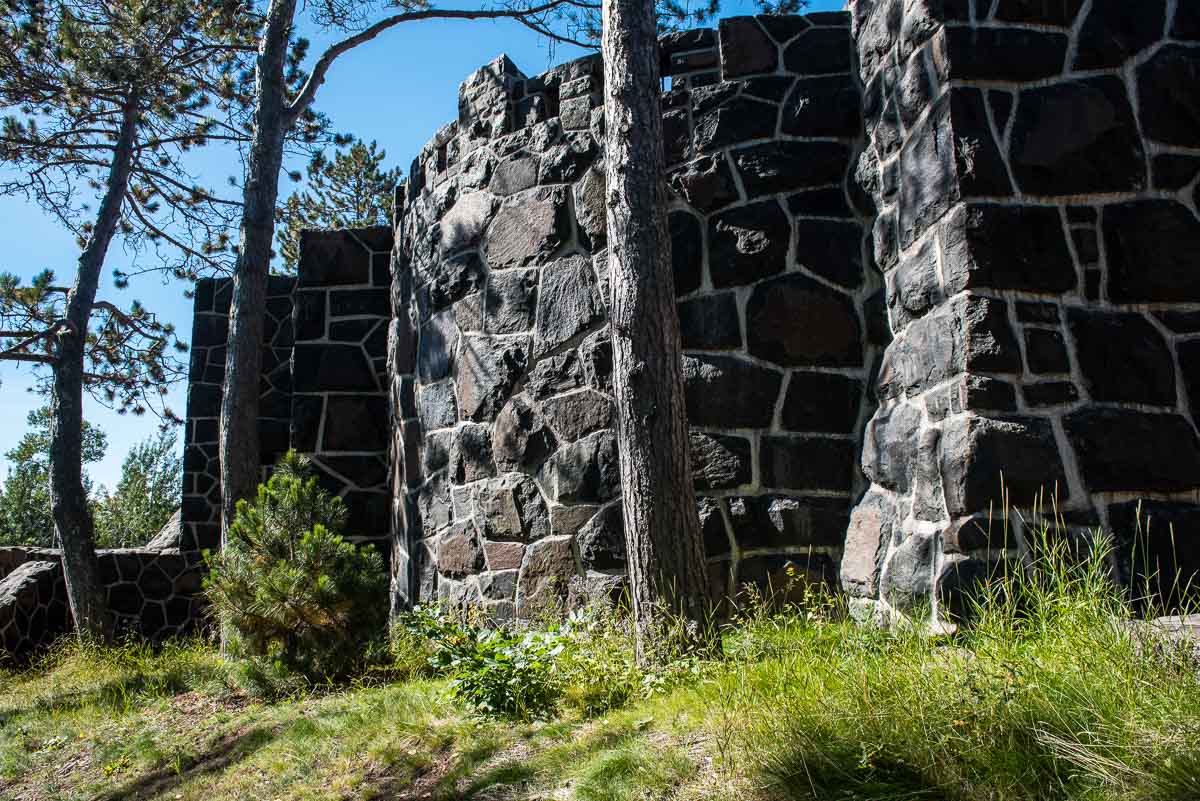 As you go back to your car, you'll pass the stonework buttresses of Highway 61 done by the Civilian Conservation Corps in the 1930s during the Great Depression. The Visitors Center was also built by the CCC. Give thanks for the programs that contributed to so many of the Minnesota State Parks, and projects all over the United States that give enduring benefit to us almost 100 years later.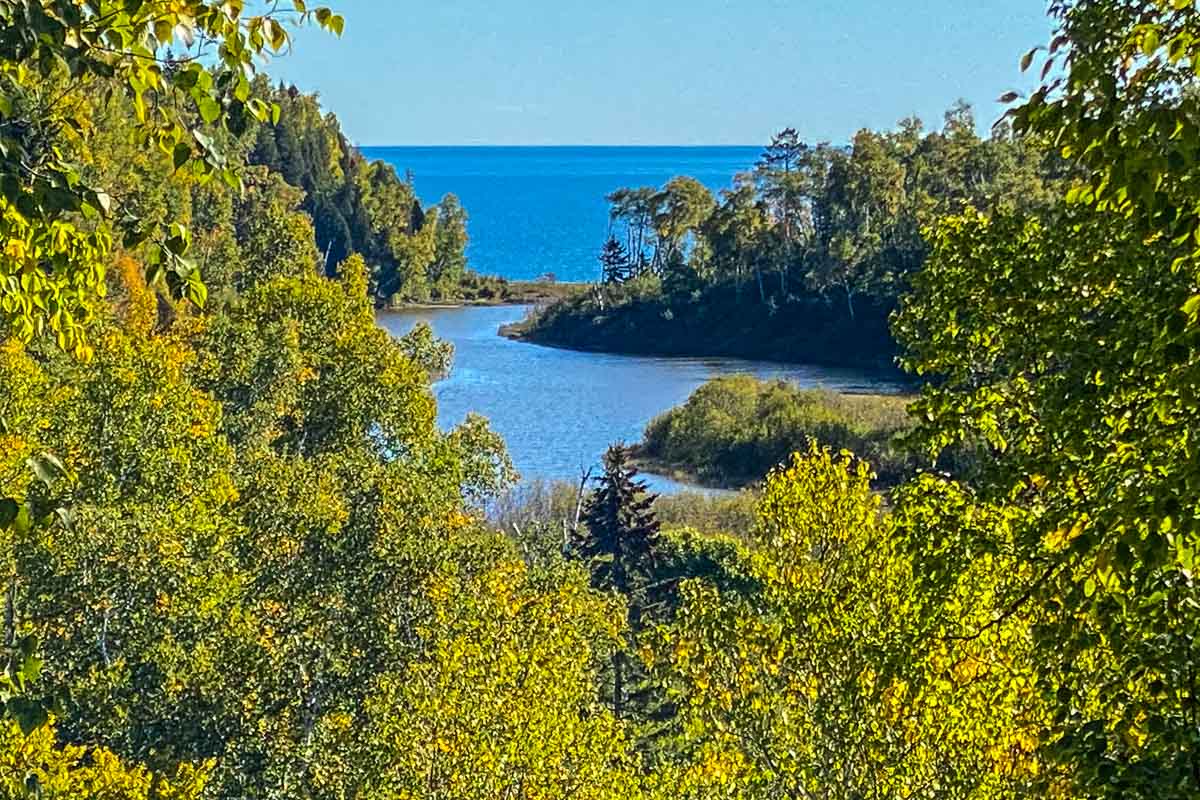 And, also take a moment to admire the view down the Gooseberry River to the Lake Superior shoreline as it runs into the big lake.
Gooseberry Falls State Park has plenty of opportunities for camping, if you're up for a longer stay and a base for exploring the North Shore. Camping at state parks requires reservations. Check the link below if you're interested.
There are a total of 20 miles of hiking trails in Gooseberry Falls State Park, including a portion of the Superior Hiking Trail which traverses the park. There are 2.5 miles of paved bike trails, which are part of the Gitchi Gami Trail. The Gitchi Gami bike trail is planned to run from Two Harbors to Grand Marais, but is not yet completed.
For winter, there are 12 miles of groomed cross country ski trails and four miles of snowmobile trails. There are four miles of specific snow shoe trails, but you can snow shoe anywhere in the park except on the groomed cross country trails.
If you are there in winter, as we were once, yes, the falls do freeze. It's beautiful. I wish I could find the pics I took 35 years ago.
You can see all my posts from my trip to the North Shore here.
See our list of other waterfalls along the North Shore of Minnesota.
Where to stay on the North Shore
I based my latest exploration of the North Shore from a beautiful apartment in Two Harbors that I found on AirBnB. If you book it, we'll receive a small commission at no additional cost to you. If you're not an AirBnB member, join AirBnb here, and you'll get up to $65 off your first stay.
More info from MNTrips
See the list of all Minnesota State Parks, including basic permit information. We also have a list of all Minnesota Historical Society sites. We're adding our commentary for the park and historical sites as we visit them.
When you plan on hiking or biking the Minnesota State Parks, be sure to download the Avenza Maps app to your phone. The app allows you to download the trail maps for almost every state park, and they are invaluable for navigation, especially because many of the parks don't have as many directional signs as they should.
Also, if you're planning on camping at Minnesota State Parks, you'll need a reservation. Here's the online reservation form.
Check out our recommendations for what to carry in your hiking day pack when you check out the extensive Minnesota State Park and National Park system.
Some of the links on this page may be affiliate links, which means we may receive a small commission if purchases are made through those links. This adds no cost to our readers and helps us keep our site up and running. Our reputation is our most important asset, which is why we only provide completely honest and unbiased recommendations.