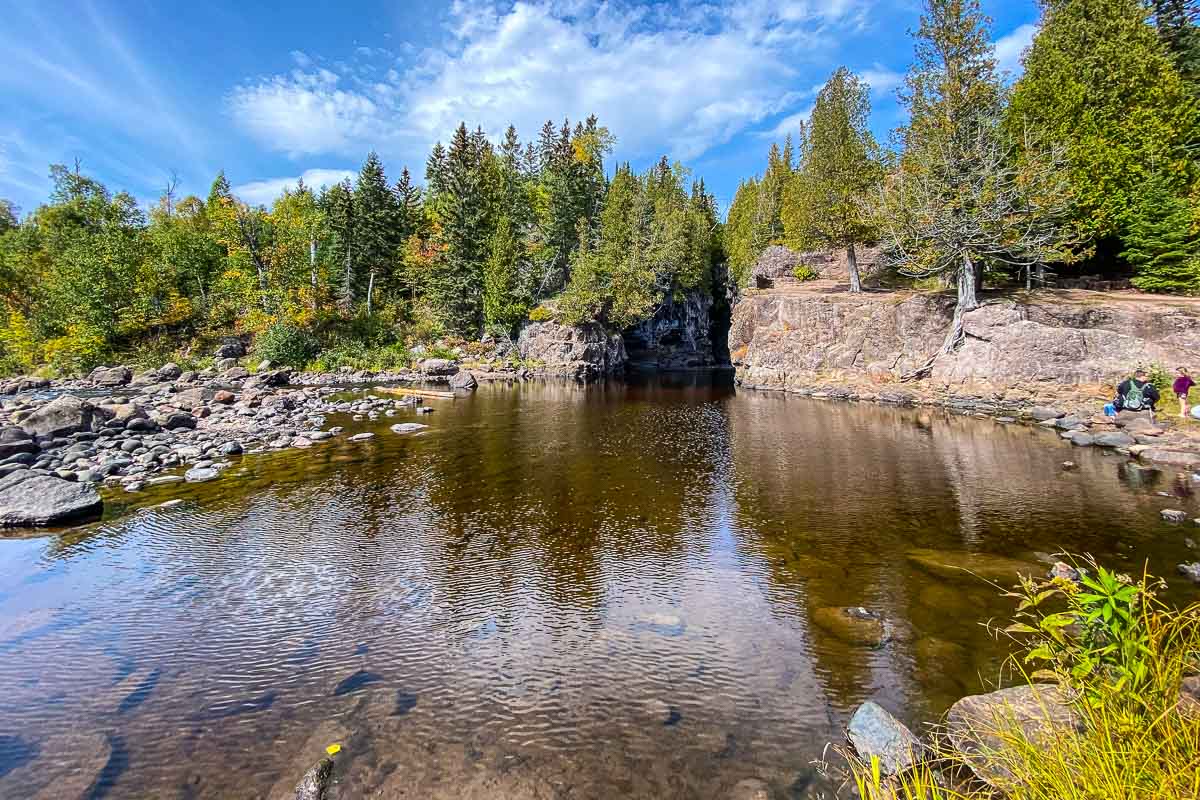 The initial walk up to the first waterfall at Temperance River State Park is a bit surprising. Instead of the usual verdant Minnesota landscape, you're mostly traversing pitted black basalt rock. In other words, solidified volcanic flows that have been carved by fast flowing water over millennia into canyons a hundred feet deep. So deep that in many cases as you walk the rim you can hear the water, but you can't see it in the twisted chasm.
Cool, otherworldly stuff.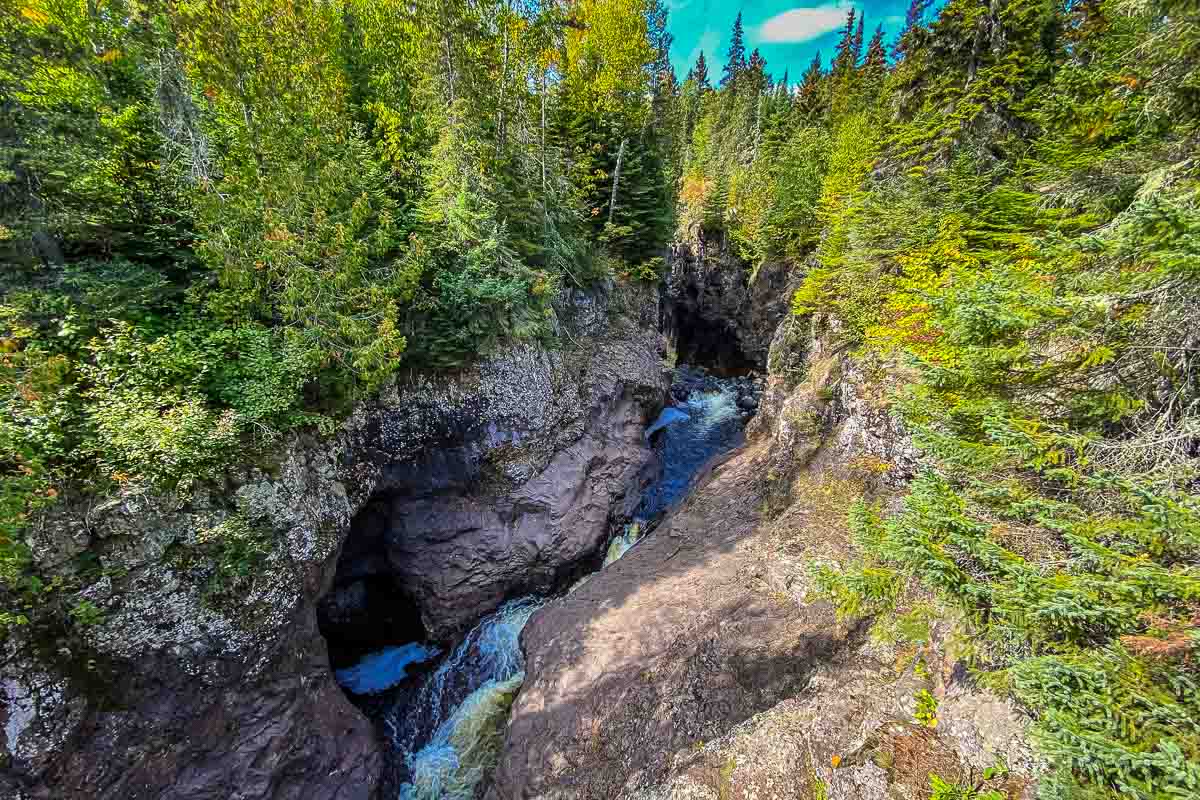 You do eventually get to a spot where the waterfalls haven't yet carved such a deep tunnel that you can't peer over the overhangs to actually get a peek at the rushing water.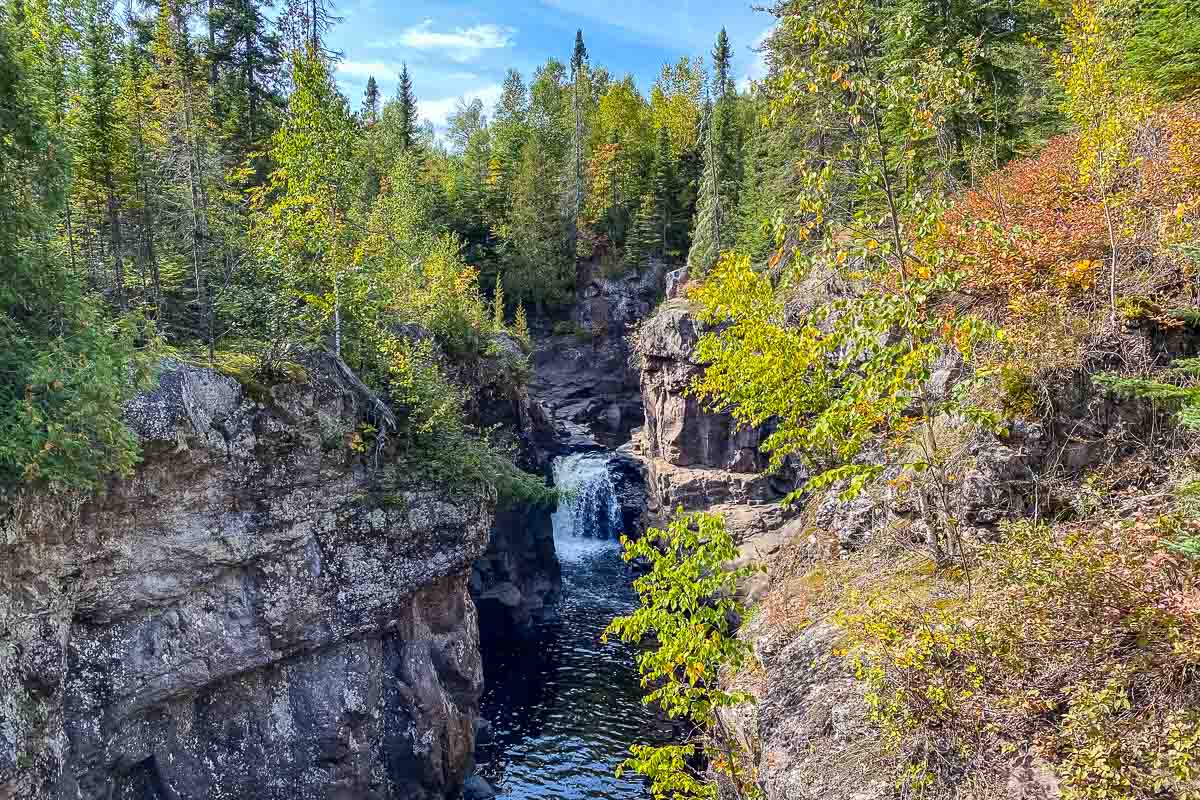 Every turn of the first half mile is a new view of the gorge.
Eventually you get to the end of the basalt and onto a more level dirt trail that takes you along above the edge of the gorge until you come out on a plane with the calmer upper river.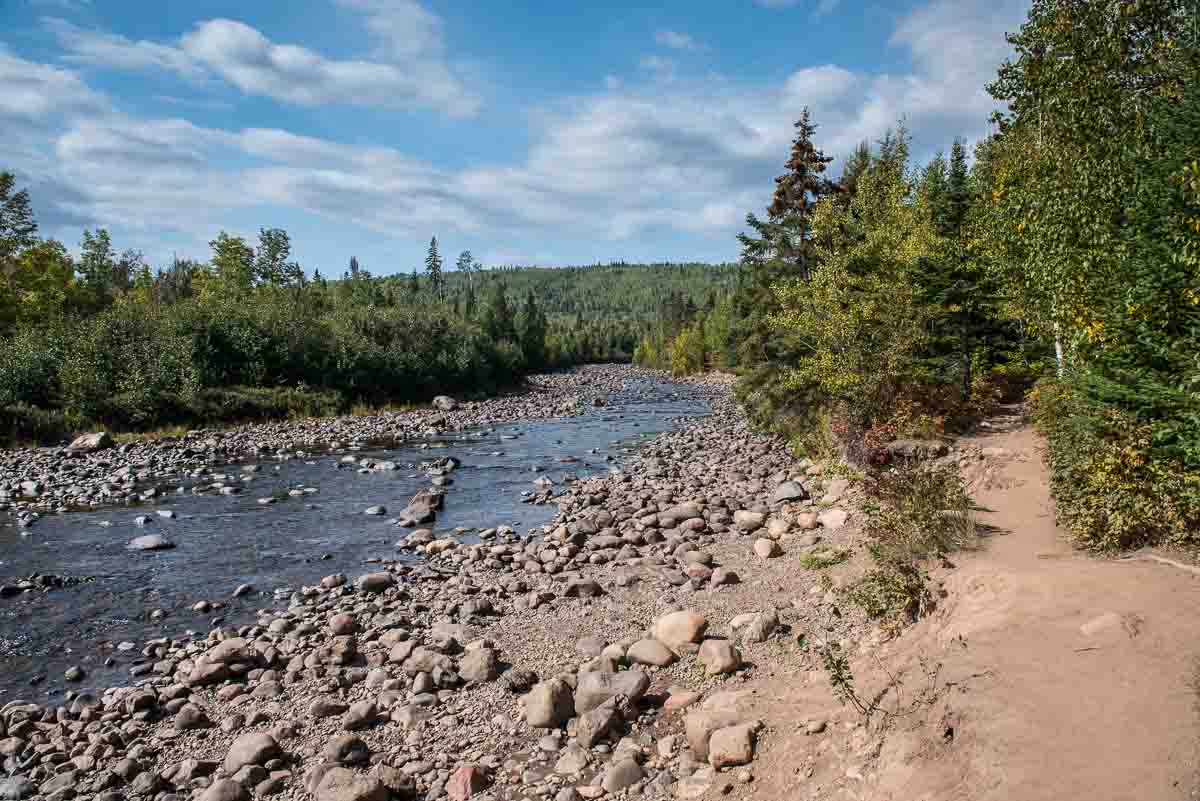 You can walk along this placid stream for about half a mile until you get to some steps. You climb those 60 steps and you're back into gorge territory. Getting down to the edge of the gorge again can be a frightening experience. A steep dirt track down to the hard basalt ledge to get this view.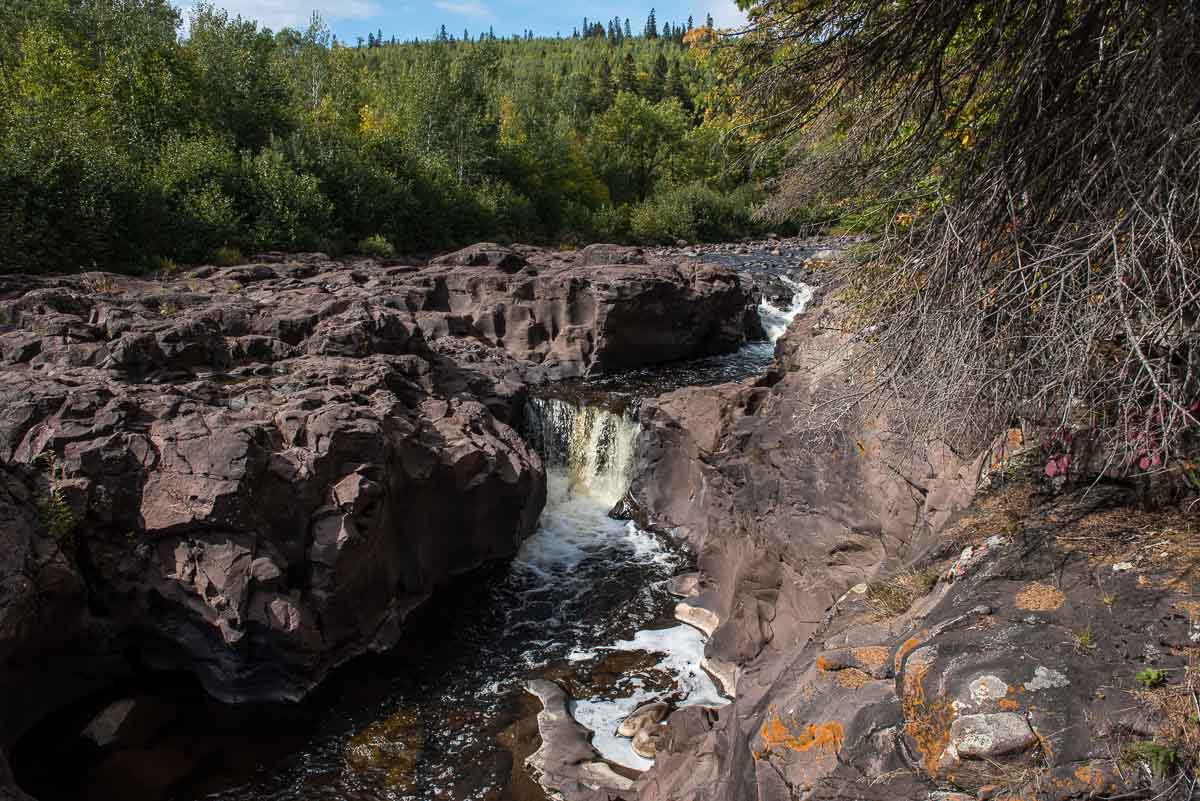 After this, you turn right and walk into the woods, much like any other walk through the Minnesota north woods back to the parking lot. Seems pretty tame after your trek along the gorge.
The round trip walk is about 2.4 miles and took about an hour and 20 minutes, including stopping time to photograph. It takes longer to go up the gorge than down the woods, of course. An unusual fun walk with unusual scenes for Minnesota.
Another feature of Temperance River State Park is that the campgrounds are all on the lake side of Highway 61. That means if you choose to camp, you're going to probably be right on the lake. Reserve early to get the best spots. See the link below for campsite reservations.
Also, if you're planning on going to the North Shore area in the fall, be sure to reserve your campsite early. They fill up fast, and the "leaf season" is very busy.
You can see all my posts from my latest trip to the North Shore here.
See our list of other waterfalls along the North Shore of Minnesota.
Where to stay on the North Shore
I based my latest exploration of the North Shore from a beautiful apartment in Two Harbors that I found on AirBnB. If you book it, we'll receive a small commission at no additional cost to you. If you're not an AirBnB member, join AirBnb here, and you'll get up to $65 off your first stay.
More info from MNTrips
See the list of all Minnesota State Parks, including basic permit information. We also have a list of all Minnesota Historical Society sites. We're adding our commentary for the park and historical sites as we visit them.
When you plan on hiking or biking the Minnesota State Parks, be sure to download the Avenza Maps app to your phone. The app allows you to download the trail maps for almost every state park, and they are invaluable for navigation, especially because many of the parks don't have as many directional signs as they should.
Also, if you're planning on camping at Minnesota State Parks, you'll need a reservation. Here's the online reservation form.
Check out our recommendations for what to carry in your hiking day pack when you check out the extensive Minnesota State Park and National Park system.
Some of the links on this page may be affiliate links, which means we may receive a small commission if purchases are made through those links. This adds no cost to our readers and helps us keep our site up and running. Our reputation is our most important asset, which is why we only provide completely honest and unbiased recommendations.