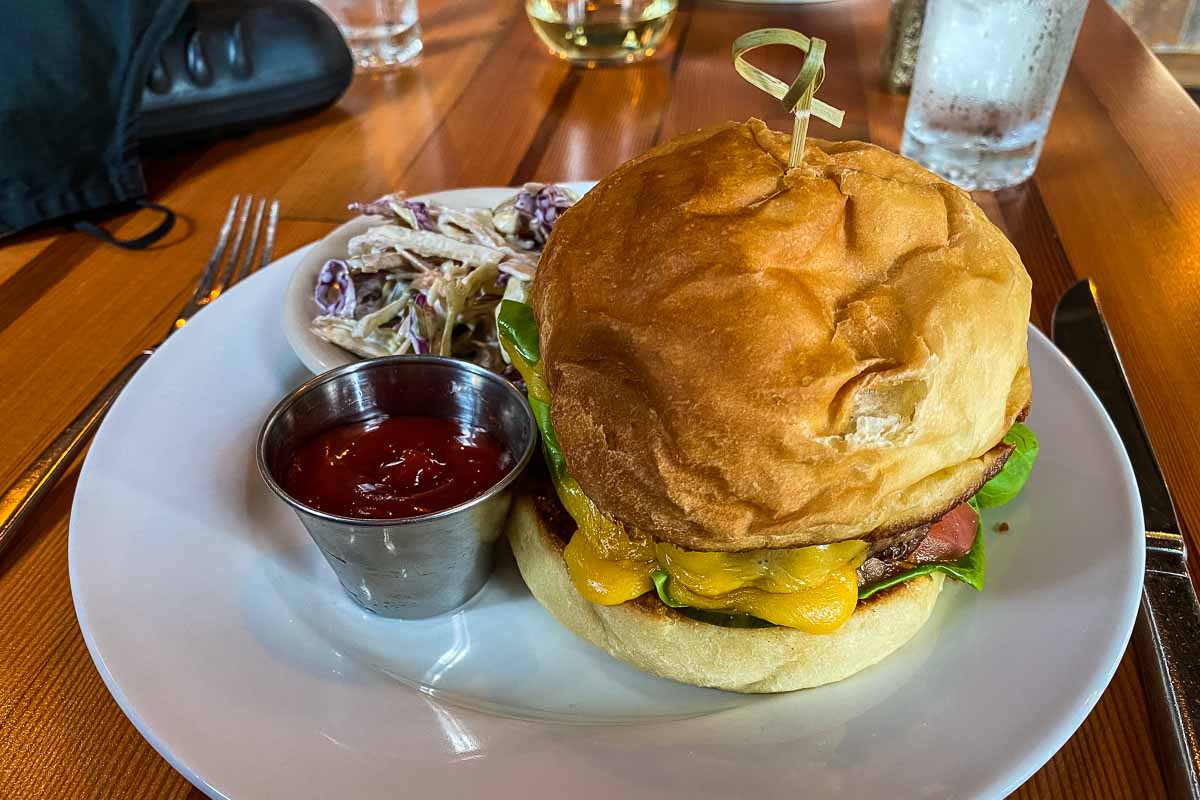 Honestly, Duluth was a bit of a surprise when it came to eating out. The Twin Cities, of course, are known for great places to eat, but when I think of Duluth, I must admit my thoughts go more to scenery and big boats, not big plates of delicious food.
But, based on our recent three days in Duluth, I'm going to have to expand my horizons. We were delightfully surprised by the variety and quality of eats that we found there. Here are a few suggestions to find the best restaurants for your next trip to Duluth.
Breakfast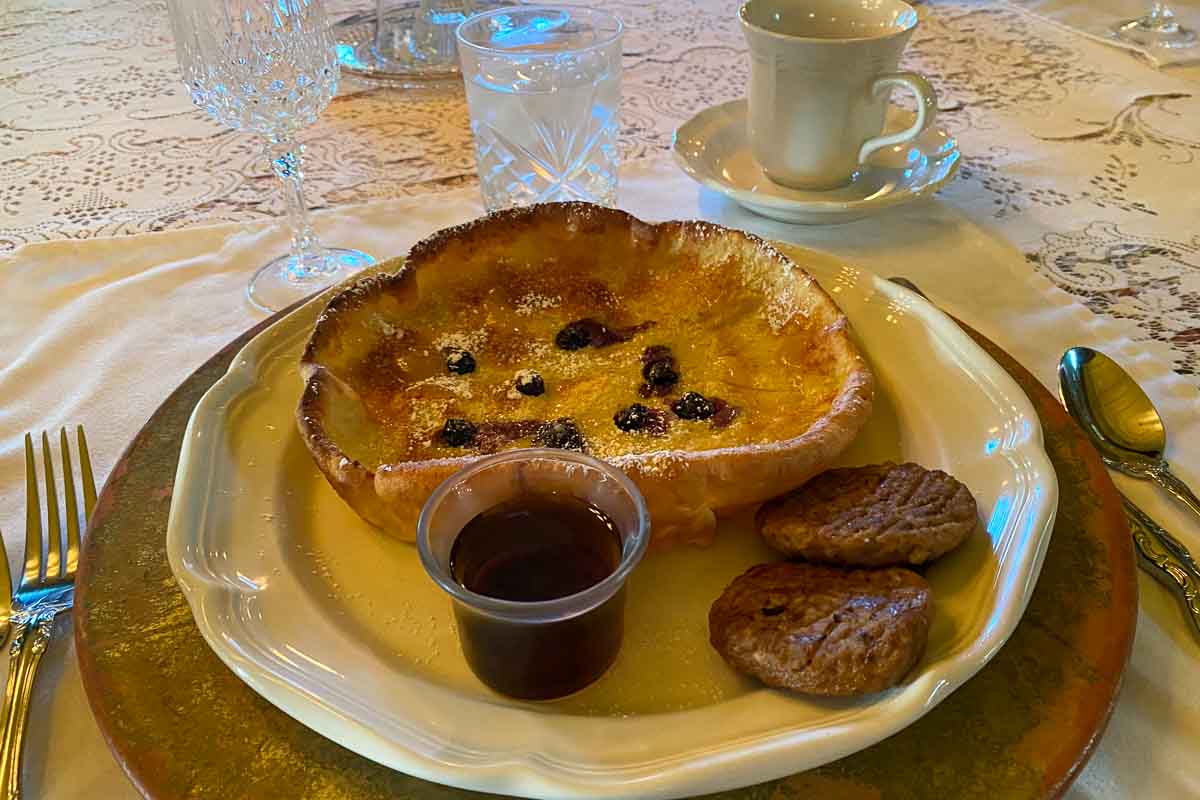 Cotton Mansion
Ok, this one was easy, because we stayed in the historic Cotton Mansion. The room in the carriage house was lovely, but as far as I am concerned, the best part of the deal at Cotton Mansion was a gourmet breakfast. And, I'm not exaggerating when I say gourmet.
We ate two breakfasts at Cotton Mansion. The first was a sumptuous blueberry baked pancake – a Dutch-style pannekoeken – with plenty of butter. It was so rich on its own that I didn't even bother with the maple syrup. That may have been a mistake, because I did dip my fork in the syrup just to taste it. It, too was the real deal. Add two tasty sausage patties and you've got a perfect start to the day.
The second day, if possible, was even better: a fluffy scrambled variation on Eggs Benedict. Instead of the usual English muffin, the base was a small, buttery, flaky croissant. The eggs, instead of poached, were softly scrambled along with some small squares of ham. All topped with a delicate Hollandaise sauce. Perfection.
Lunch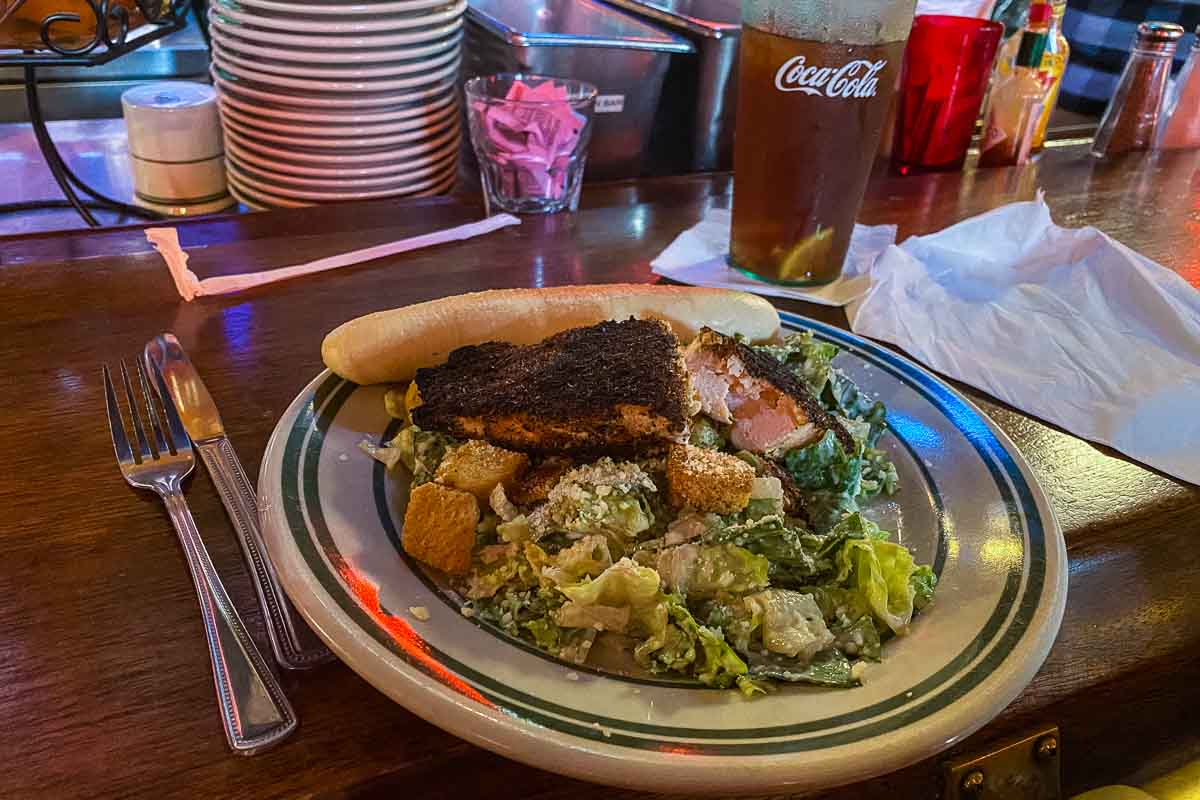 Grandma's, Canal Park
It can't really be a visit to Duluth without a stop at the original Grandma's in Canal Park (522 S. Lake Ave.) Technically, it was a late lunch (or an early dinner) but after the afternoon drive up from the Twin Cities, we were ready to eat.
I had the small Caesar salad topped with blackened salmon ($15.80.) Let's just say that Grandma's knows how to do both. A traditional Caesar, with just the right amount of dressing, and the salmon. Now it's not really that easy to blacken salmon without over cooking it, but Grandma managed it perfectly. Crunchy and spicy on the outside, and still moist and flaky in the center. Probably better than you have a right to expect in a "bar and grill" type of restaurant. But that's Grandma's. They haven't been around for 45 years by serving mediocre food.
Kris had the signature Wild Rice Burger with fries ($14.20.) She's more a fan of meatless burgers than I am. She pronounced it, alternately as "tasty!" And, "cheesy!" And, finally, "better than I expected!" Not exactly sure what she expected, but let's just say she didn't have any trouble finishing it. The fries were very good, too. I had some personal experience with them while she wasn't looking.
Kris accompanied her burger with a pint of "sour" Fair State Roselle beer. She allowed me one tasty sip.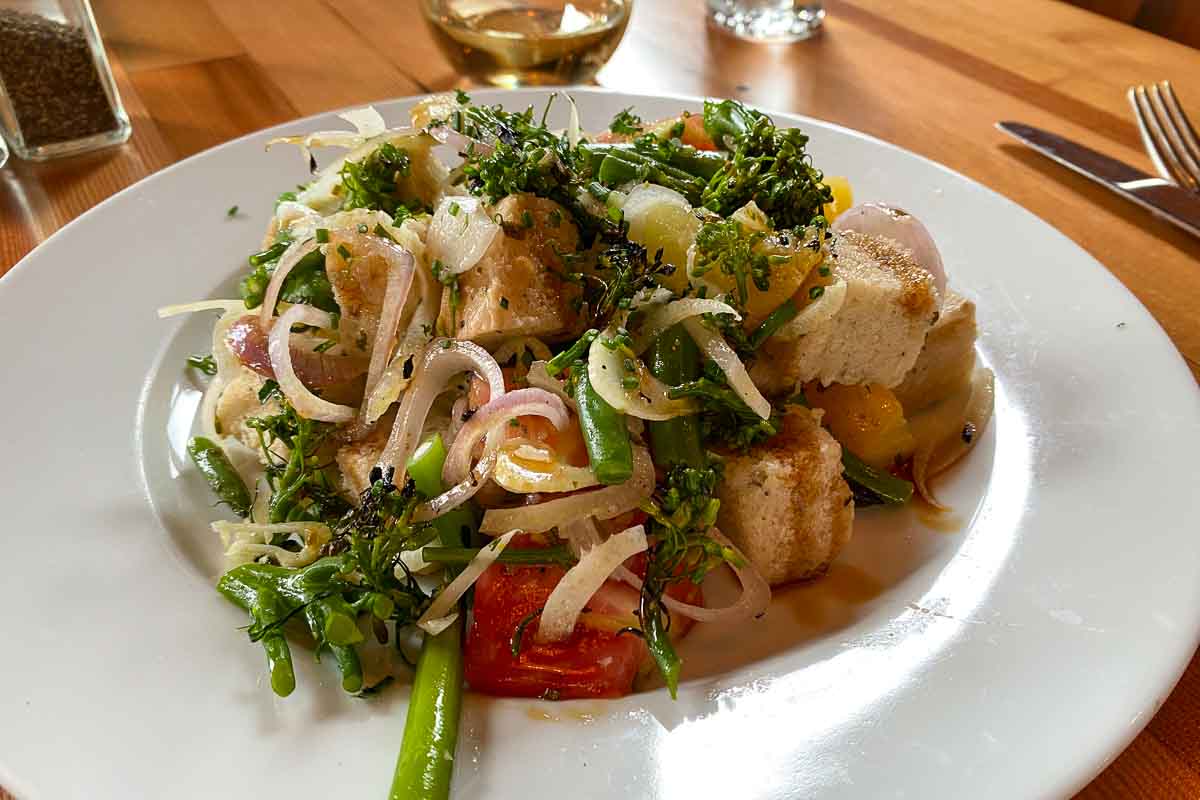 Lake Avenue Cafe
We saw a description of the Lake Avenue Restaurant and Bar (394 South Lake Ave.) as "Duluth dining at its most creative." Then I ordered the hamburger. That's how creative I am.
Perhaps I was intrigued by the price of the hamburger: $21 (although on its website menu it says $18.) I've never had a $21 hamburger before, so I had to try. It was good.
The homemade bun was perhaps the highlight. I can honestly say it was the best hamburger bun I've ever eaten. Not that I'm that much of a connoisseur of buns, but this was particularly delicious. Soft and toasty at the same time. Yum.
I also liked the optional thick slice of red onion that added a real crunch to the experience. Finally, the burger itself was perfectly cooked. A little charred on the outside, just the way I like it. It came with coleslaw, which was sort of indifferent, but, all in all, I think I got my money's worth.
Kris had the Panzanella ($14,) which is a fancy Italian way of saying a vegetable salad with pieces of foccacia bread mixed in. Grilled green beans, broccolini, and heirloom tomatoes in a vinaigrette with a balsamic reduction. There was a bit too much bread for her taste, but she loved the vegetables.
Duluth Grill
At the Duluth Grill, 118 S. 27th Ave W., it was my turn again to have the salad. And it was a good one. A huge Cobb affair ($16) featuring grilled chicken, a large pile of absolutely delicious bacon – okay, maybe not totally a salad – a hard boiled egg, and half of a delicious, ripe avocado. It was huge, and as I first looked at it, I said to myself, I can't eat all that.
I lied. I did, and was happy I did.
One tip, order the dressing on the side. They brought out enough ranch dressing for two salads. Nothing worse than a drowned salad.
Kris had the BiBimBap ($19,) which is something you don't usually see outside of a Korean joint…or Korea. BiBimBap is a ground beef and pork dish, seasoned with garlic, ginger, and sesame. Add to that some cilantro flavored wild rice, piquant Korean BBQ sauce, marinated kale, pickled chilies and onions, house-made kimchi, wild mushrooms, fresh avocado, egg and scallions. It also, was a huge plate of food. Delicious as it was, Kris couldn't finish it.
Mmmmm. More for me. I had it for dessert after my salad. It was quite amazing and totally unexpected. Next time I go to Duluth, I'm heading here just for the BiBimBap, and maybe I'll have the salad for dessert.
Dinner
Little Angie's Cantina
Little Angie's was a default choice after we spent the early evening wandering around Canal Park until we realized we were hungry. A while back I made up my mind that the next time I went to a Mexican restaurant, I wasn't going to automatically just shovel all the corn chips into my mouth as fast as possible and not leave room for the main course.
As usual, that plan lasted about as long as it took for the warm, crisp, savory Angie's chips to arrive.
As chips go, these get a solid diez on the uno to diez scale. Like I said, warm and crisp. Really nice fresh salsa, too. I comfort myself by remembering that salsa has almost no calories. Yeah, right. It doesn't. That's the chips' job.
We ordered two varieties of tacos to share: the chicken street tacos ($12.29) and the tropical tacos (13.29.) The chicken tacos were topped with onion and radish, which gives a nice crunch as well as a slight kick.
The tropical tacos are billed as the house specialty, and they were as delicious as they were unusual. Grilled shrimp topped with diced papaya, mango, pineapple, and strawberries, and then drizzled with avocado-jalapeno sauce. The sauce could have been a little peppier, but I presume the chef is making some concession to Minnesota tastes. My own heat craving was more than satisfied by the Tapatio Habanero bottle the waiter brought us. Light, spicy, and yummy. I love eating Mexican food that doesn't leave you feeling like you just ate an entire caballo.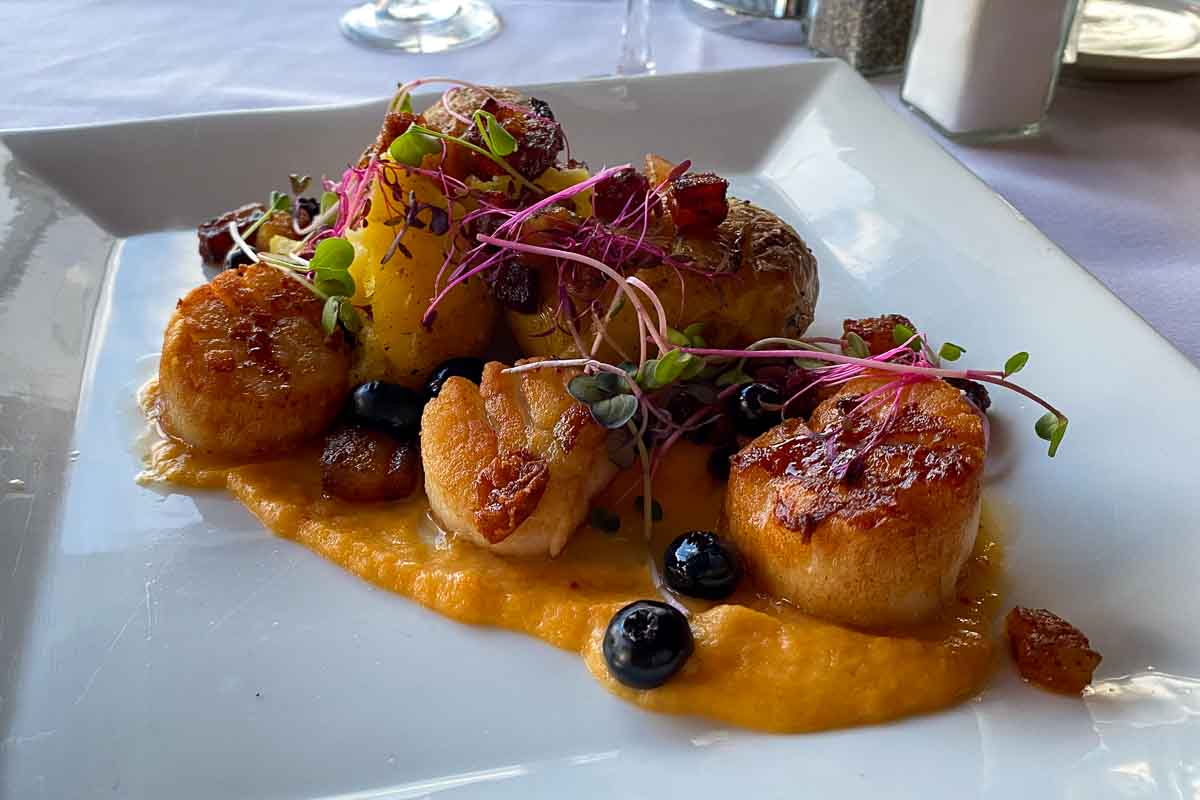 The Boat Club at Fitger's
One of my principles of eating in a Minnesota restaurant is: if they have walleye, order it. (The corollary is: if they have hot dish, go somewhere else.) At any rate, walleye is right up there among my favorite things to eat and once I see it on a menu, the rest of the fare may as well be in Chinese. The Boat Club's (600 E. Superior St.,) version – broiled with simple garlic herb butter and draped over a base of wild rice – was simple and succulent. A little drizzle of citrus remoulade was at the same time gilding the lily and a welcome touch. Do I take a forkful with the fish or not? The correct answer was sometimes yes, sometimes no.
Kris had the scallops, and they were every bit as good as scallops should be. Seared and then floated on a spicy apricot sauce sprinkled with small cubes of pork belly. Sort of like heaven having the salty bacon setting off the sweet sauce, no?
Have I mentioned that Kris usually offers me bites of her meals? I sometimes thinks she does it to prove she's better at picking what to eat than I am. Not sure anything is better than walleye, though. Unless it's scallops.
Bellisio's
Our last meal in Duluth (does that sound ominous?) was at yet another Canal Park spot. Bellisio's Italian came highly recommended by a friend, and we were only too happy to give it a try. The first thing we loved about Bellisio's was that the wine list was approximately the size of the Oxford English Dictionary. I love a big wine list, and a waiter who can make good suggestions.
We decided to go with some variety rather than choosing a bottle. And Bellisio's accommodated with several choices of flights of four wines in different styles. All for about the price of one glass. Kris picked a flight of four different Sangiovese wines. I just picked one glass, because I already know from living in Rome a long time ago that Sangiovese is my favorite Italian.
To accompany the wine – note the proper order of things – we went with an appetizer of burgundy style escargot ($16.25.) Yeah, I know that's French. But, I couldn't resist. I do love snails. And the snail bath of bubbling hot garlic butter and crusty bread for dipping are my idea of a great start to a meal – no matter whether I'm in Dijon or Duluth.
After we shared the snails, we did as we often do and split an entree and salad. Even though we were still working on our red wine, we went for a shrimp scampi over linguine ($28.) Another delightful buttery and garlicky bonanza. Do we repeat ourselves? We assuaged our consciences just a little with a Caesar salad ($13.) I hadn't counted on the croutons making a triumvirate of garlicky bready things in one meal, but it wasn't like I turned them away.
More info from MNTrips
See the list of all Minnesota State Parks, including basic permit information. We also have a list of all Minnesota Historical Society sites. We're adding our commentary for the park and historical sites as we visit them.
When you plan on hiking or biking the Minnesota State Parks, be sure to download the Avenza Maps app to your phone. The app allows you to download the trail maps for almost every state park, and they are invaluable for navigation, especially because many of the parks don't have as many directional signs as they should.
Also, if you're planning on camping at Minnesota State Parks, you'll need a reservation. Here's the online reservation form.
Check out our recommendations for what to carry in your hiking day pack when you check out the extensive Minnesota State Park and National Park system.
Some of the links on this page may be affiliate links, which means we may receive a small commission if purchases are made through those links. This adds no cost to our readers and helps us keep our site up and running. Our reputation is our most important asset, which is why we only provide completely honest and unbiased recommendations.