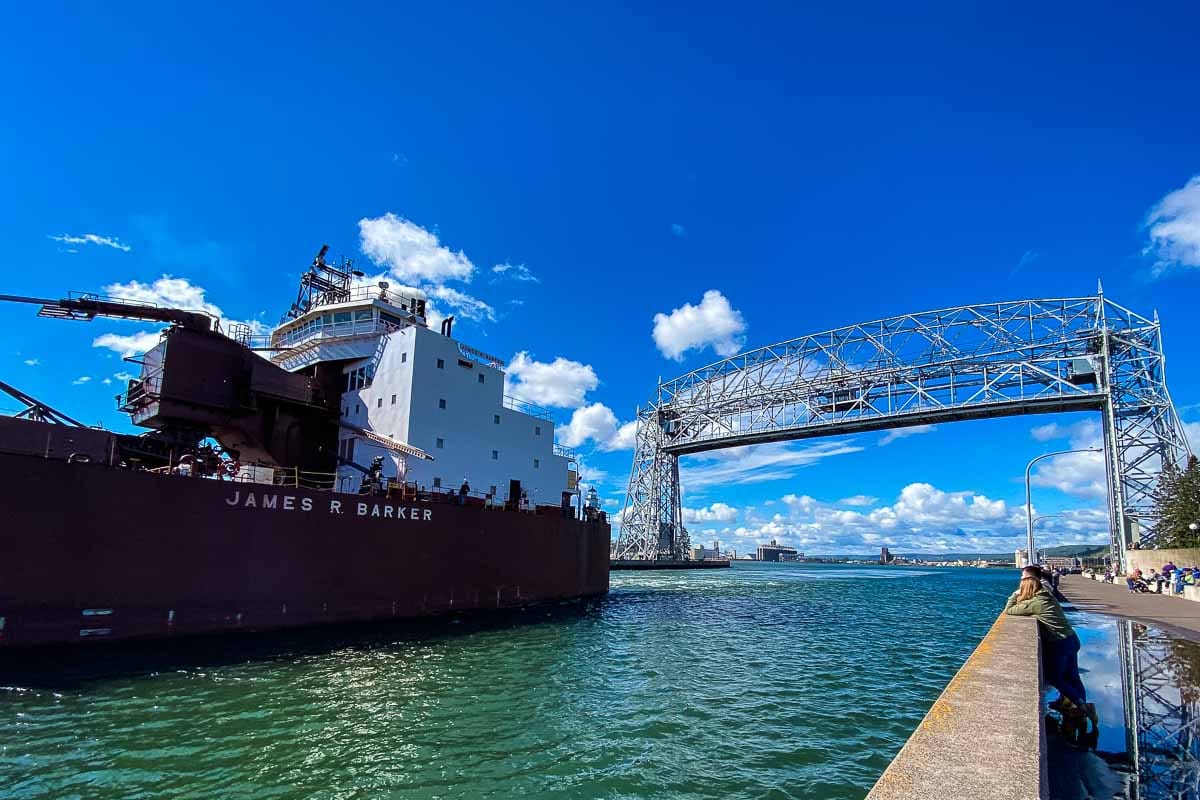 Ahhh, the moment the car reaches the summit on the long bend of Interstate 35 coming into Duluth, Minnesota, the stomach floats for a second as the view extends over Lake Superior. How many times have we passed this way?
As a kid, I'd follow the family to the pier to watch the aerial lift bridge creaking up to let the enormous cargo ships come in. As the harbor and ship horns blasted, I wondered if my dad had really timed it that well, or we just got lucky.
Some posts on MN Trips may contain affiliate links. If you buy something through one of those links, we may earn a small commission. As an Amazon associate, we earn from qualifying purchases.
We'd pile back in the car and continue up Lake Superior's North Shore on our way to Grand Marais and the Gunflint Trail. Sometimes we poked along Duluth's Skyline Drive. Sometimes we'd peer at the parks and mansions along Highway 61 and the lake. But inevitably, inertia carried us right out of town.
Now that we drive ourselves, we're no longer obliged to simply pass through this city of 86,000. We can add a couple days on our way to or from the North Shore and Boundary Waters. Or we can, as we chose this month, just make Duluth our destination, our objective, our reason for a road trip.
Duluth MN is worth the stay. We filled three days with plenty of things to do: free things to see, family attractions, fun shopping, a nice range of places to stay, and more good food and drink than you might imagine.
Canal Park
Just like back then when I was a kid, a visit to Duluth invariably starts in Canal Park. It's changed over time, of course. Parking is at a premium, hotels have popped up, and just this summer the Lakewalk and shoreline improvements have been completed.
Here are highlights of the area. It's easy to see why we returned to this neighborhood every day of our stay.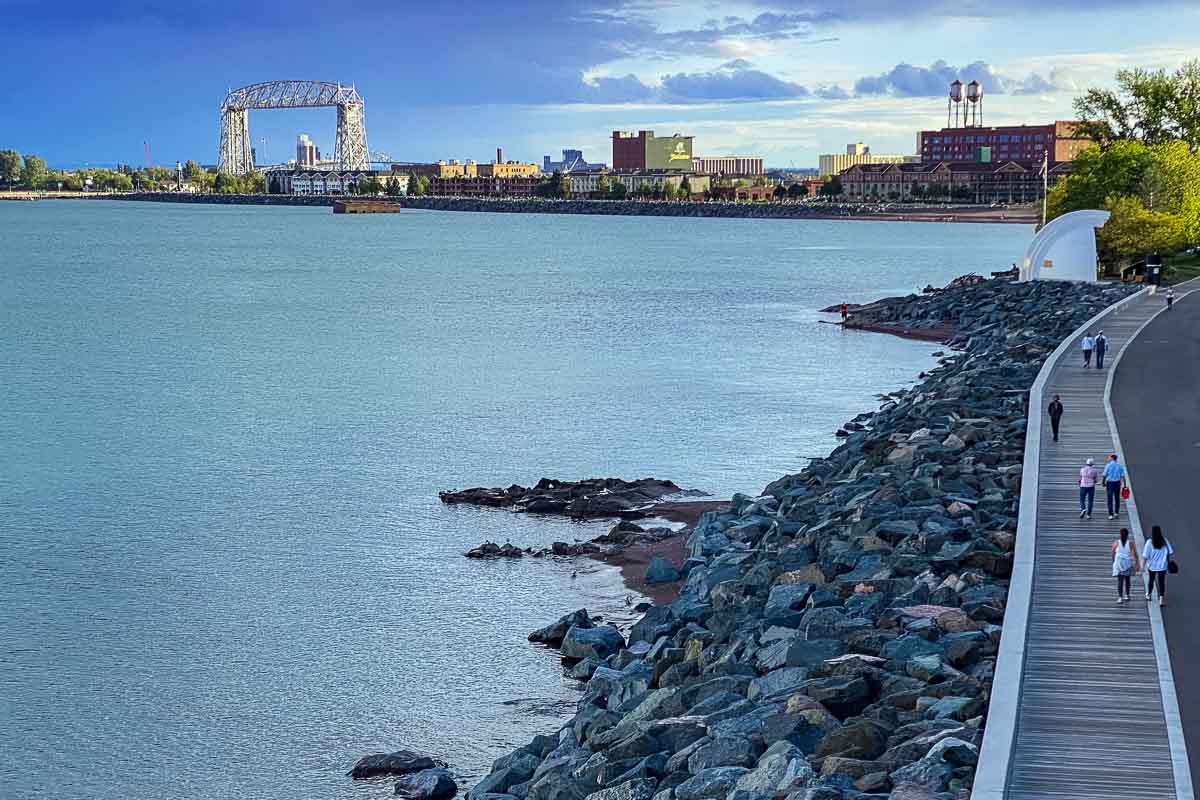 Port of Duluth-Superior: Watching the ships
Instead of leaving it to chance, check the shipping schedule and plan on being right on the pier as the ships depart or arrive. Allow yourself time; if you wait until you see the ship approaching on the lake, you may just miss the entry. They move along at a fast clip. These freighters, up to 1,000 feet long, carry iron ore, limestone, coal, grain. Impressive hulks.
The Aerial Lift Bridge they pass under is the icon of Duluth, built in 1901-1905 and modified in 1929. Visitors love watching it raise and lower. Locals driving from Duluth MN to or from Superior Wisconsin generally use another bridge on another route.
The Maritime Museum
Right at the base of the aerial bridge, the Maritime Museum or Lake Superior Marine Museum Visitor Center, is a great place to explore the wild stories of this, the biggest of all the Great Lakes. Free admission. Learn about shipwrecks and wreck diving, see the collection of archival photos and marine artifacts, learn about free programs onsite or online. Their website includes the shipping lookout link and a live cam.
The Lakewalk
Three massive storms in 2017-2018 made a mess of the canal and city shoreline. Now The Lakewalk extends from the Aerial Lift Bridge all the way to Brighton Beach, more than seven miles up the North Shore. It's a combination of asphalt and boardwalk and wends past beaches, reinforced boulder barriers, and parklands along the lake. Suitable for bikes, pedestrians, skateboards and scooters. It's the best playground a city could have.
We walked as far as Leif Erikson Park, home to Duluth's Rose Garden with views back to Canal Park.
Food and Shopping Canal Park
Canal Park is geared toward visitors, who will find all they need within just a few blocks along Lake Avenue and Canal Park Drive. Between the Lift Bridge and the freeway that divides Canal Park from Downtown, the neighborhood includes more restaurants than ever, nice shopping, a couple brew pubs, and waterside hotels, too. Big annual events like the marathon and the Bentleyville USA holiday light show intersect here. The area is always hopping.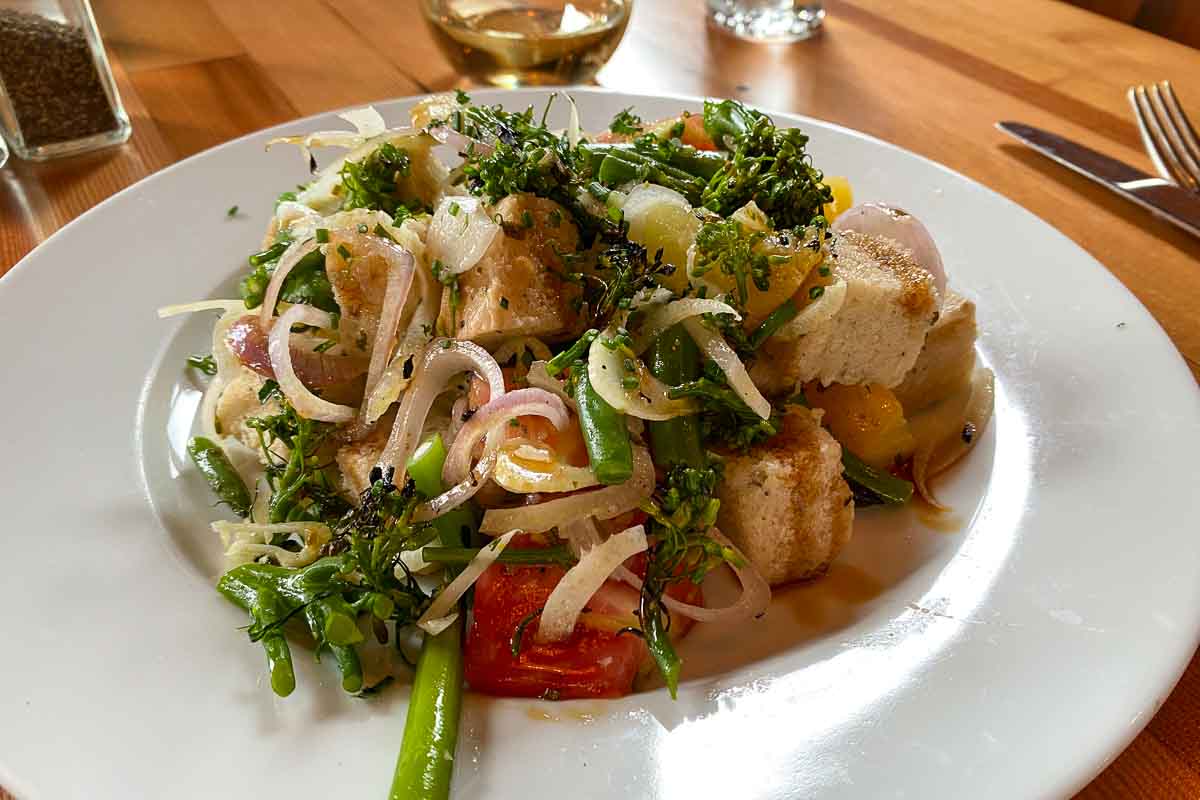 In Canal Park we covered four places: Grandma's Saloon and Grill, Little Angies's Cantina, Bellisio's Italian Restaurant (these three all share the same parent company), and the Lake Avenue Restaurant. We missed the Northern Waters Smokehaus but were impressed by the smokey aromas wafting from the counter and the long line of patrons waiting for take-out orders.
If you are in a browsing state of mind, or picking up gifts, explore the DeWitt-Streitz Marketplace. A little book store, some kids toys and clothing shops, and lots of jewelry, decor and tchotchkes-many of the irreverent sort-will tempt you. We found a book, greeting cards, and a couple gag gifts.
Lake Superior Art Glass opens to Canal Park Drive with a big window so you can watch artists work with roaring fires and red-hot glass. Walk in to purchase beautiful original glassware. The Tischer Gallery nearby is filled with landscape and nature images, mostly from the region, by Duluth native photographer Ryan Tischer.
We visit Duluth Pack to shop every time we pass through town. Though they started out manufacturing sturdy packs and bags, this store is a complete outdoor clothing outfitter. Tom picked up a rain jacket and I choose a bar of J.R. Liggett's shampoo, on my way to eschewing liquids for travel. (Great for camping, too.)
Skyline Parkway and Scenic Areas
Duluth is lots more than Canal Park. To discover different vantage points when you visit Duluth, follow Skyline Parkway. It runs along the ridges some 700 feet above lake lever, from one end of Duluth to the other. Or explore the many park trails for hiking or mountain biking. (Have we mentioned its very hilly in Duluth?) If you are going to slide on through Duluth, at least take this scenic bypass.
The North Shore Scenic Drive and Highway 61 are famous national scenic drives from Duluth to the Canadian border, tucked between Lake Superior and the Sawtooth Mountains. Read MNTrips' posts about the State Parks, waterfalls, and scenic overlooks accessed from the North Shore of Minnesota.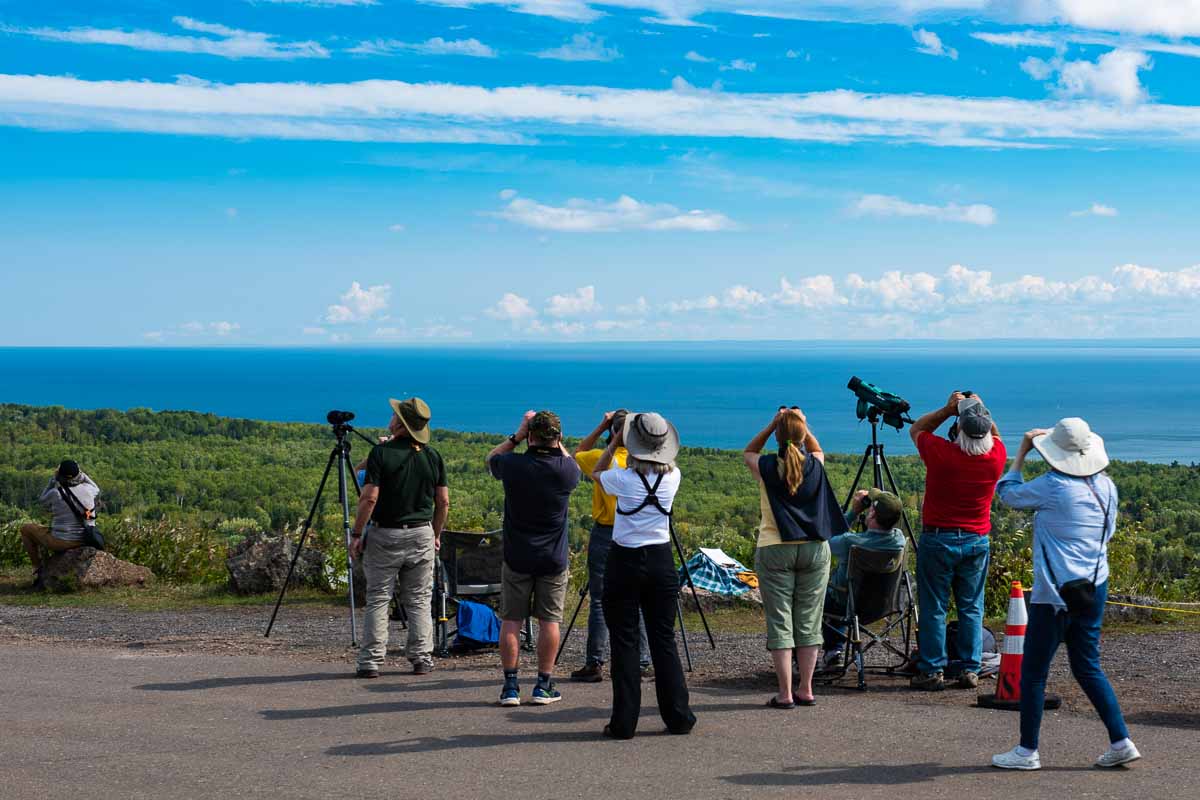 Hawk Ridge Nature Center and Bird Observatory
The northeast end of Skyline Drive is the gathering place for birders and hikers, and the Hawk Ridge Observatory. With great views off the ridge and over the lake, bird nerds convene here, especially in spring and fall, to count migratory birds, take photos, and peer through high power binoculars. It's a friendly party atmosphere right there beside the road as folks pull off to see what's happening. Trails are marked and in season you'll find knowledgeable birders available to answer your questions. (With help, we learned that the bird Tom photographed in New Mexico a while back was a young Red-tailed Hawk, not a Swainson's Hawk.)
Seven Bridges Road
Seven Bridges Road is a beautiful stretch of the Skyline drive that crosses seven old stone (one-lane) bridges as it follows the Amity Creek from the top of the ridges down to Lake Superior. This drive through Lester Park will give you some idea of the fantastic parklands enjoyed by locals. It ends at the Kitchi Gammi Brighton Beach Park, an historic park originally designed as an auto wayside rest, and now the eastern end point of the Duluth Lakewalk. Brighton Beach Park is currently closed for reconstruction and park improvements. Think of exploring this area for your visit next summer.
Enger Park and Twin Ponds
Get out and walk and enjoy views of the harbor. Enger is just a few minutes drive from downtown. The Enger Tower was dedicated in 1939 by the crown Prince and Princess of Norway.
Spirit Mountain Recreation Area
The western start of Skyline Parkway is a ski mountain in winter and an outdoor play oasis all year round. At Spirit Mountain Recreation Area you'll find an adventure park, disc golf, camping, and mountain biking. In other words, fun for the whole family.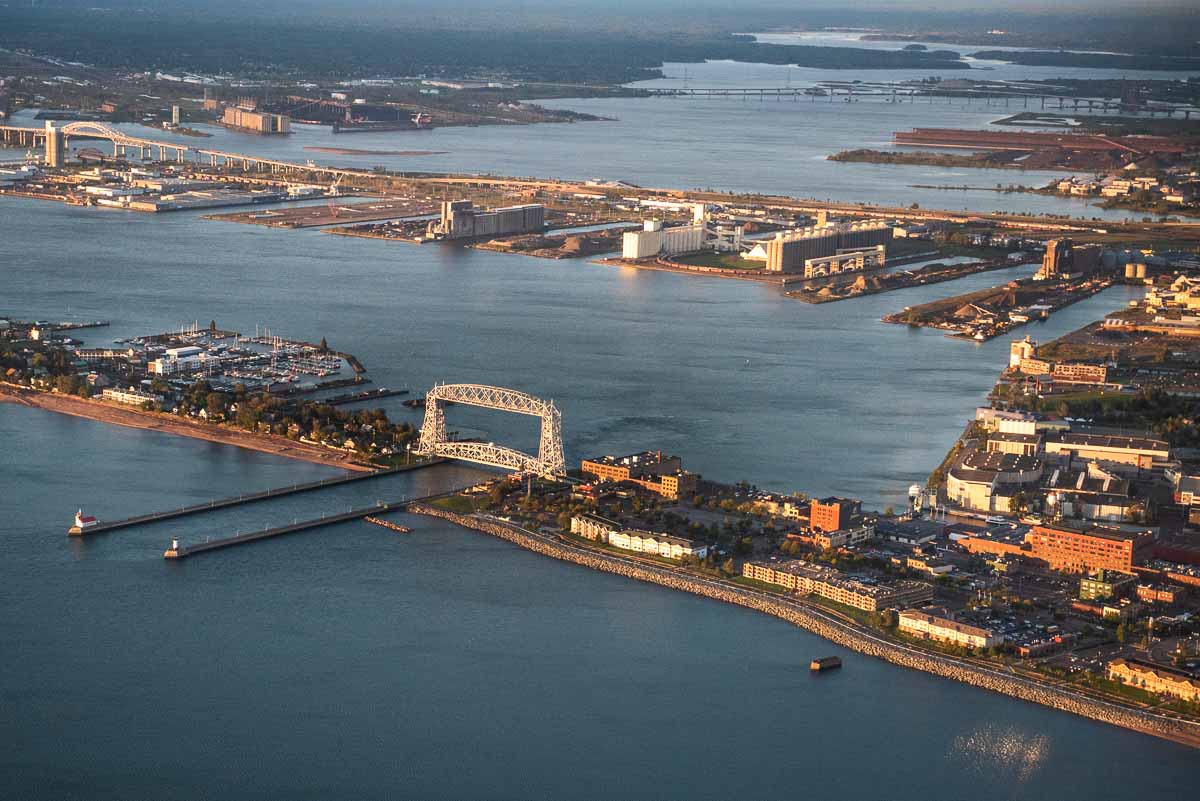 Duluth Attractions
Lake Superior Helicopters
OK, this was easily the biggest thrill of our stay in Duluth. Neither of us had been in a helicopter before. Our North Shore Tour by Lake Superior Helicopters was a perfect intro to the city and birdseye adventures. We chose to go up at sunrise so we could photograph the lake and lift bridge. But we also got a kick out of touring the harbor with our knowledgeable pilot, Brett, and spotting the Glensheen Mansion, Lester Park, the University of Minnesota Duluth and College of St. Scholastica campuses, and always…the magical Lake Superior.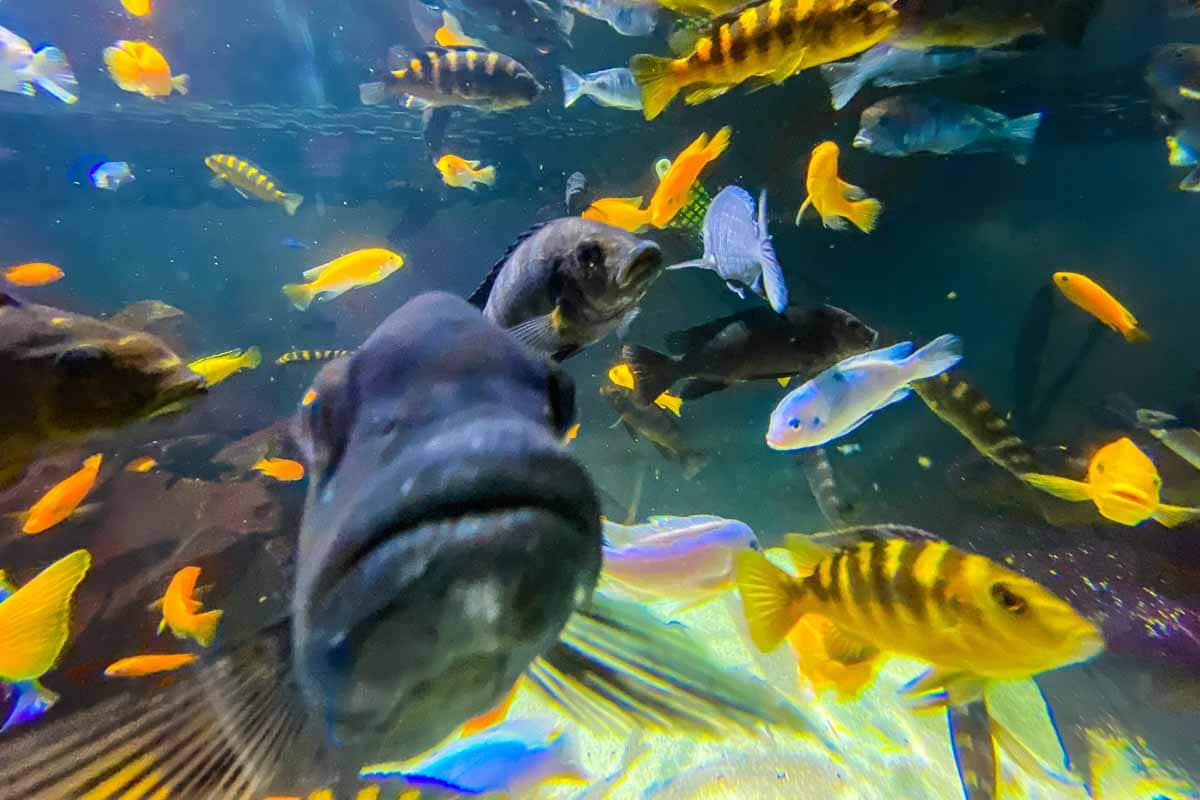 Great Lakes Aquarium
Like no other aquarium, the Great Lakes Aquarium specializes in freshwater fish and ecosystems. While it is rich in aquatic life from North America's lakes and rivers, it also include a raptor section, an Amazon River display, a shipwreck section, and a river otter area.
We were surprised by the eerie electric eel, the bamboo shark, and the sheer size of the muskies, a.k.a. muskellunge. We checked out the hands-on exhibit of crabs and starfish, and learned how to identify some of the fish we catch and eat: bass, walleye, sturgeon (29 types!) and trout.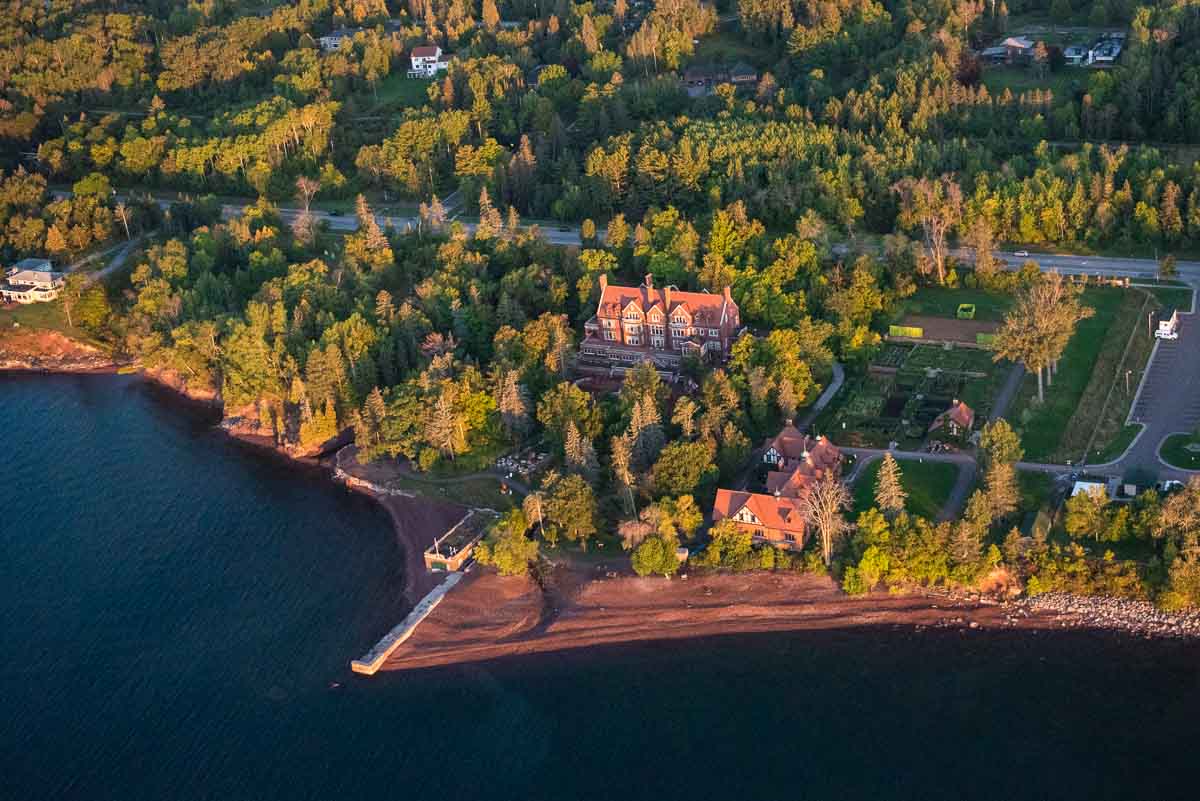 Glensheen Mansion
Glensheen Mansion tours, self-guided at this time, are focused primarily on its Beaux-Arts architecture and household artifacts, as well the gardens and lakefront setting. The history of the builder, Chester Congdon, and his family is minimal. Other than a passing introduction that Congdon made his money from the iron ore business, the tour story simply covers the couple's travels and the childrens' comings and goings.
The details in the home are fascinating, including incredible woodwork, stunning fireplace tiles, lavish furnishings and collections from around the world. The third floor, not included in all tours, showcases Arts and Crafts style bedrooms, an infirmary, and access to the attic. A three-room kitchen and staff quarters speak to the size of the operation. Looking in the attic, luggage room, and storage closet, we could see the work involved in storing and unearthing hats, shoes, rugs, out-of-season clothing, and all sorts of treasures as the seasons and whims dictated.
If you are interested in the infamous Congdon murders (of Margaret Congdon, adopted daughter of Chester and Clara's daughter Elisabeth) and her caregiver, skip the tour and buy a book. (See our reading suggestions below.)
Definitely take time to walk the grounds which are free to visit. The home was built near two streams running into Lake Superior, and the grounds include secluded picnic areas, a vast vegetable garden, the ruins of a pier, a tennis court, and woods. (Congdon eventually donated land along Tischer Creek to the city for what is now Congdon Park.) The estate is currently managed by the University of Minnesota Duluth.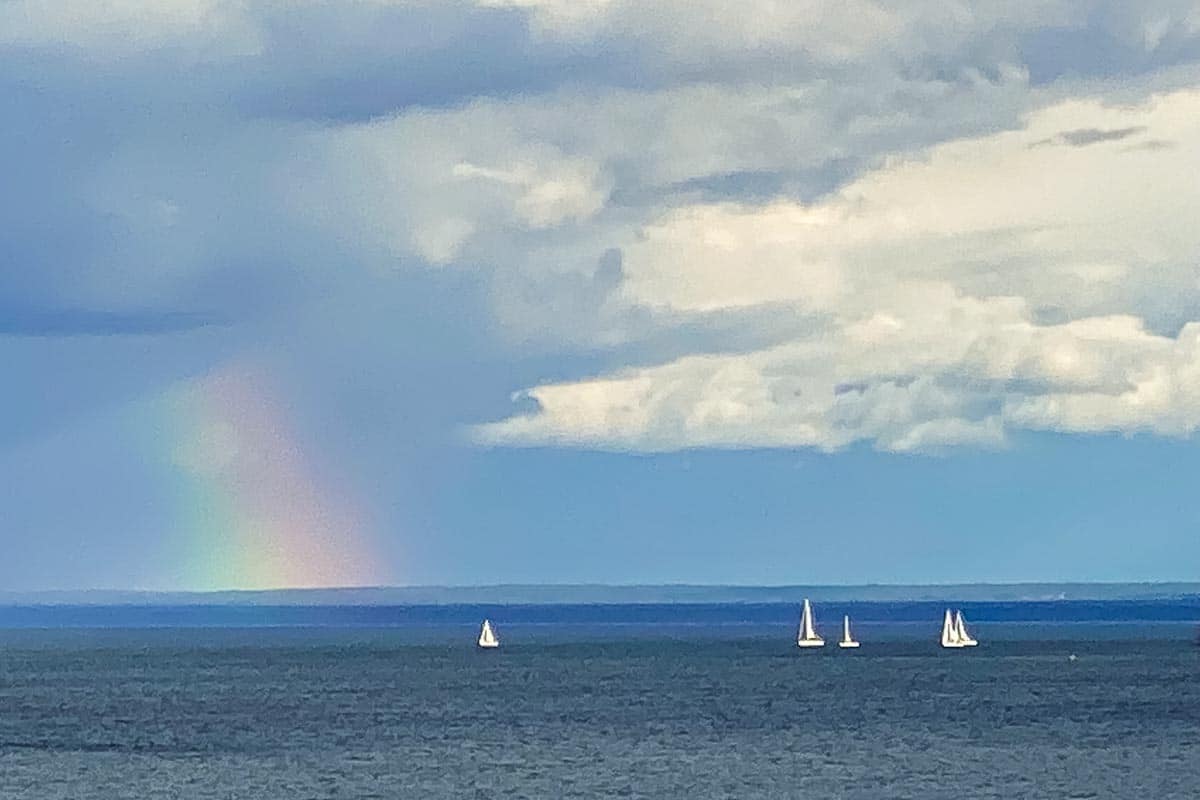 Next time! More Duluth Attractions and Events.
You won't run out of things to do in Duluth. These attractions are on the list of fun family thing to do in Duluth
Lake Superior Zoo. Along with the Great Lakes Aquarium, the Lake Superior Zoo gets the seal of approval from our grandchildren.
Duluth Art Institute. Duluth Art Institute galleries are located in the Historic Union Depot, while additional programing takes place in the Lincoln Park neighborhood.
Bentleyville Tour of Lights The holiday extravaganza, Bentleyville Tour of Lights was launched more than 15 years ago. It now takes over the Bayfront Festival Park on the harbor, running from late November through December.
North Shore Scenic Railroad The scenic excursions by Duluth Trains are available summer through fall, with a packages and options available to please young and old and everyone in between.
Duluth Neighborhoods
Downtown Duluth and other neighborhoods offer glimpses into local Duluth life without the ship horns and rambling visitors. We headed to the downtown area our first afternoon in Duluth and enjoyed the readily available parking. (Metered diagonal spaces cost a whopping 25 cents per 20 minutes. As of this writing, meters aren't enforced after 5:30 p.m. Cool.)
Downtown Duluth
After a quick meeting, we browsed through the Minnesota Surplus and Outfitters store (locally owned and well stocked in footwear, camping and hiking gear) as well as Minneapolis-based Ragstock on Superior Street, the main drag. The popular Duluth Trading Company is also on Superior. (The Electric Fetus's downtown Duluth location has closed permanently.) Later we tried visiting the Indigenous First Art amd Gift Shop, but is was still closed due to COVID.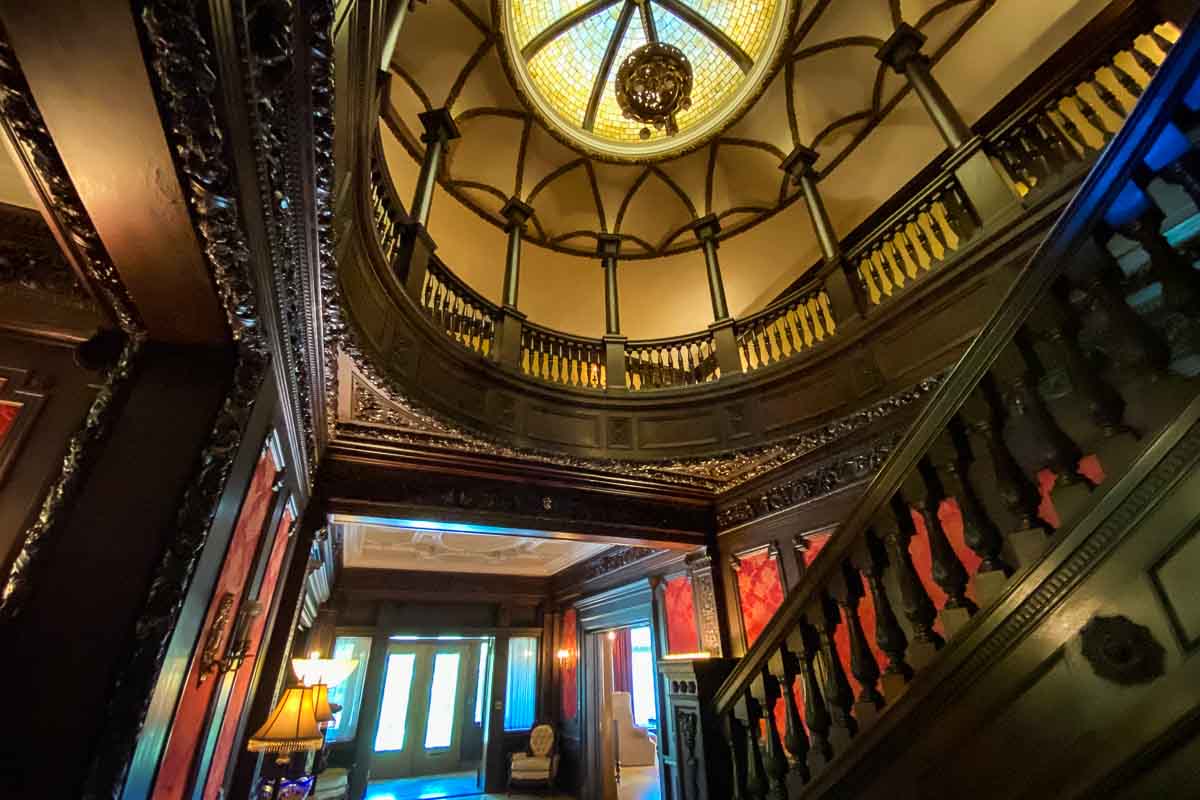 Congdon Park Neighborhood
Up the shore, besides touring the famous Glensheen Mansion (more info on that below) we recommend walking the beautiful and historic Congdon Park neighborhood. The heart of the district, filled with early 20th Century homes built during the mining boom, is bordered by 21st and 26th Avenues East between First and Sixth Streets. We stayed two nights in the fabulous Cotton Mansion in this neighborhood (info below) and thoroughly enjoyed gawking at the gorgeous homes and lawns. Congdon Park itself, along Tischer Creek on the neighborhood's east edge, is a lovely place for a walk.
Lincoln Park Craft Neighborhood
We were led here, over on the west side of town, in search of the popular Duluth Grill. But we quickly discovered, despite some road construction, that this hip little neighborhood is the center for Duluth's craft artists. Check out Two Loons Gallery and Boutique for a mix of antiques and crafts, and the Duluth Pottery Gallery. Bent Paddle Brewing is also in this neighborhood, roughly defined along West Superior Street between 18th and 27th Avenues.
Fitger's Inn
You might say Fitger's is a neighbohood, an historic district, a shopping and dining destination, and a boutique hotel–all in one. It can be approached by car, of course, or by foot along Duluth's Lakewalk.
Originally a brewery, the building is on the National Register of Historic Places. The sprawling site includes the inn, several restaurants, shops, and a nice outdoor patio bar.
This trip we were lucky enough to stake out a window table in the exceptional Boat Club Restaurant to watch the weekly sailboat races as we enjoyed dinner. (See our Duluth food post to read about the meal.)
While we were there, we shopped the very good Bookstore at Fitgers, Whimsy children's clothing store, and A Place for Fido. Note: the Inn is dog friendly, offering beds and package deals accommodating pets.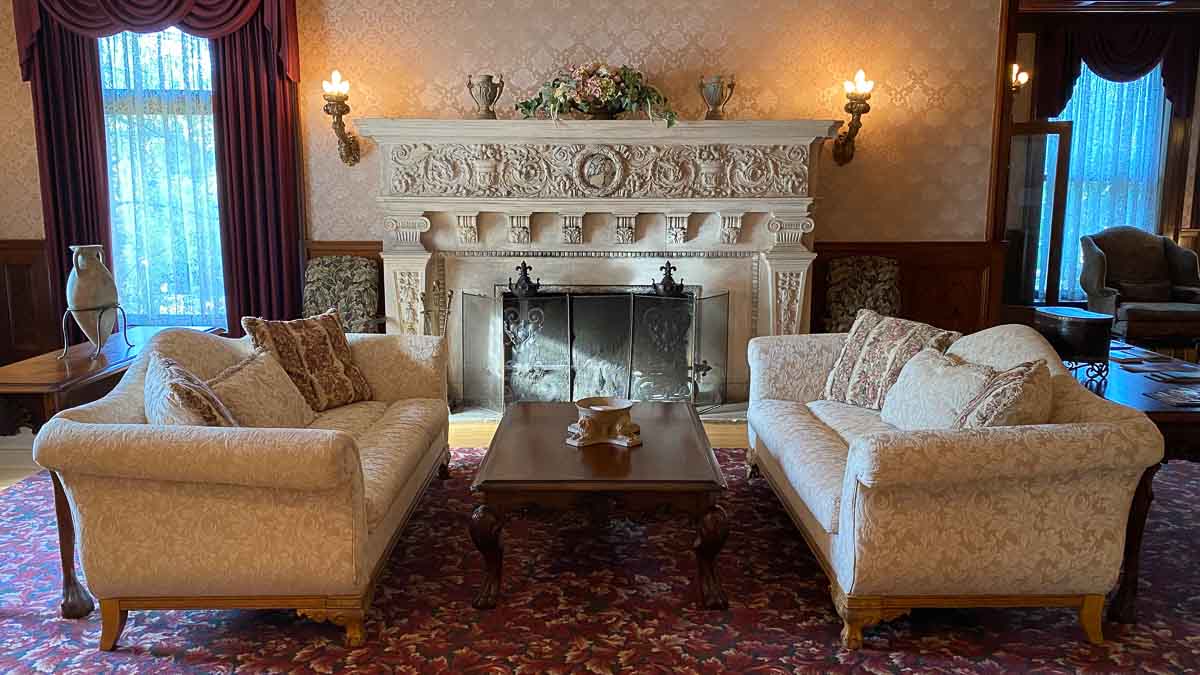 Where to Stay
Comfort Suites Canal Park
Our Comfort Suites room featured a balcony, perfect for watching the changing light over the lake and marking the ships sailing in and out of the port. This property sits right on the Lakewalk and next to Lift Bridge. We were rewarded our first morning with the sailing of three ships in and out of the harbor, and I loved watching from our room. (Tom trotted over to the pier for better photos.) For longer stays, guests will enjoy the spacious room with wet bar and refrigerator, ample seating space for lounging, and a good-sized desk.
Cotton Mansion
We have already been recommending Cotton Mansion Bed and Breakfast to anyone interested in visiting Duluth. Owners Ken and Kimberly are a wealth of knowledge about the history of the home and its builder, Joseph Cotton, a contemporary and associate of Congdon's. All that aside, guests can make the main floor living room and study their home. It's worth getting up early to sit in the breakfast room, or staying up late to play chess or read in the study. Breakfasts are fabulous.
Staying at the Cotton Mansion really informed our whole visit to Duluth as we absorbed the lore and the promise of the city. In this Congdon Park neighborhood we could imagine living a century ago, a generation ago, or even in the decade to come, understanding that the city is colored by the forests, rivers, and raw materials inland as much as by the shipping and big waters of Lake Superior.
If we weren't already married, we'd consider the elopement package at Cotton Mansion!
Additional Reading
Iron Empires by Michael Hiltzik
Duluth, An Urban Biography by Tony Dierkins
Secrets of the Congdon Mansion by Joe Kimball
Note: Visit Duluth facilitated our stay at both Cotton Mansion and Comfort Suites, and assisted us with our itinerary, though this post is written independently.
More info from MNTrips
See the list of all Minnesota State Parks, including basic permit information. We also have a list of all Minnesota Historical Society sites. We're adding our commentary for the park and historical sites as we visit them.
When you plan on hiking or biking the Minnesota State Parks, be sure to download the Avenza Maps app to your phone. The app allows you to download the trail maps for almost every state park, and they are invaluable for navigation, especially because many of the parks don't have as many directional signs as they should.
Also, if you're planning on camping at Minnesota State Parks, you'll need a reservation. Here's the online reservation form.
Check out our recommendations for what to carry in your hiking day pack when you check out the extensive Minnesota State Park and National Park system.
Some of the links on this page may be affiliate links, which means we may receive a small commission if purchases are made through those links. This adds no cost to our readers and helps us keep our site up and running. Our reputation is our most important asset, which is why we only provide completely honest and unbiased recommendations.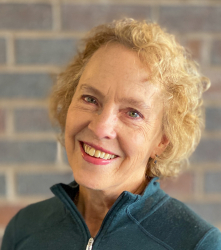 Latest posts by Kristin Henning
(see all)