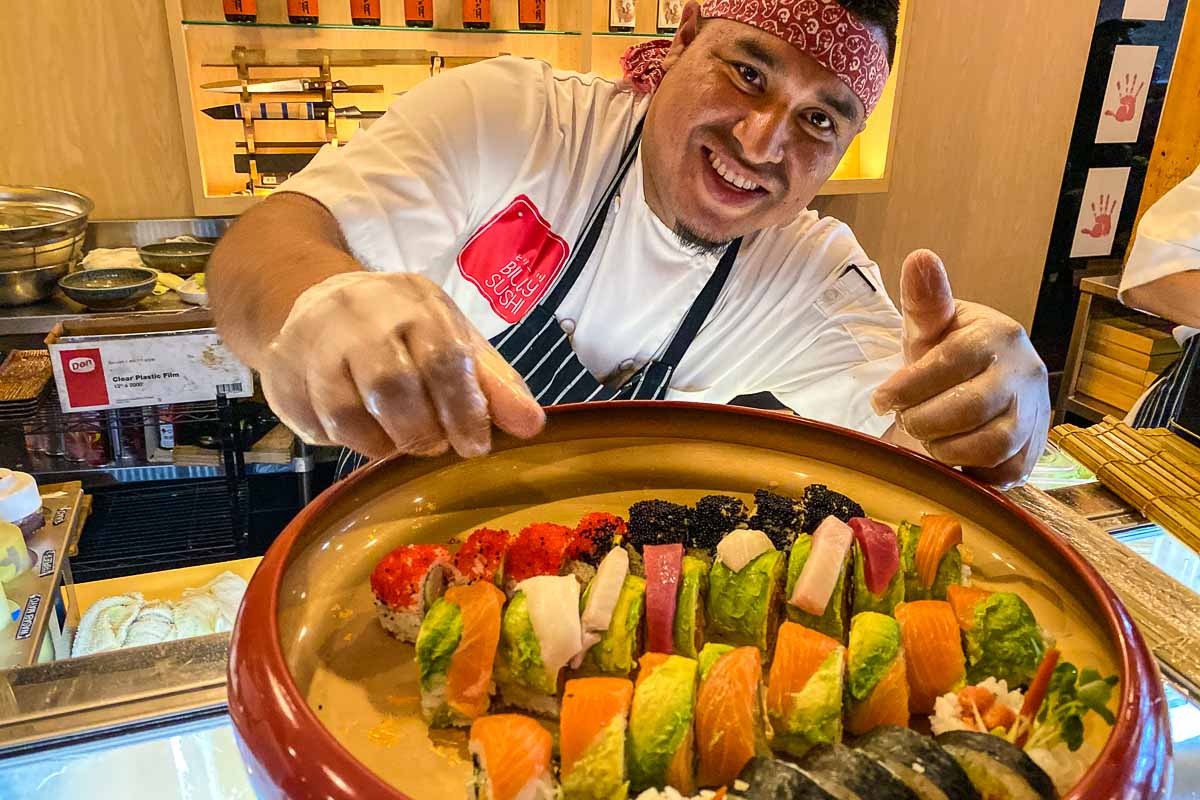 [Updated February 2023]
This is by no means a comprehensive list of the best restaurants in Minneapolis. In fact, it's just a collection of good food spots we've been to recently and found to be tasty. This selection of great Minneapolis restaurants du jour includes some new and some tried and true.
We did a two-day "staycation" in downtown Minneapolis recently, and so concentrated our eating in places within walking distance of our hotel (the top notch W Minneapolis Foshay)–with a little deviation by car to Christo's on Nicollet Avenue's Eat Street and to the new Malcolm Yards Market food hall near the Prospect Park neighborhood.
Some posts on MN Trips may contain affiliate links. If you buy something through one of those links, we may earn a small commission. As an Amazon associate, we earn from qualifying purchases.
So, if you're visiting downtown Minneapolis, here are some places to start your eating adventures. Like I said, it's not a be-all and end-all list, but it will get you started.
Breakfast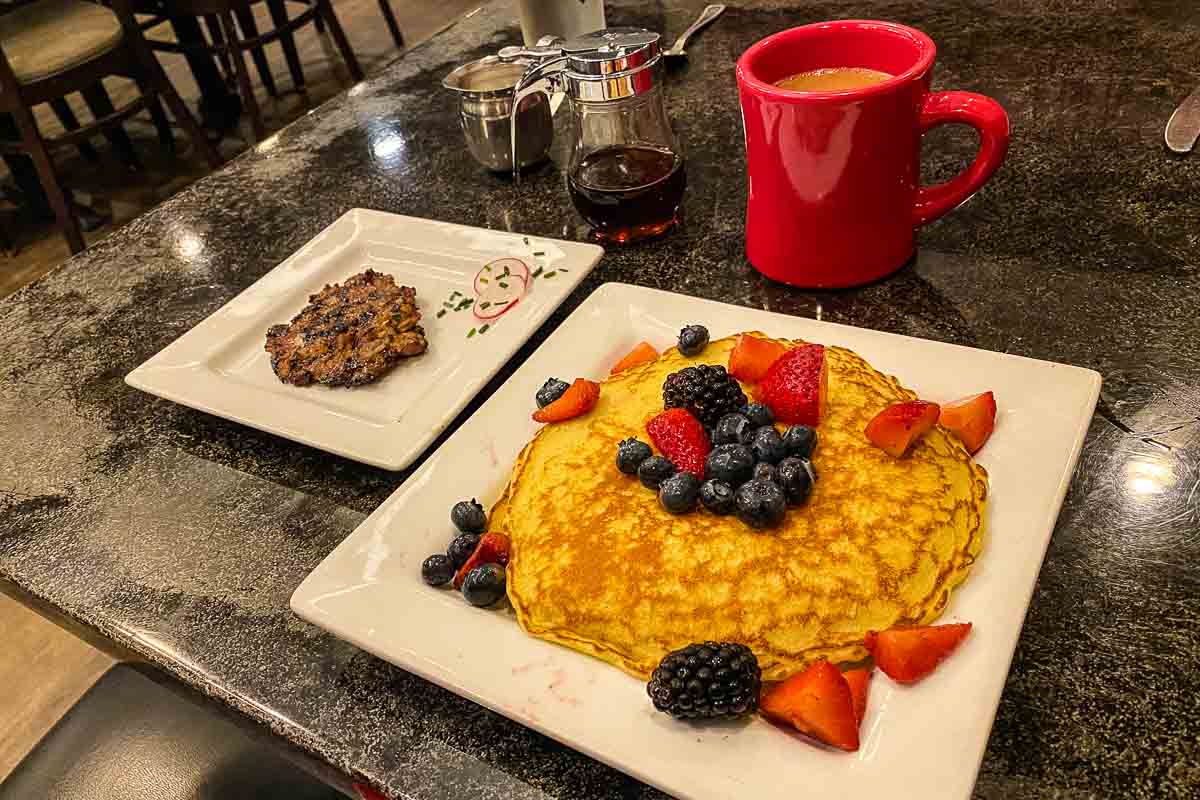 Hell's Kitchen
Everyone who lives here knows that Hell's Kitchen (80 South 9th Street) is justifiably famous for its lemon ricotta pancakes ($14.95). And although they're not really on my "diet," every now and then one has to splurge. So I do–every time I go to Hell's Kitchen. The menu actually recommends that you take your first bite without syrup. I also recommend that. In fact I never use syrup. Just plenty of butter. Add in a savory side of one bison sausage ($3.75) to complement the sweet pancakes.
Kris opted for the new-on-the-menu lemon ricotta waffle, and reported it to be just as delicious as its sister hotcakes. I would have tasted it and reported on the difference, but my mouth was full.
Hell's Kitchen's menu is not limited to its famous pancakes. There are Benedicts, other flavors of waffles, huevos rancheros, and many other breakfast options. There's also lunch, early dinner, a full bar, and sometimes live music.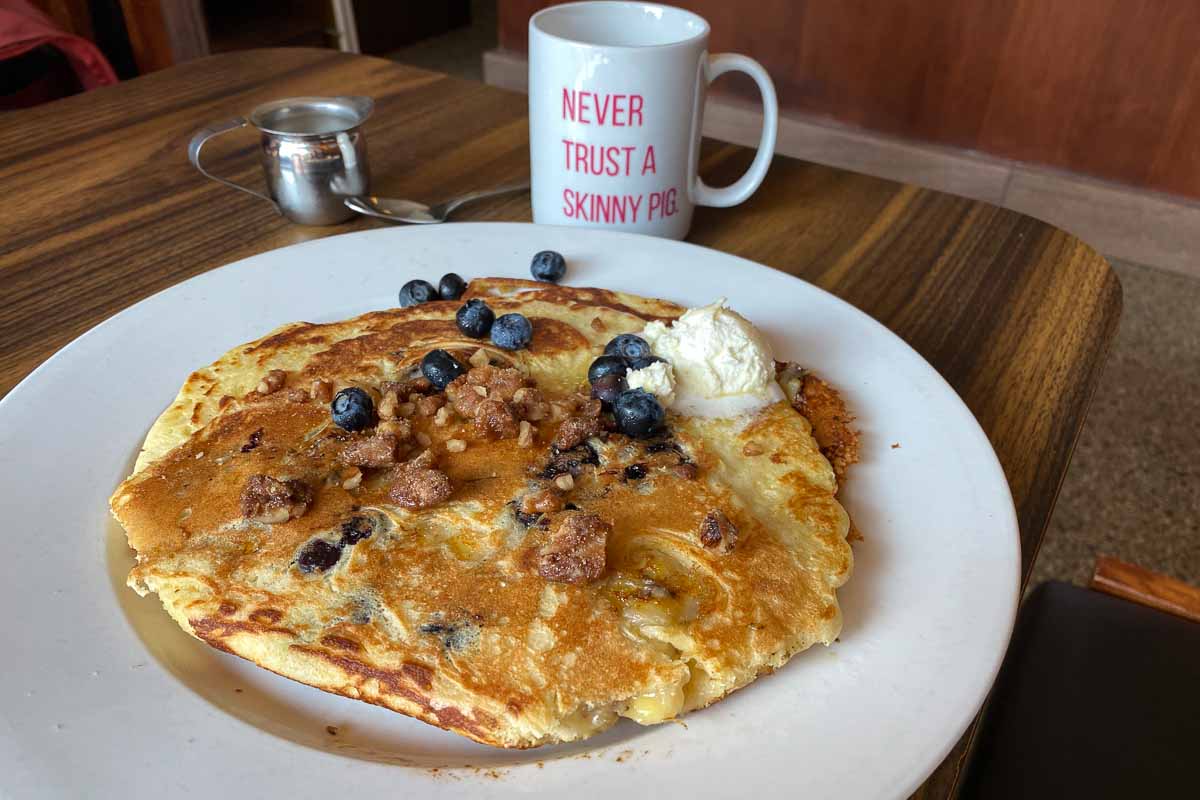 Hen House Eatery
Did I mention that I was a pancake guy? The Hen House wooed me with their blueberry banana offering ($11.50,) which included candied walnuts. Did I also mention there was, again, no need for syrup? Delicious.
Kris had the Hen House Omelet ($14.75,) which might also be referred to as the everything-including-the-kitchen-sink omelet. Spinach, mushrooms, chicken sausage, apple, almonds, hashbrowns, cheese, and Bechamel sauce, best requested on the side. She couldn't finish it. Hard as she tried.
On other visits, we've had the Hen House oatmeal with candied walnuts and fresh berries. The oatmeal is particularly good, if you like that sort of stuff. We've also been known to order chilaquiles. They have both red and green salsa on offer. We say go with the green.
The Lowbrow
Our latest edition to the brunch category could just as easily slide into the lunch section. The Lowbrow's menu is known for its burgers and comfort food, but we were drawn by…wait for it…Bacon Pancakes! These delicious buttermilk cakes are cooked with a smattering of bacon pieces mixed in, and then served with butter (of course) and maple syrup. If you are not up for a plateful, start by ordering one for the table. All the cakes here (the berry topped pancakes looked perfect, too) can be ordered singly as a side.
Lunch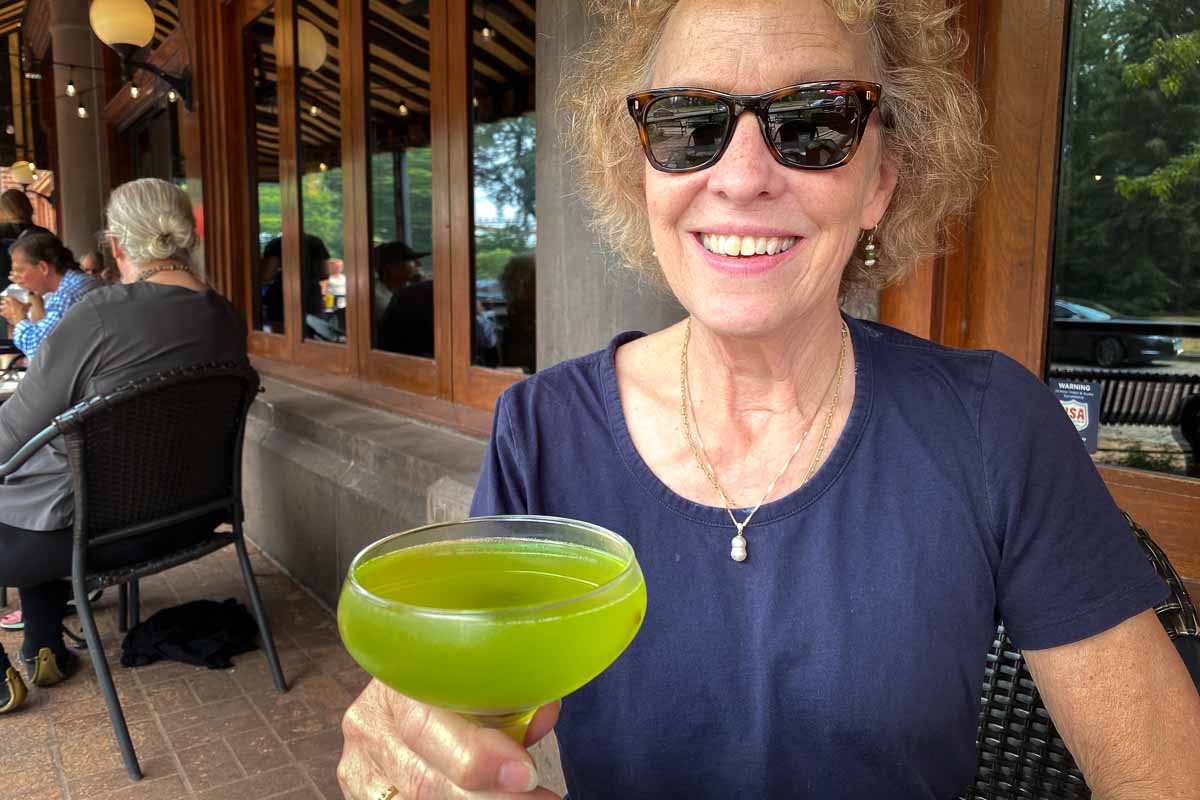 Wilde Cafe and Spirits
As you may know from reading MNTrips, we're big walkers, and when staying in urban areas or downtown we make no exception. The Wilde Cafe and Spirits (65 Main Street SE) is a 1.3 mile walk over the Stone Arch Bridge from the W Hotel where we stayed. Aside from the exercise and the nice views of the Mississippi along the way, the reward is obvious once you get there.
Kris is a big fan of craft cocktails, and as the name Wilde Cafe and Spirits suggests, this place delivers. Kris opted for a pre-lunch selection from the seasonal drink menu of the eponymous Oscar Wilde cocktail ($12,) a green concoction of vodka, Midori, Woodford Reserve Bourbon, lime juice, lemon juice, and agave. She was very happy, and the sip she allowed me confirmed why. It was delicious.
For lunch, I chose the crab cakes ($19.99) from the small plates menu. That may seem a lot to pay for a "small" plate, but the two fresh ample cakes, along with a side of grilled asparagus in garlic butter ($4.99,) made a more than filling lunch.
Kris balanced her cocktail with the Go Little Goat Herd Salad, ($13.99), a mix of assorted baby greens, balsamic dressing, fresh berries, candied nuts, goat cheese, balsamic reduction, and honey.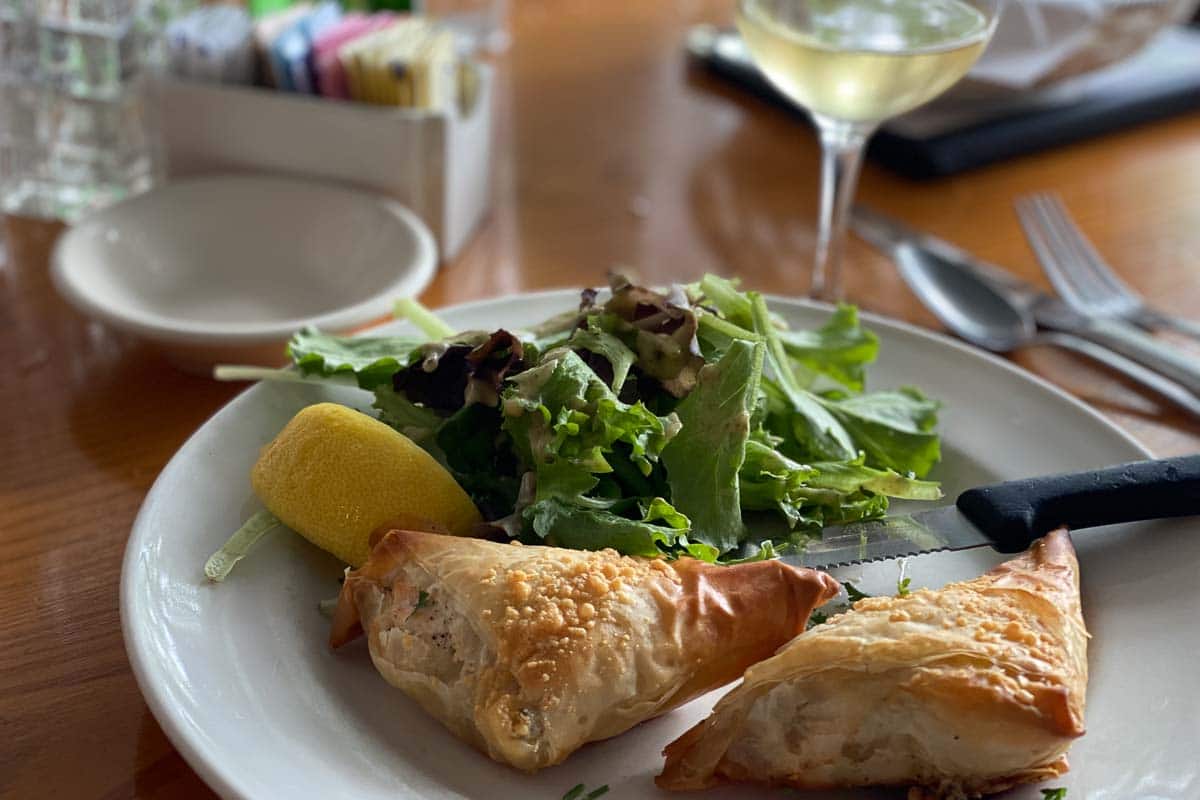 Christo's Greek Taverna
Christo's, 2632 Nicollet Ave. S, is an old favorite, and the memory of so many good Greek meals got us into the car for a short ride to Eat Street.
We normally don't eat a first course for lunch, but the classic Greek lemon soup is a must. For the main course, Christo's menu features a lot of Greek standbys such as Mousaka and Gyros, but I took the server's recommendation and had salmon baked into a filo dough shell. Would it be too much to say it approached the divine? Light and rich at the same time.
Always listen to your server.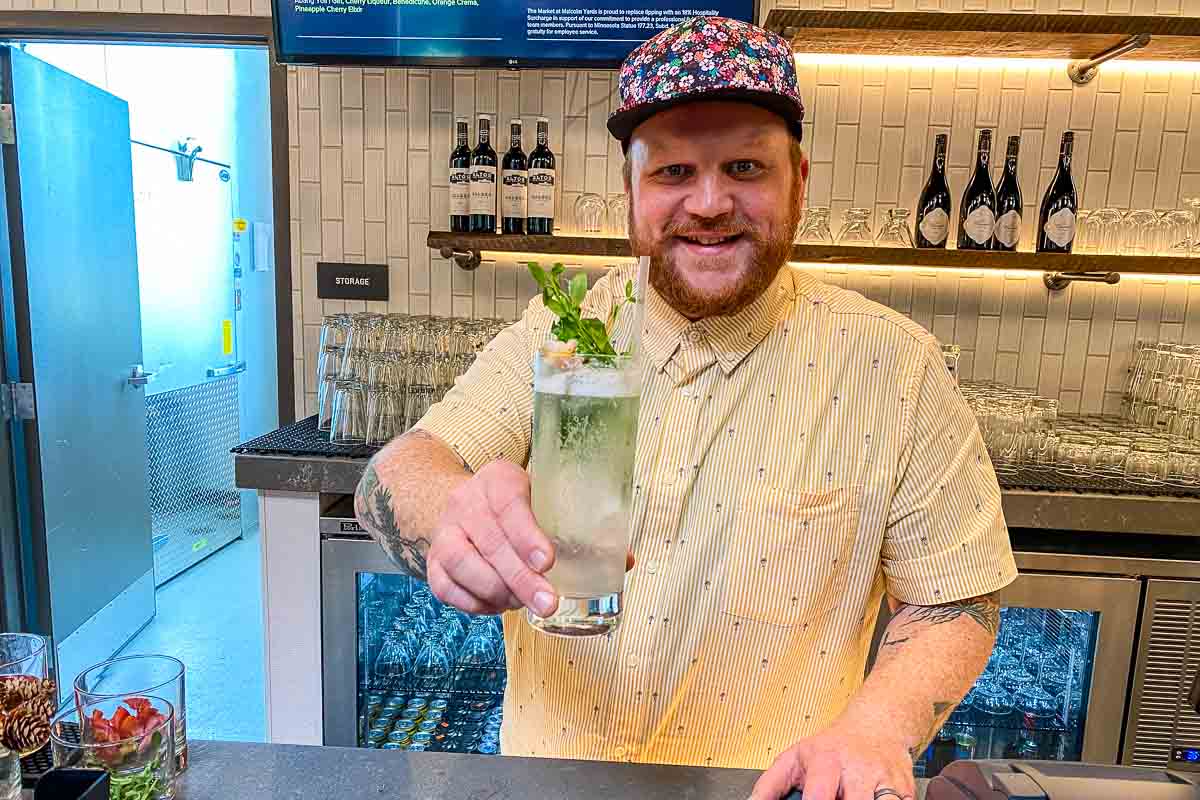 Malcolm Yards Market
I'm putting Malcolm Yards Market, 501 30th Ave SE, in the lunch category, because that's when we ate there. It would serve for dinner just as well, if you're willing to join in the spirit and serve yourself.
When you enter the Malcolm Yards Market, the first thing on the agenda is getting a "Yard Card" in exchange for your credit or debit card number. (You can settle up with cash later, if that's your preference.)
With the Yard Card, you can head straight for the self pour tap wall, where you can try lots of beers and wines. (Sorry, in the interest of journalistic integrity, I should have counted the taps, but I forgot. Let's just say there's a very wide variety of craft beers.) You are charged by the ounce, so feel free to sample all you like. A pint of beer will clock in somewhere near $7.
If cocktails are more your style, head all the way down the row of restaurants to the Boxcar Bar where you can sample 19 unique batch cocktails. The cocktails are mixed specifically to pair with the food, so you might want to size up your food choices first.
Move on to the one or more of the nine restaurant fronts, where you can concentrate on anything from authentic Argentine empanandas at DelSur, to huge Korean barbecued chicken sandwiches at Abang Yoli, to varied vegetarian fare at Advellum. Perhaps the best idea is go with friends and do a lot of mixing and matching, which is what we did. There's also sushi, burgers, deep dish pizza, southern Indian food, and pasta and meatballs. Top it off with artisan ice cream from Bebe Zito.
Besides digging the ease of payment while browsing and sampling, we loved the use of cell phone notification when orders are ready, so that your party can gather at a table while waiting. The seating extends outside and has flex spaces for larger groups, too.
Dinner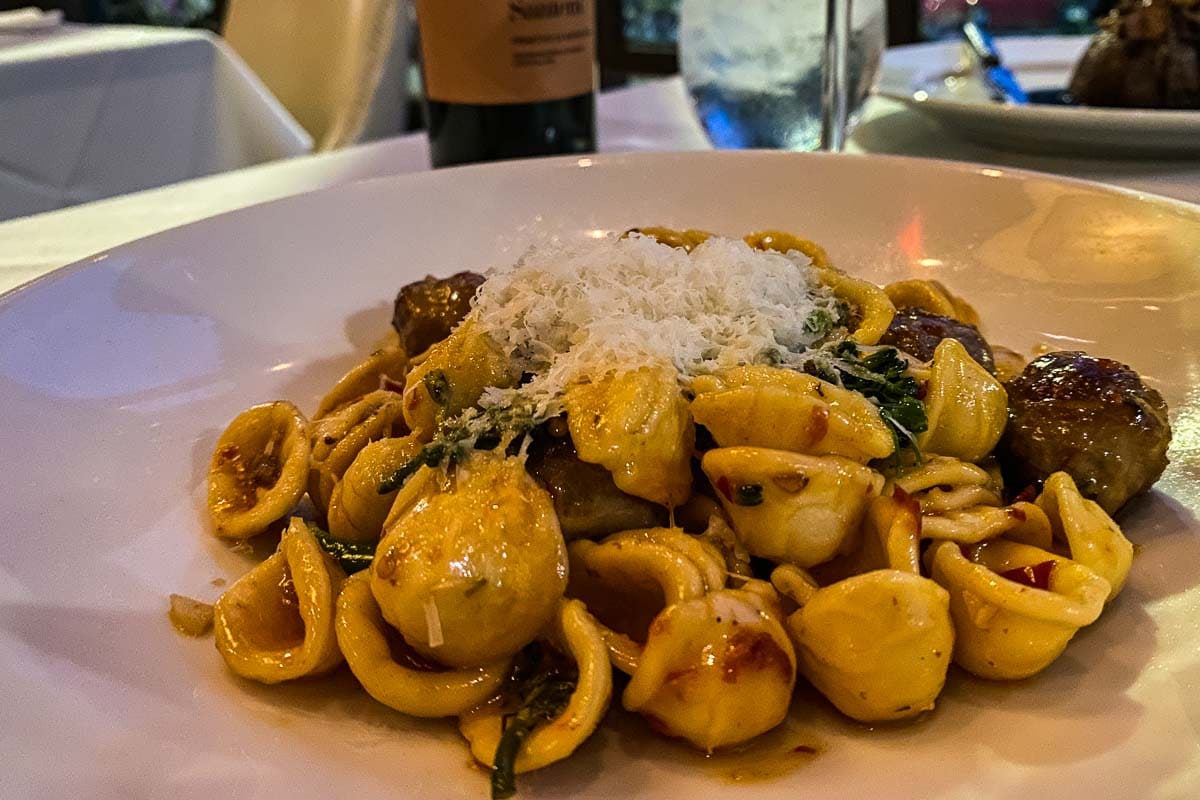 Cafe Lurcat
Would it be too much to call Cafe Lurcat venerable? I'm going to take the plunge. The D'Amico brothers have been responsible for many of the best restaurants ever seen in Minneapolis, and the Cafe Lurcat at 1624 Harmon Place on Loring Park is no exception. It features a small, simple menu full of intense flavors.
Lurcat also has an imaginative wine list that features several Italian treats, such as the deep red Primitivo di Manduria ($54) from Puglia that graced our meal. Also on the wine list are a couple of Spanish wines of note such as hearty reds from the Catalan regions of Montsant and Priorat that you don't see every day and are well worth your attention.
Now, down to dinner. We started with one of our old favorites: the roast cauliflower, which hasn't changed (don't you dare!) since we started coming here so many years ago. We followed up with Orecchiette pasta with lamb fennel sausage ($30) for Kris. I don't eat steak often, but I couldn't resist the seven-ounce tenderloin ($44) floating in a thick red wine reduction and topped with exotic mushrooms and a hint of tart Cambozola cheese. Venerable, in the sense of "ought to be worshipped."
By the way, proprietors Larry and Richard D'Amico were inducted into the Minnesota Business Hall of Fame the week we visited Lurcat.
Billy Sushi
The new Billy Sushi at 116 N 1st Ave came highly recommended by everyone we asked about where to eat downtown these days, and after our first visit, we'd absolutely add our recommendation to the consensus. It was excellent. In fact, we've spent a fair amount of time in Japan, and this was the best Japanese food we've had since then.
When we go to sushi restaurants, we usually sit at the bar and watch the chefs create…and sometimes buy them a drink. I'm not saying that's required, or that you'll get better service if you do, but we enjoy the conversation and watching artists at work along with our sushi. Also, both of the chefs who were working in front of us were from…Ecuador, where we've also spent time. So there was that to talk about.
But, to the main course: the food was excellent.
We started with a seaweed salad ($7) to go along with my Sapporo draft beer and Kris's Tsukinawa "Blue Hue" sake. From there, we moved on to a Yellowtail sashimi ($12) and the salmon roe nagiri ($7). For a little taste change up, I also ordered the excellent shrimp tempura ($17). For dessert, I love the Tamago nagiri, also known as egg custard ($4.) That's a bonus for me, because Kris doesn't like it and I get to eat both pieces.
We will definitely be going back. If you try Billy Sushi, FYI, it's best to get a reservation. It's getting very popular.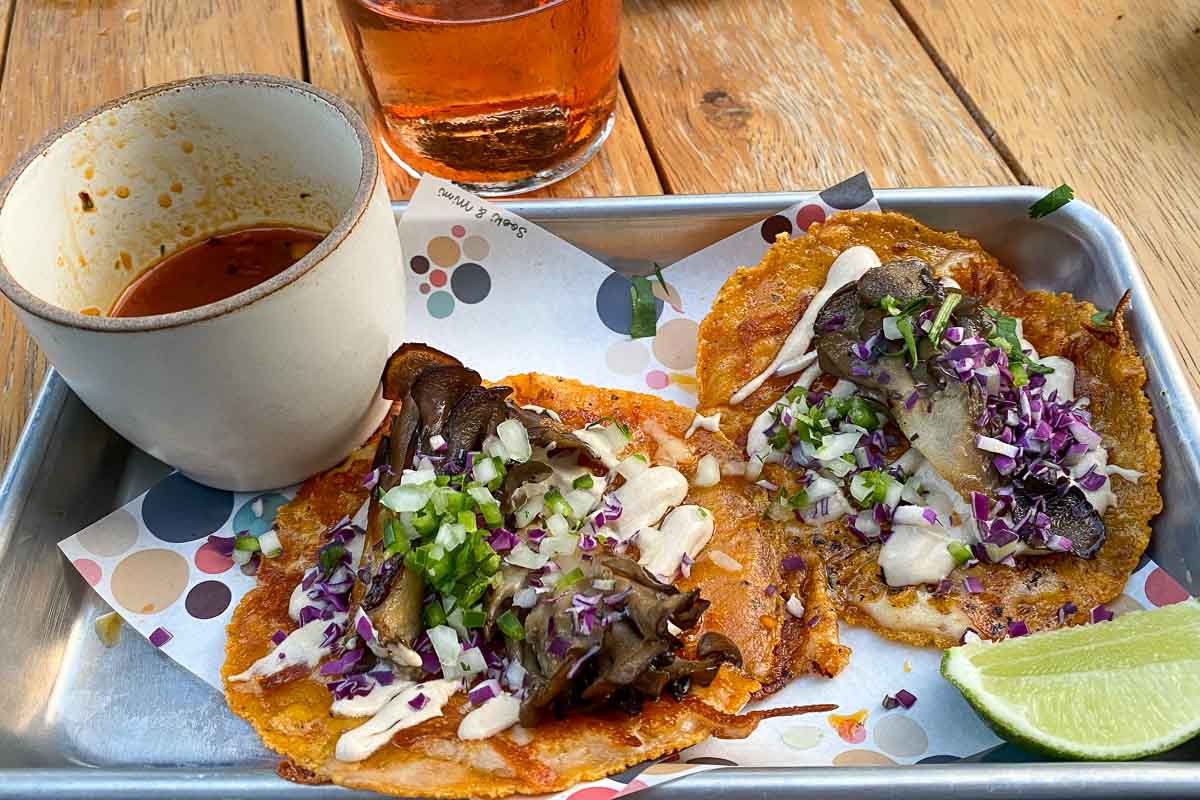 Sooki & Mimi
OK, BONUS! (Who's counting?) Arguably one of the most inventive restaurants this side of New York, Sooki & Mimi, 1432 W 31st St., delivers a savory combo of Korean and Mexican American cuisine: both and neither. Situated in the heart of Uptown, the former Lucia's space has been transformed into a warm modern restaurant by the the award-winning Ann Kim, the inspiration behind Young Joni and Pizzeria Lola, also in Minneapolis.
But nevermind those details. The food is amazing. First note the separate menus for the dining room and the bar/patio. We showed up spur of the moment (you know that about us) and chose seating outside. Do check out the menu online if you want to sample the three course prix fixe menu and family style dining room selections. Everything changes seasonally, as it should.
Off the bar menu, we shared the crispy tender Korean fried chicken wings to start ($14), along with a delicious cocktail of mezcal, vermouth and campari. Next we sampled both the mushroom birria tacos ($14) and the lamb shwarma tacos ($15). We could barely part with our plates for a moment to share, but I'm glad we did. We should have ordered dessert, but we were being careful. How Minnesotan.
Also of note: a great soundtrack, a delicious destination for vegetarians, such a relaxed atmosphere, and highly competent servers.
For more of what to do in Minneapolis including more favorite restaurant choices, check out this post.
And, here are even more things to do in Minneapolis.
You can stay up to date on Minneapolis restaurants by visiting the useful Meet Minneapolis website.
More info from MNTrips
See the list of all Minnesota State Parks, including basic permit information. We also have a list of all Minnesota Historical Society sites. We're adding our commentary for the park and historical sites as we visit them.
When you plan on hiking or biking the Minnesota State Parks, be sure to download the Avenza Maps app to your phone. The app allows you to download the trail maps for almost every state park, and they are invaluable for navigation, especially because many of the parks don't have as many directional signs as they should.
Also, if you're planning on camping at Minnesota State Parks, you'll need a reservation. Here's the online reservation form.
Check out our recommendations for what to carry in your hiking day pack when you check out the extensive Minnesota State Park and National Park system.
Some of the links on this page may be affiliate links, which means we may receive a small commission if purchases are made through those links. This adds no cost to our readers and helps us keep our site up and running. Our reputation is our most important asset, which is why we only provide completely honest and unbiased recommendations.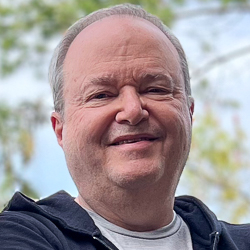 Latest posts by Tom Bartel
(see all)