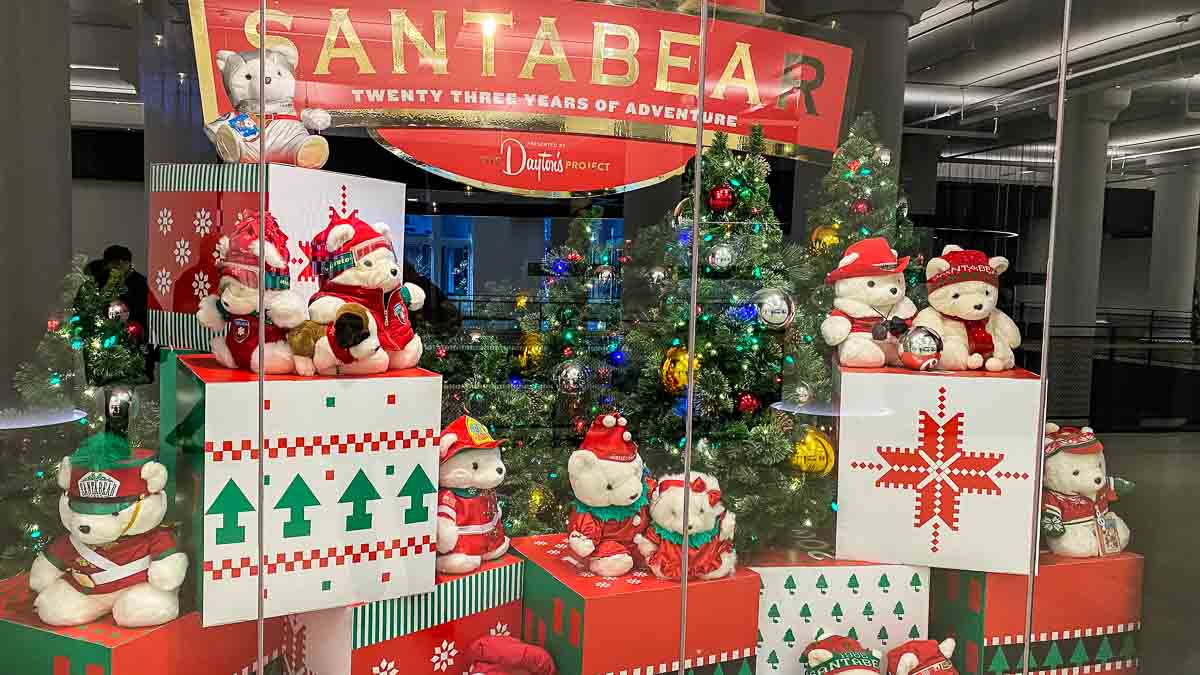 Depending on which side of the Twin Cities metro area you prefer, you've got plenty of holiday attractions to choose from in Minneapolis and Saint Paul.
In Minneapolis, consider starting at the newly renovated Dayton's department store – The Departments at Dayton's. The iconic downtown location at 700 Nicollet Mall is now home to three dozen local arts and crafts people and is the perfect place to start your holiday shopping. On the second floor of the Dayton's space, you can even see recreations of some of the Dayton's store windows from Christmastimes past.
Some posts on MN Trips may contain affiliate links. If you buy something through one of those links, we may earn a small commission. As an Amazon associate, we earn from qualifying purchases.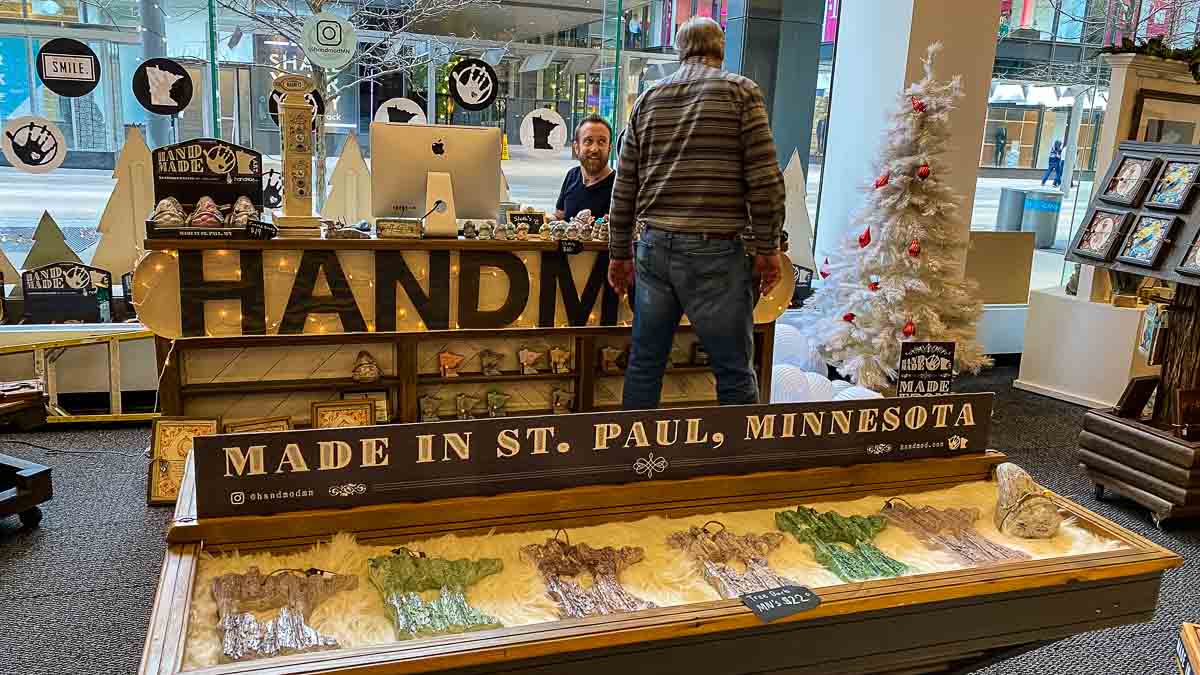 While you're downtown, check out the Holidazzle displays at Peavey Plaza at 1101 Nicollet Mall, and at Loring Park on the west end of downtown. Holidazzle is an annual Minneapolis tradition featuring various free holiday-themed events and activities hosted by the Minneapolis Downtown Council from Thanksgiving through mid-December. There are fun photo opps at the Peavey Plaza Yeti. Local pop-up shops, food vendors, visits with Santa, music and other entertainment, and fireworks in Loring Park complete your holiday. Check the Holidazzle website for the event schedule.
Be sure to check out the displays, too, at the Meet Minneapolis Visitor Center at 5th and Nicollet. This year, there are six Christmas "mannequin" trees decorated with Black history themes.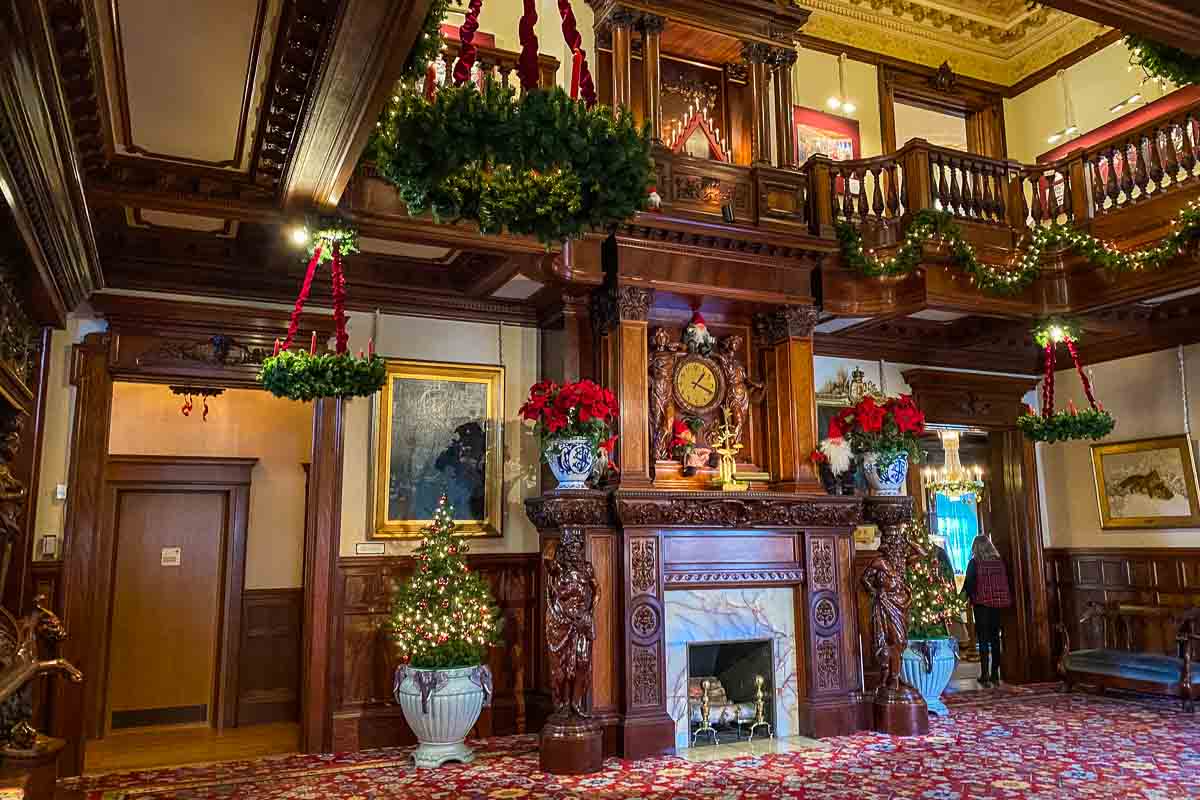 The American Swedish Institute at 2600 Park Avenue is housed in a south Minneapolis mansion that is always finely decorated for the holidays. The decorations always represent the Scandinavian heritage of Minnesota, as well as typically working in a cultural display from another Twin Cities community. This year, it's the Hmong community.
And, a real Minneapolis tradition is the annual production of Charles Dickens' A Christmas Carol at the Guthrie Theater.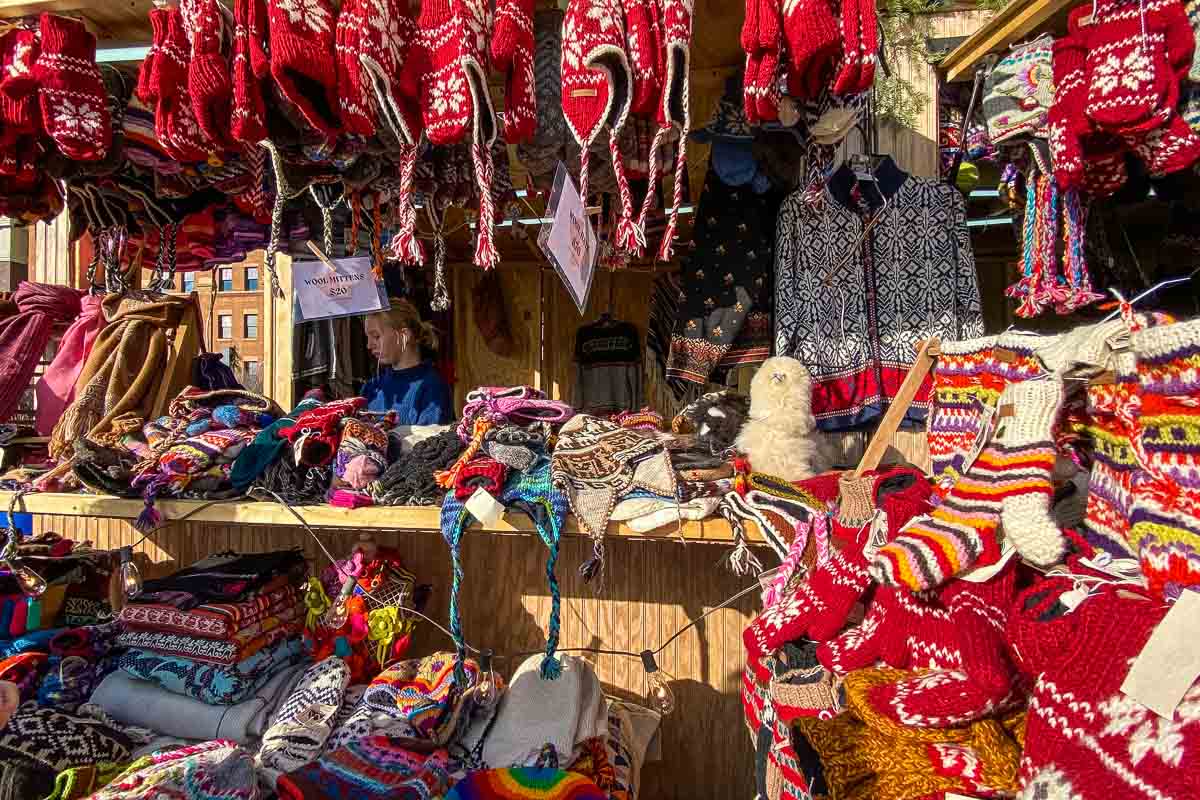 In Saint Paul, be sure to check out the European Christmas Market in the old Union Depot. Lots of local and imported crafts for your stocking stuffers, as well as plenty of holiday goodies to munch while you're shopping. Have some authentic German glühwein from one of the drinks tents at both ends of the fair. Glühwein, literally means "glow wine" for how it makes you feel on a cold winter's day.
If lights are your thing, there's the Glow Holiday Festival walk-through light extravaganza at the Minnesota State Fairgrounds. It runs through January 2. It's timed entry, so get your tickets in advance.
Another fantastic lighting display is at the Saint Paul Cathedral from December 15-19. There are both indoor and outdoor displays. The outdoor display is free. The indoor "Starry Night" presentation requires a ticket you can purchase on the website.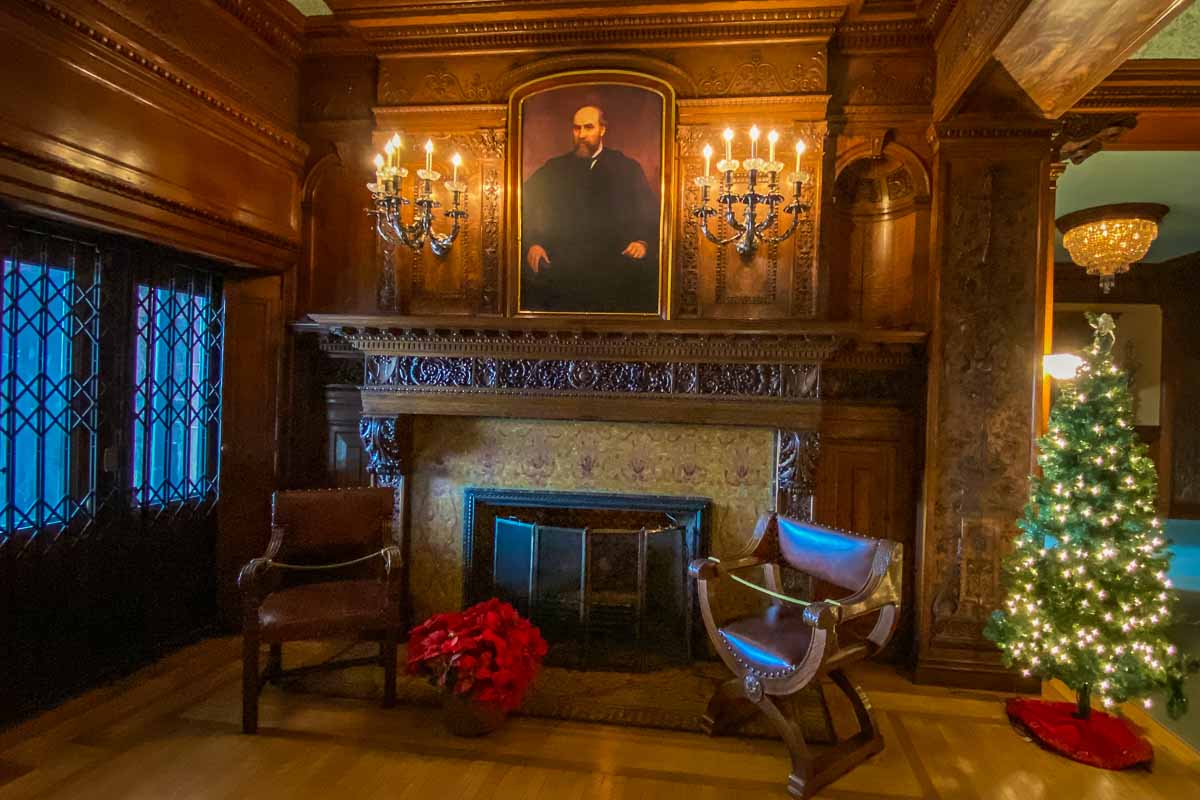 And, for a dose of history, check out Holidays on the Hill at the historic James J. Hill House on Summit Avenue. The Gilded Age mansion of railroad tycoon hill is sumptuously decorated in 1910 style. Get tickets at the Minnesota State Historical Society website.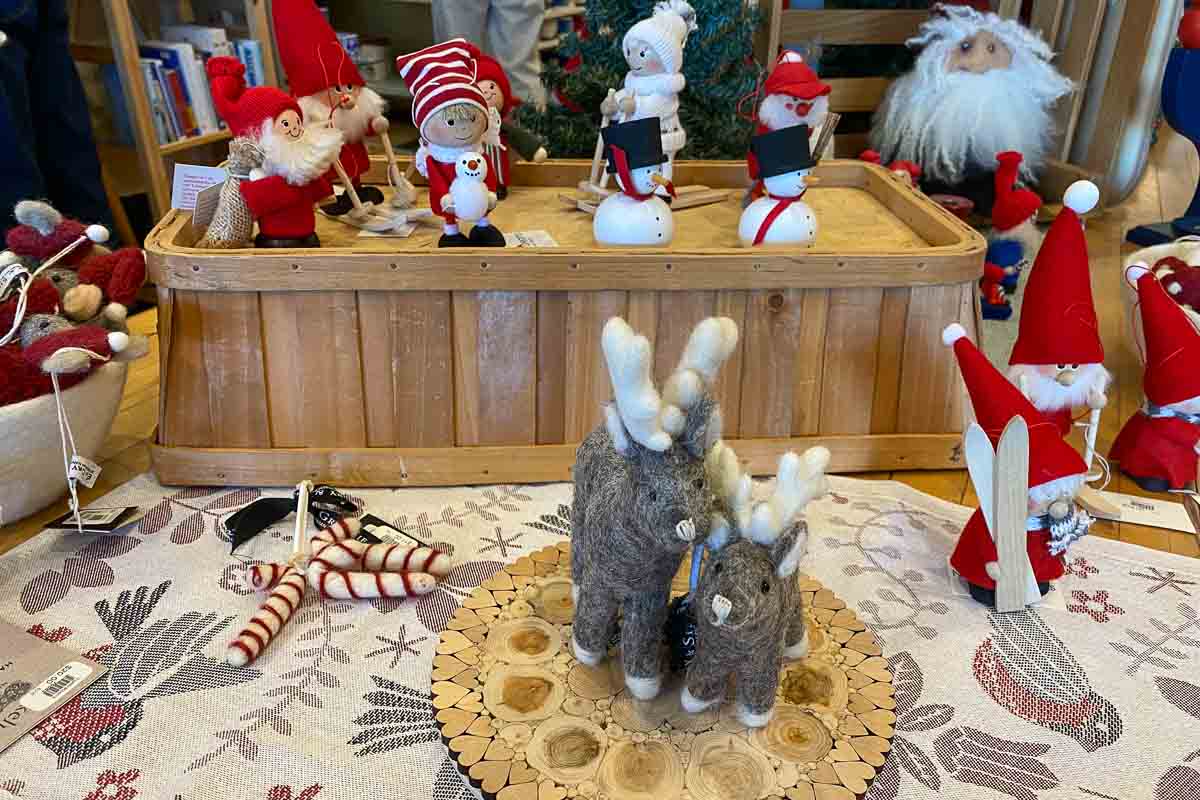 Holiday Shopping
Scandinavian influences are easy to spot in Minnesota, and the best place to pick up your Scandinavian fix is Ingebretsen's Nordic Marketplace at 1601 East Lake Street when shopping in Minneapolis. Ingebretsen's is always stocked with all things Scandinavian – Swedish cookware (especially anything to do with butter and sugar,) Norwegian wool and sweater patterns, and several books touting the Vikings exploration of America. There's also an attached butcher and cheese shop. At the Christmas season the store overflows with handmade Christmas ornaments from all the Scandinavian countries. There are reindeer from Finland, felt bears from Sweden, and elves from Norway. And, of course, all nationalities of snowmen.
If you're shopping local – and you should – be sure to check out Max's on Excelsior Blvd in Saint Louis Park. Max's specialty is designer jewelry from all over the US, and the eclectic collection will most definitely yield a special gift for a special friend. Max's other specialty is artisan chocolates.
If readers are on your list, we have two recommendations. First, Birchbark Books, 2115 West 21st Street, near Lake of the Isles in the Lowry Hill neighborhood specializes in books by indigenous authors, as well as indigenous art. And, you can get signed copies of owner Pulitzer Prize winner Louise Erdrich's books. If you love to browse used books, check out Eat My Words, 214 13th St NE, in Northeast Minneapolis. As their website says, "our carefully curated selection of books ranges from the classics to the contemporary, the cult favorite to the unimaginable." It's likely the owner, Scott, will be behind the counter, and he's a font of literary information, if you need a recommendation.
Martin Patrick 3, at 212 Third Ave N, is a boutique department store geared for men, but equally intriguing for women shoppers. Born from an interior design company, MP3 combines men's apparel and accessories with tableware, home décor, and gifts. Lovely settings of select art, lighting, furniture and rugs punctuate intimate displays of jewelry, barware, books, shoes, and women's clothing. Best of all, the staff knows this town and its clientele. You can also check out Martin Patrick's many neighbors in the Minneapolis North Loop.
More info from MNTrips
One of our favorite things to do in Minnesota is visit our extensive state park system and the historical sites managed by the state Historical Society. See the list of all Minnesota State Parks, including basic permit information. We also have a list of all Minnesota Historical Society sites. We're adding our commentary for the park and historical sites as we visit them.
When you plan on hiking or biking the Minnesota State Parks, be sure to download the Avenza Maps app to your phone. The app allows you to download the trail maps for almost every state park, and they are invaluable for navigation, especially because many of the parks don't have as many directional signs as they should.
Also, if you're planning on camping at Minnesota State Parks, you'll need a reservation. Here's the online reservation form.
Check out our recommendations for what to carry in your hiking day pack when you check out the extensive Minnesota State Park and National Park system.
Some of the links on this page may be affiliate links, which means we may receive a small commission if purchases are made through those links. This adds no cost to our readers and helps us keep our site up and running. Our reputation is our most important asset, which is why we only provide completely honest and unbiased recommendations.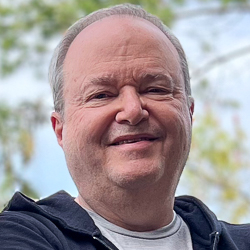 Latest posts by Tom Bartel
(see all)