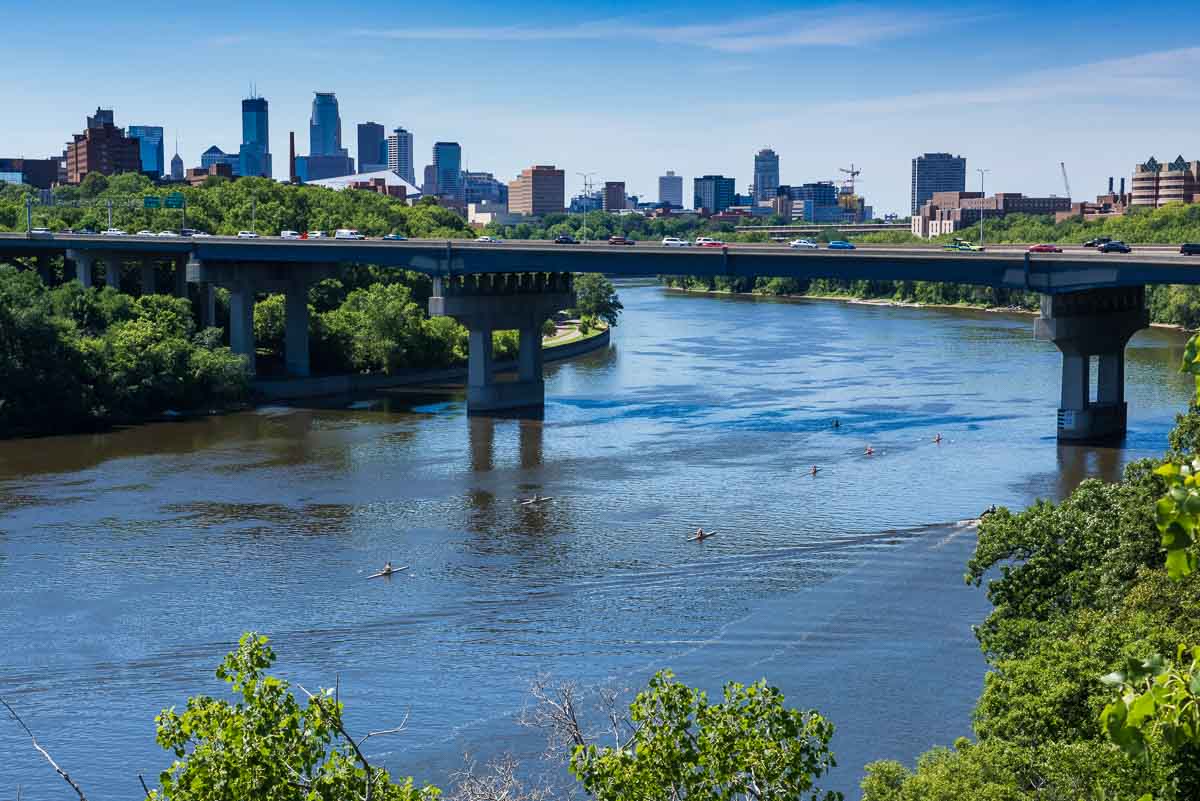 If you are looking for things to do in Minneapolis and St. Paul, you're of course considering the time of year. What to do in the Twin Cities in the summer might often quite a bit from what to in winter–although true Minnesotans don't let the cold bother us. Let's just point out that the average July high temperature is 82F (28C,) and the average high in January is 22F (-6C.) And, temperatures below zero F (-18C) are not uncommon.
However, most attractions in Minneapolis-Saint Paul are viable all year. The Twin Cities top lists of foodie cities, music cities, theater towns, museums and visual arts centers, kid-friendly attractions, professional sports support, and free outdoor fun. Just look for your interests, and you'll find fun for all seasons.
What to See and Do in Minneapolis
Visitors may be drawn to the Twin Cities initially for a specific conference or event. But it's well worth extending travels to take in some of the towns' top attractions: fine dining, museums, arts and theater, shopping, free and family entertainment options, outdoor activities around the chain of lakes.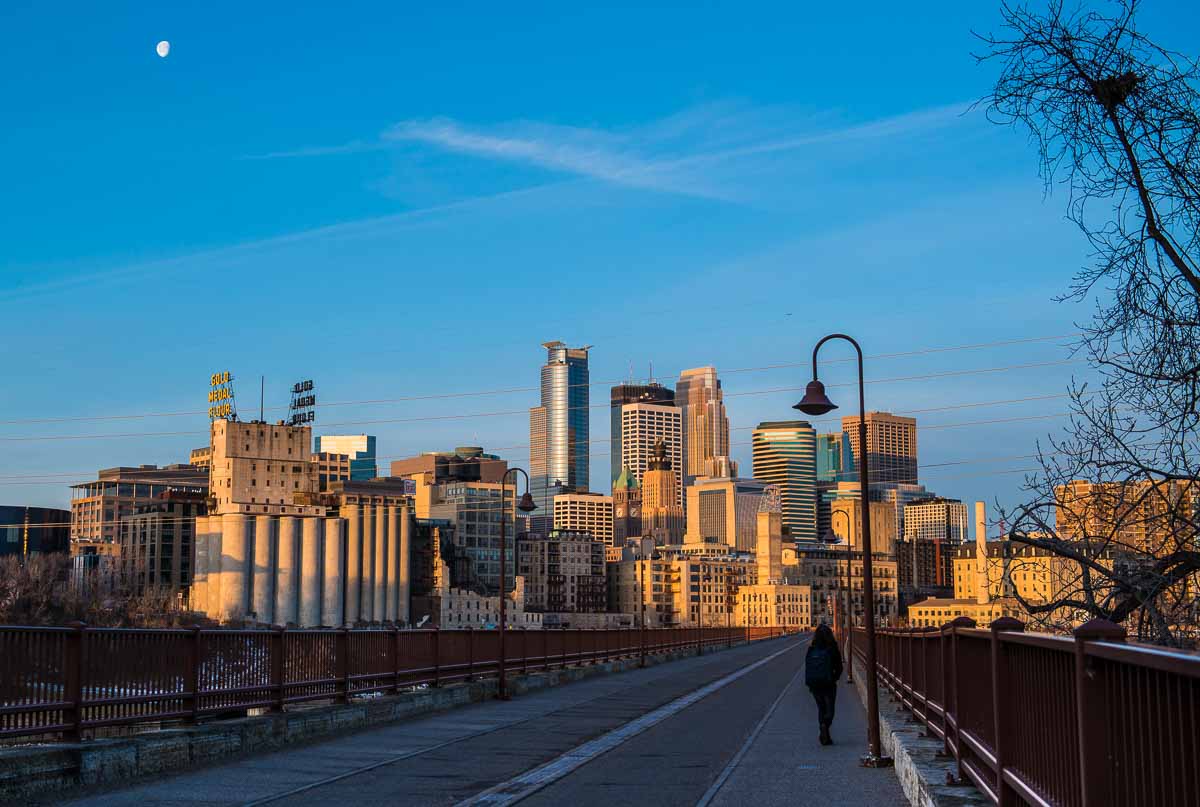 Live Theater and Performing Arts
The Twin Cities are known for their abundant theater and high quality arts and culture audiences. Minneapolis and Saint Paul are cited as having the second most theater seats per capita in the country, after New York. That's not exactly true, but if you go out to see a show, you'll get a good feel for the town. In addition to the Guthrie Theater (now with three stages), we love to see whatever is playing at The Jungle in the Lyn-Lake neighborhood. Or hop over to Mixed Blood Theatre the West Bank area, always innovative despite its old fire station digs.
Broadway shows regularly find their way to Minneapolis, showing at one the three venues of Hennepin Theatre Trust. (Jujamcyn, the giant theater production company, was founded in Minneapolis. And it helps that Twin Cities-based corporations like 3M, Honeywell, Target, Cargill, General Mills, Best Buy, Medtronic, etc., have historically been solid supporters of the arts.) Hennepin Theater Trust's State, Pantages and Orpheum Theatres host concerts, comedy and lectures.
Also in downtown Minneapolis, the Minnesota Orchestra performs in its newly renovated Orchestra Hall, and presents other performers, too. For dance performances, the Twin Cities features The Cowles Center space, built specifically for dance, the Northrop dance series on the University of Minnesota campus, and O'Shaughnessy Auditorium at St. Catherine University. (The Twin Cities arts scene is boosted by the many good colleges and universities in its midst.) If that's not enough, head to Walker Art Center's multi-purpose stage for dance or theatrical performances.
In Saint Paul, the Ordway Theater presents the Minnesota Opera season along with an array of other performances, and Actor's Theater remains one of the top professional theaters in the city.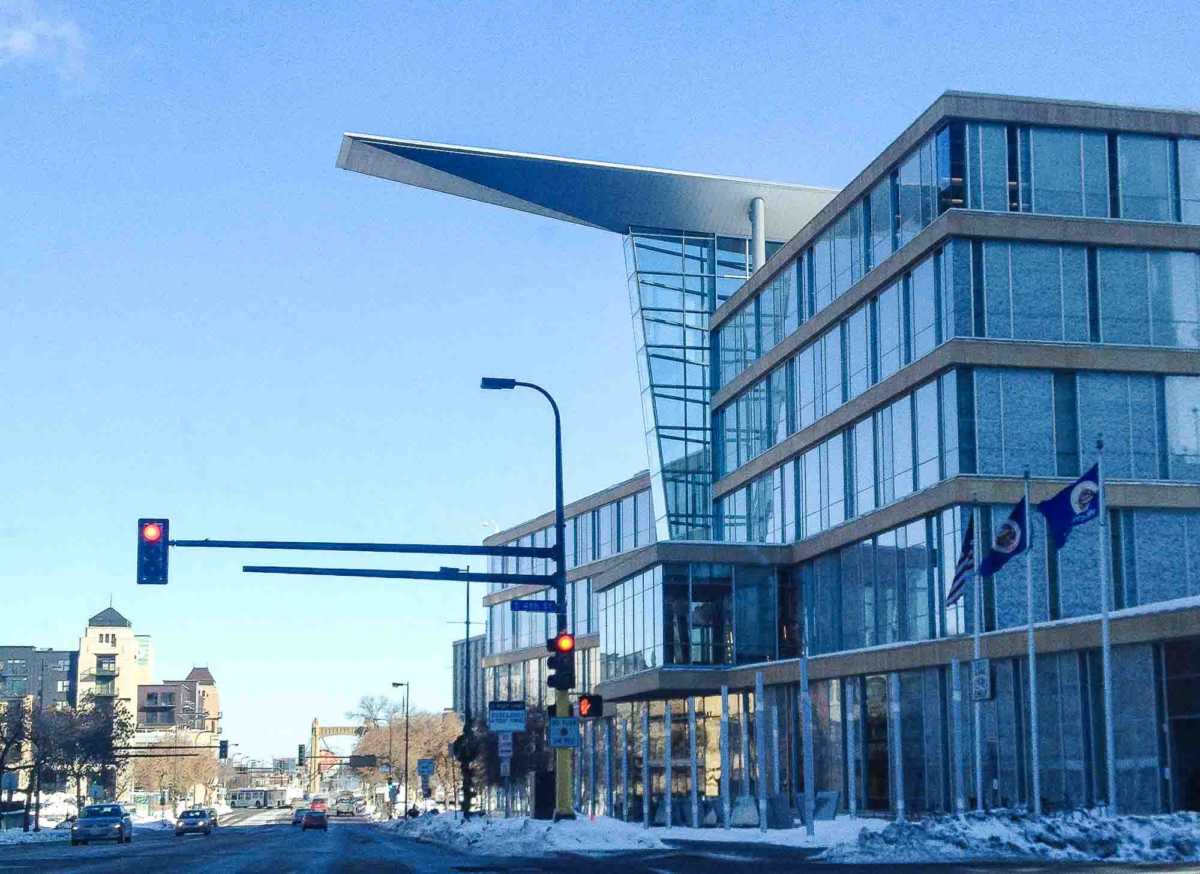 A Twin Cities Music Tour
While the Twin Cities have earned their share of Grammy Awards for work recorded here (from producers Jimmy Jam and Terry Lewis to the St. Paul Chamber Orchestra) let's honor musicians by getting out to hear live music! (We won't bore you with a list of Minnesota bred stars. Did I mention Bob Dylan, Hüsker Du, The Replacements, Dessa, or Prince?)
These businesses are Twin Cities institutions and deserve attention for both historic perspective and a healthy dose of what's current.
Paisley Park in suburban Chanhassen was the recording studio, sound stage, and home to Prince. After his death in 2016, it was opened for tours, guided only. New galleries offer a fascinating and personal look at the musical genius from Minneapolis.
The Dakota Jazz Club, 1010 Nicollet Mall, Minneapolis. World famous for jazz and any other imaginative live music, any night is sure to be good, except when they are closed for private events.
In St. Paul, cozy up with cocktails for tasty tunes at Vieux Carre. It's under the same management as The Dakota.
Also, of course, there's First Avenue, made famous by Prince's Purple Rain movie, but bursting with history from all genres. 7th Street Entry is its sister stage, is around the corner and down below.
Other top music venues in Minneapolis and St. Paul include The Armory, the Turf Club, The Palace Theater, the Fitzgerald Theater, and Cedar Cultural Center. In the summer, there are frequent free concerts at the Lake Harriet Bandshell.
Don't miss The Electric Fetus, 2000 4th Ave S, Minneapolis. The music store is a throwback to the days when the three largest record distributors in the world were right here, and every record store was a head shop. It's not a coincidence that Prince stopped into The Fetus and the Dakota–two Twin Cities music institutions–the week he died.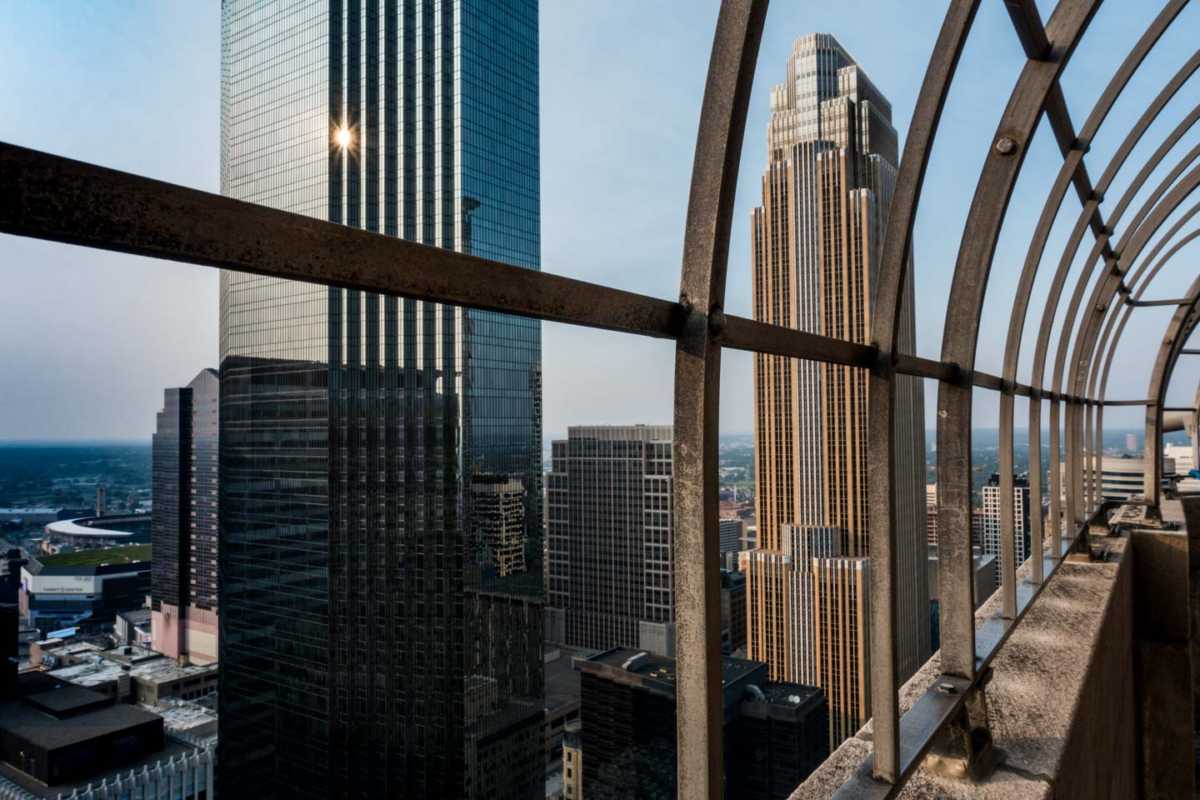 Walking Tour: Art and Architecture Minneapolis
An art and architecture renaissance in Minneapolis in the early 2000s inspires visitors to walk about and gawk. Our free walking tour starts at the Walker Art Center and Minneapolis Sculpture Garden. Allow plenty of time, then linger on the sweeping pedestrian bridge connecting the garden to Loring Park, the western gateway to downtown Minneapolis. Loring Park is especially great in the summer, hosting the Twin Cities Pride festivities and an annual Loring Park Art Festival.
All roads through downtown lead to the Mississippi River. Pass landmarks Peavey Plaza at Orchestra Hall, or Target Field (Twins baseball), or Target Center (Timberwolves), or the US Bank Stadium (grrrr, Vikings). Eventually you'll find more cantilevers drifting over the river. Notable overhangs: The Minneapolis Central Library, 300 Nicollet Mall, and The Guthrie Theater, 818 S 2nd St. (both downtown), and the Weisman Art Museum (Frank Gehry, architect), 333 E River Pkwy, Minneapolis, on the University of Minnesota campus.
At the river, you'll see the historic Stone Arch Bridge (now a pedestrian crossing), some old locks, the original milling district, and further upriver, the Hennepin Avenue bridge. Down river is the new 35W bridge, built after the alarming collapse of the previous bridge on that site. We who live near the river tend to "walk the bridges," creating circle routes of varying distances.
The St. Anthony Main district on the east side of the river (opposite downtown Minneapolis) is a good place to stop for refreshments and a view of the city, with people jogging along the river parkway in the foreground.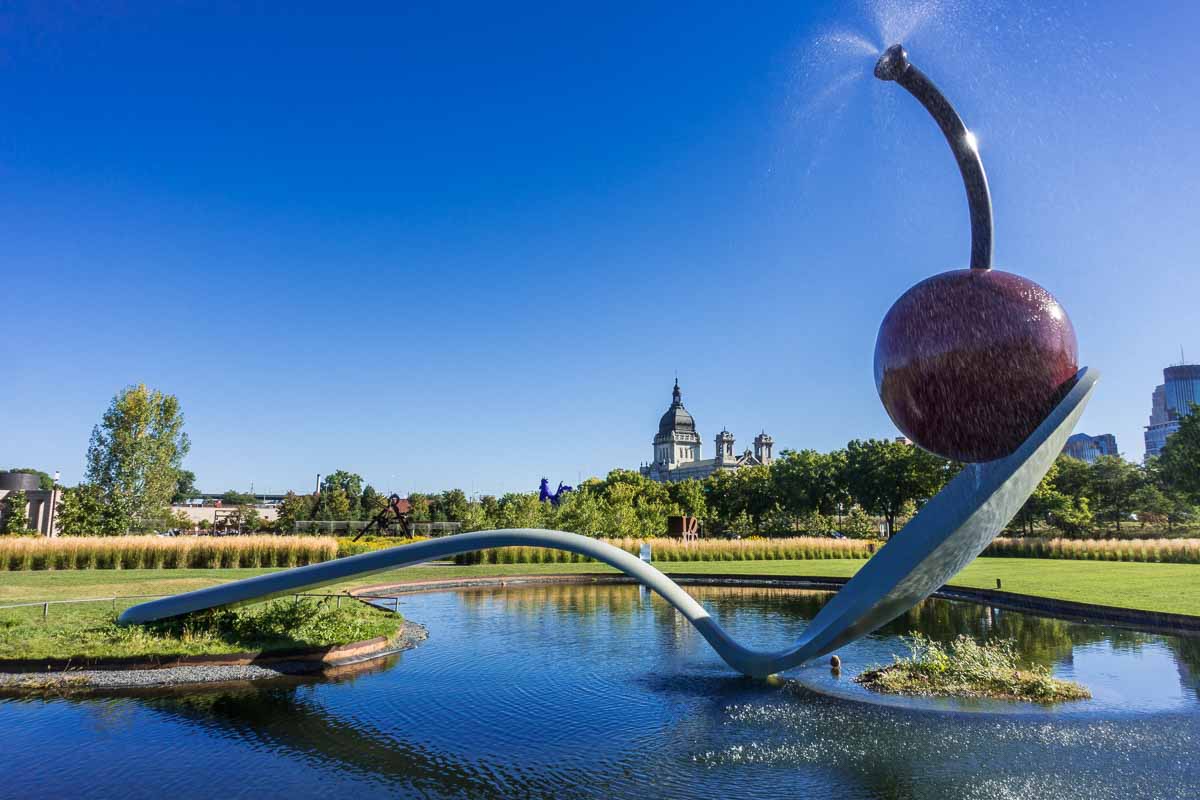 Here's our list of recommended stops in the downtown Minneapolis area for small bites of history and culture:
Mill City Museum A great little history museum that tells the story of the flour mills and Minneapolis' place in the country's immense agriculture and food industries.
Guthrie Theater The Guthrie, founded in 1963, moved to the riverfront in 2006. Whether you go to a play or not (chances are good something will be running on one of the three stages) plan to visit the building. The Yellow Box and the Bridge to Nowhere overlooking the Mississippi are thrilling features, and the lobby environs may just draw you into a longer stay. Architectural and backstage tours are available.
USBank Stadium It's big and ugly from the outside, but I was duly impressed with the interior spaces, the light, and the creature comforts of Minneapolis' newest stadium. You can take a tour, or you can consider visiting during other public events, like high school football tournaments, home shows, or Monster Jams. USBank Stadium hosted Super Bowl LII in 2018 and the X Games in 2019.
Foshay Tower The classic 1929 'skyscraper' was the tallest building in Minneapolis until 1972. It's still the classiest. Do enter the lobby to see the elevator doors, or check in with the W Hotel for more access to the observation deck and a sweet little museum about the fate of Mr. Wilbur Foshay. Plan to refresh yourself at Prohibition Bar on the 27th floor.
Orchestra Hall and Peavey Plaza Minnesota Orchestra's home was built in 1974 and renovated in 2013. The outdoor event space adjacent to Orchestra Hall, Peavey Plaza, is being updated again, too. We'll see how it ties into the new Nicollet Mall scheme.
Minneapolis Sculpture Garden Originally created in 1988, the renovated garden reopened in 2018. You could call it a hidden secret of Minneapolis if it weren't right out in the open. To walk among the creations and spaces is to discover something personal and public at the same time. We like the combination of surreal and abstract sculptures with traditional anthropomorphic works. Think of the Sculpture Garden as a giant welcome mat for Walker Art Center, which is now capping off its latest renovations, not to be confused with the 2005 addition of a new building.
A bit off this track, but not by far is The Minneapolis Institute of Arts. Of the two big art museums, MIA gets my attention more these days than the Walker because they've upped their game in photography, contemporary art and design, and still rule the roost in special exhibits, Asian art, and the Frank Lloyd Wright and Prairie School rooms.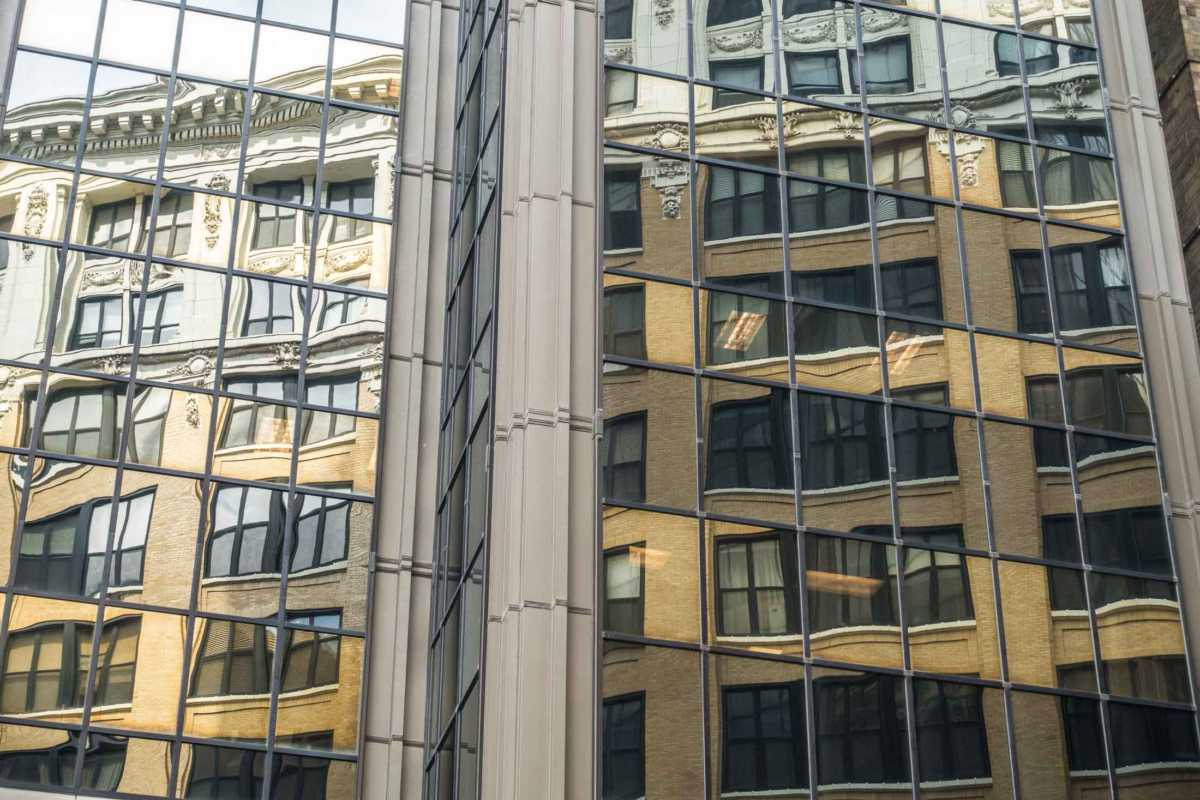 Exploring Downtown St. Paul
Many St. Paul spots are included throughout this post. But if you are centered there, be sure to get out to see these highlights. (Note: The light rail train from the airport or Mall of America goes first to Minneapolis and then requires a change to get to St. Paul. Doh.)
To capture St. Paul's pulse, visit either Rice Park or Mears Park. Rice Park is located in the heart of downtown Saint Paul and is home to many festivals and events throughout the year, including the iconic St. Paul Winter Carnival. The park features a beautiful fountain and is surrounded by the Saint Paul Hotel, Landmark Center, The Ordway and the Downtown Central Library. Mears Park, home of the the annual Twin Cities Jazz Festival, anchors the artsy Lowertown district, filled with good bars and restaurants.
We urge visitors to wander through the historic Union Depot and, in season, enjoy a St. Paul Saints baseball game at CHS Field, also home to some cool Winter Carnival events.
St. Paul's big draws are Xcel Center (Minnesota Wild hockey), the Ordway Theater (opera, etc.), and The Fitzgerald Theater which isn't too far from Minnesota Public Radio headquarters.
Downtown St. Paul has the corner on specialty museums. If history is your thing, there's the Minnesota History Center. We never tire of the Minnesota Children's Museum, and everybody likes to mix it up at the Science Museum of Minnesota and the Omnitheater there.
Uphill from downtown St. Paul is the Saint Paul Cathedral and the Minnesota State Capitol. The latter, a Cass Gilbert-designed classic, provides interesting free tours. We recommend lingering in the Cathedral Hill district (around Selby and Dale), the old stomping grounds of F. Scott Fitzgerald. Visit the Commodore Hotel bar, and an all-around historic and pleasant place to pass some time.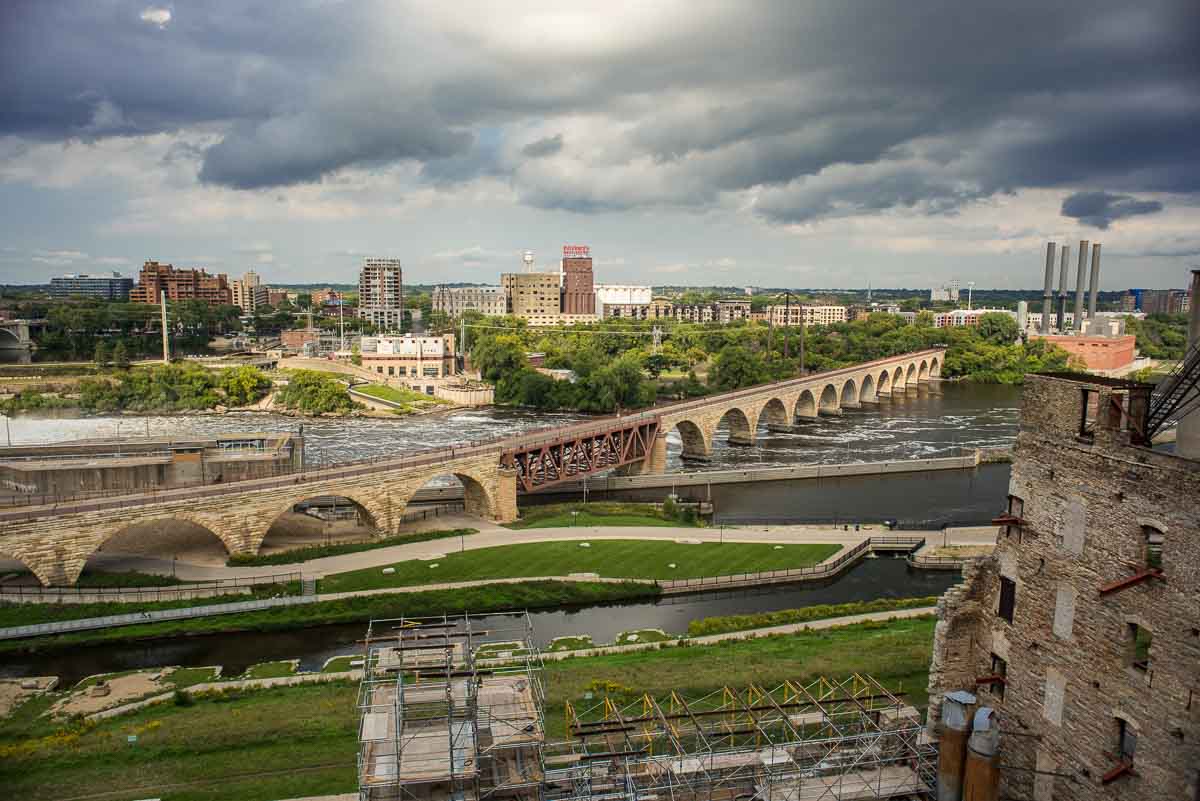 Twin Cities Bookstores and Neighborhoods
The Twin Cities have always been known as a major literary market. It's inspiring here for readers and writers thanks to The Loft Literary Center and the Playwrights' Center. Minneapolis is home to award-winning publishers Graywolf Press and Coffee House Press, among others. So it's no surprise that indie bookstores are still active and admired–and are key to exploring some of the Cities' best neighborhoods.
In our old Kenwood neighborhood, just a couple blocks from Lake of the Isles, is famed Minnesota author Louise Erdrich's bookstore, Birchbark Books at 2115 W 21st St, Minneapolis. It's cozy and intriguing and doubles as a nice gift shop specializing in Native American artists, gardening, and sustainable Indigenous harvesting. While you're here, pick up a signed edition of Louise's newest book, The Night Watchman. Or go for one of my favorites, The Roundhouse. There's also a great childrens book section with a Native bent.
Nearby is the popular Uptown neighborhood centered on Lake Street and Hennepin Avenue. It's full of restaurants and bars, a couple movie theaters, apartments, and a changing landscape of shops. One of the mainstays is Magers and Quinn, 3038 Hennepin Ave, for used and new books and frequent author appearances.
In Northeast Minneapolis, for true-blue indie spirit, go to Eat My Words bookstore, 214 13th Avenue NE. The Northeast neighborhood, still young and chill, grows bigger and busier by the month. Find various hubs near Eat My Words along 13th Avenue; around East Hennepin and First Avenue Northeast just across the river from downtown Minneapolis; and also in and among art buildings like Northrup King, where studios and galleries open up to the public Saturdays and every first Thursday of the month.
In Saint Paul, Midway Books, 1579 University Ave W., anchors the busy intersection of Snelling and University Avenues and right on the Green Light Rail Line. It houses a great selection of literature, philosophy, photography, and art books, good for hours of browsing and sure-fire finds to take home. This Midway neighborhood is evolving with the introduction of the new Allianz Field, home to Minnesota United Soccer Club.
We're partial to the well-staffed Next Chapter Booksellers in St. Paul (formerly owned by noted raconteur Garrison Keillor). Macalester College, just across Snelling Avenue, lends vitality to this neighborhood.
For children's books, we love Red Balloon Bookshop on St. Paul's Grand Avenue (another nice shopping district), or the marvelous Wild Rumpus in the lovely Linden Hills neighborhood of Minneapolis.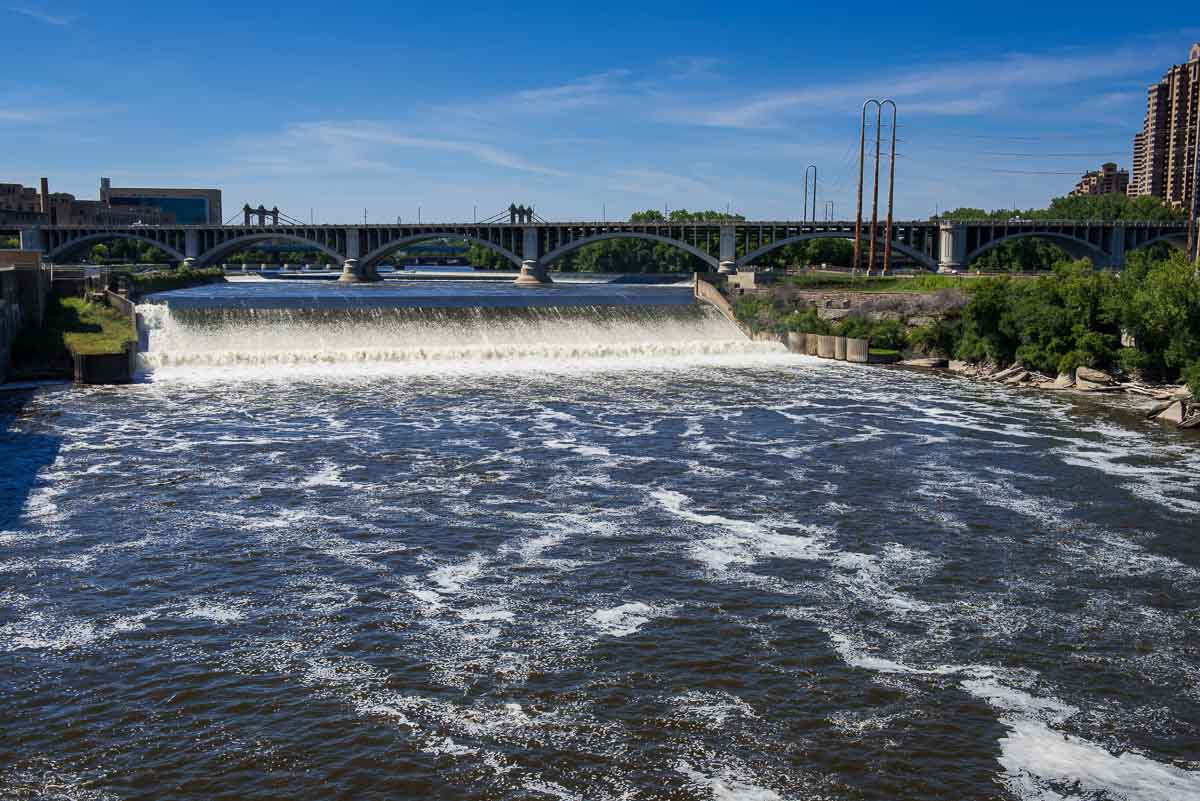 Touring Minneapolis by Bicycle
On wheels or on foot, circling Minneapolis' lakes is a ritual–maybe daily, weekly or just seasonally–but still a ritual. Holiday weekends are ideal for biking, because lots of people have left town to drive "up north" to "the lake,"–classic Minnesota jargon for getting the hell out of town. Either circle the lakes or ride along Minnehaha Creek to Minnehaha Falls Regional Park, part of the Mississippi National River and Recreation Area.
Or, quite scenic and less crowded, ride the Mississippi River roads from Minnehaha Falls north to the University of Minnesota campus and downtown. The East River Road will give you yummy views from high above the river. The West River Road takes you right down to water level. I'm also a fan of the Theodore Wirth Parkway trails, where it's hard to believe you're still in the city. These are all part of the Grand Rounds Scenic Byway System, with more than 50 miles of bike trails. Bring some cash. Seasonal restaurants at Lake Calhoun and Minnehaha Park attract long lines for beer and fish tacos. Dogs are welcome.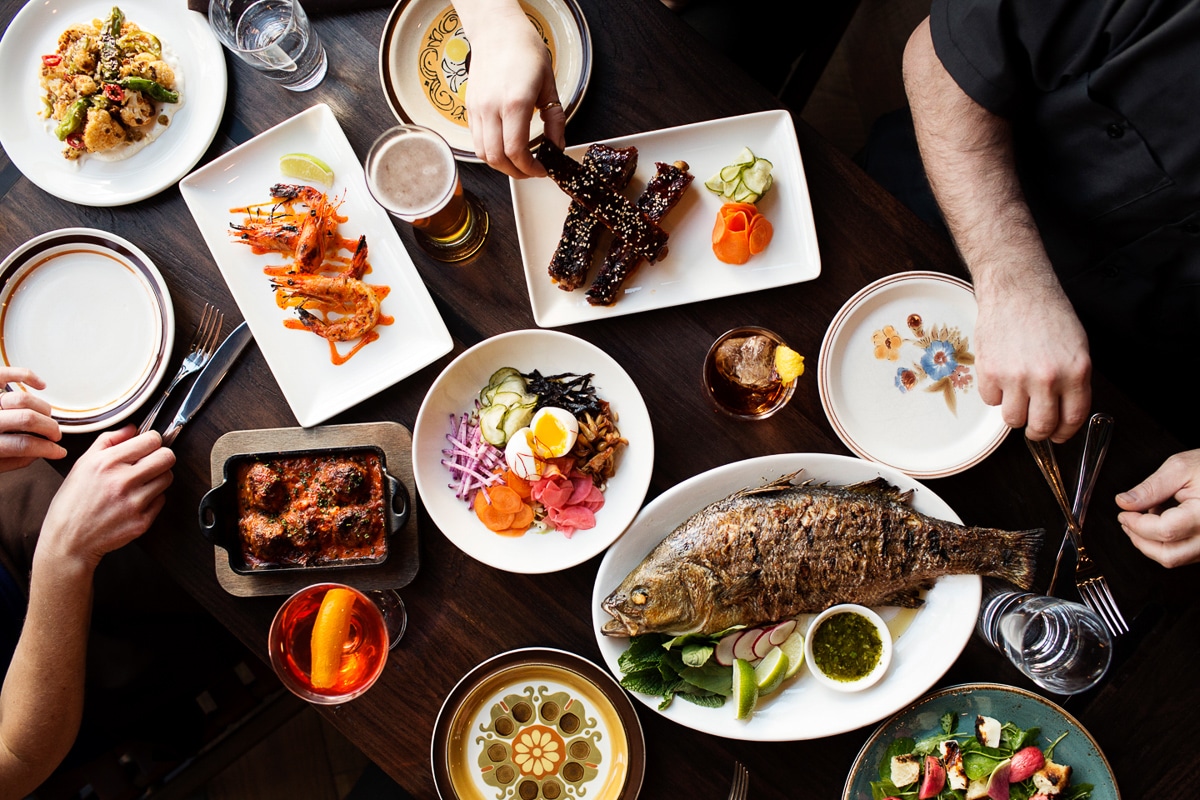 Food and Restaurants in Minneapolis St. Paul
Don't underestimate the culinary scene in the Twin Cities. It's not all tater tots and Jucy Lucys. Beyond tasty walleye fish dinners and wild rice soup, there's an extraordinarily creative and diverse restaurant community. Just one example is the eclectic fare at Young Joni, owned by James Beard award-winning chef Ann Kim. Dozens of other Twin Cities restaurants can stack up their awards and bragging rights: the loyalty of locals.
In summertime, the essence of local produce is displayed in all its glory at various Twin Cities farmers markets. In winter, browse through the enclosed Keg and Case marketplace in the former Schmidt Brewery in St. Paul.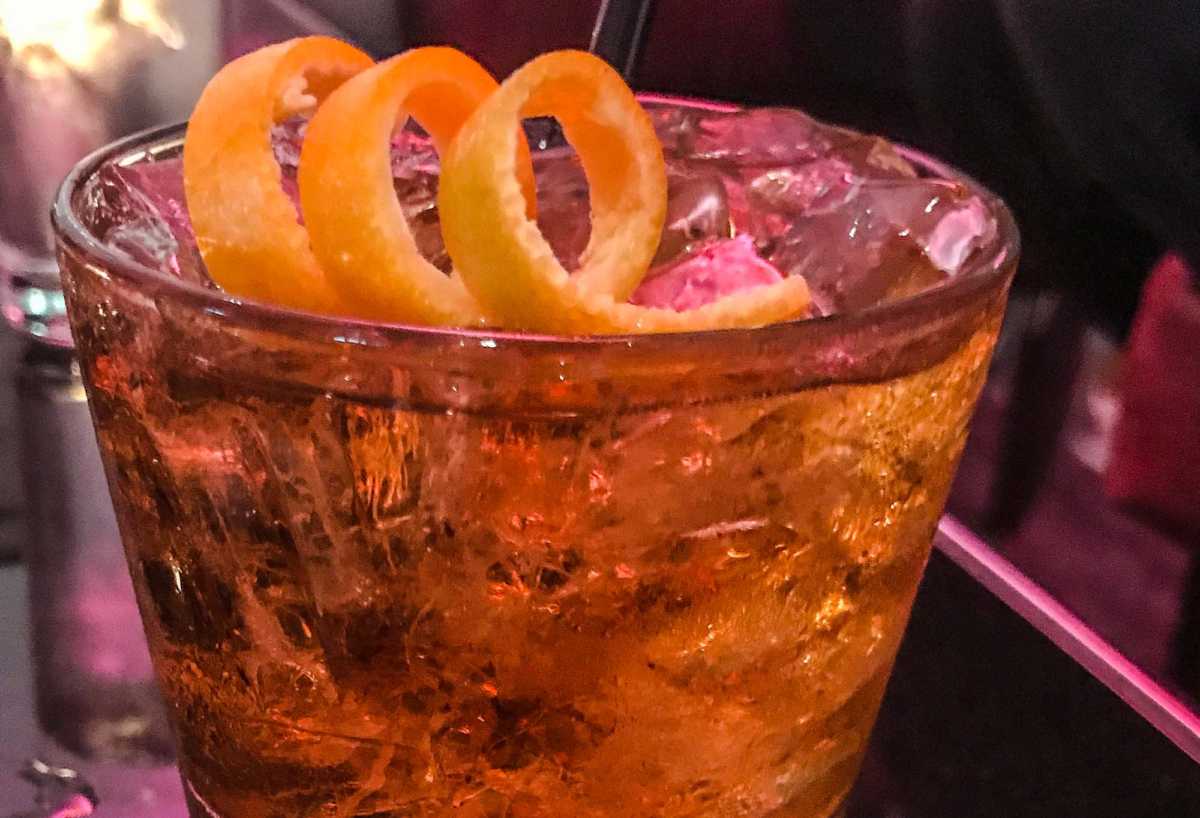 Featured Minneapolis St. Paul Restaurants
We'll single out just a few places we frequent, updated periodically. For more recommendations from classic to trending restaurants in Minneapolis St. Paul, see Meet Minneapolis or Visit St. Paul websites for mouthwatering ideas.
Pig Ate My Pizza In northwest suburb Robbinsdale, PAMP serves up great food, their own brews, a porch, the coolest servers around, and a deliciously unusual Sunday Funday brunch buffet.
Morrissey's 913 W Lake St, Minneapolis, is our Irish pub du jour. It's near everyone's home in bustling Uptown. (Morrissey's is also just across the street from local landmark Bryant Lake Bowl, where you can also grab a bite, see some experimental theater, and yes, bowl a few lines.) At Morrissey's, try the signature Belfast Burger.
Check out our 7 Great Minneapolis Restaurants post to see what we've found especially tasty recently. And make that 15 restaurants counting the individual places at the appealing Malcolm Yards Market food hall.
Getting Around Minneapolis St. Paul
A word of caution to visitors. Even with the light rail system which runs between the downtowns of Minneapolis and Saint Paul, and from Downtown Minneapolis to the Mall of America and the airport, public transport in MSP is sub-optimal. To see the town, get on a bike or get your hands on a car. Uber or Lyft work pretty well, cabs not so much. Bus coverage is thorough, but erratic. The essence of the Twin Cities is in the parks and boulevards, the neighborhood corners, and in the tending to gardens and sidewalks. In other words, you'll want to go where light rail transit isn't. Sorry.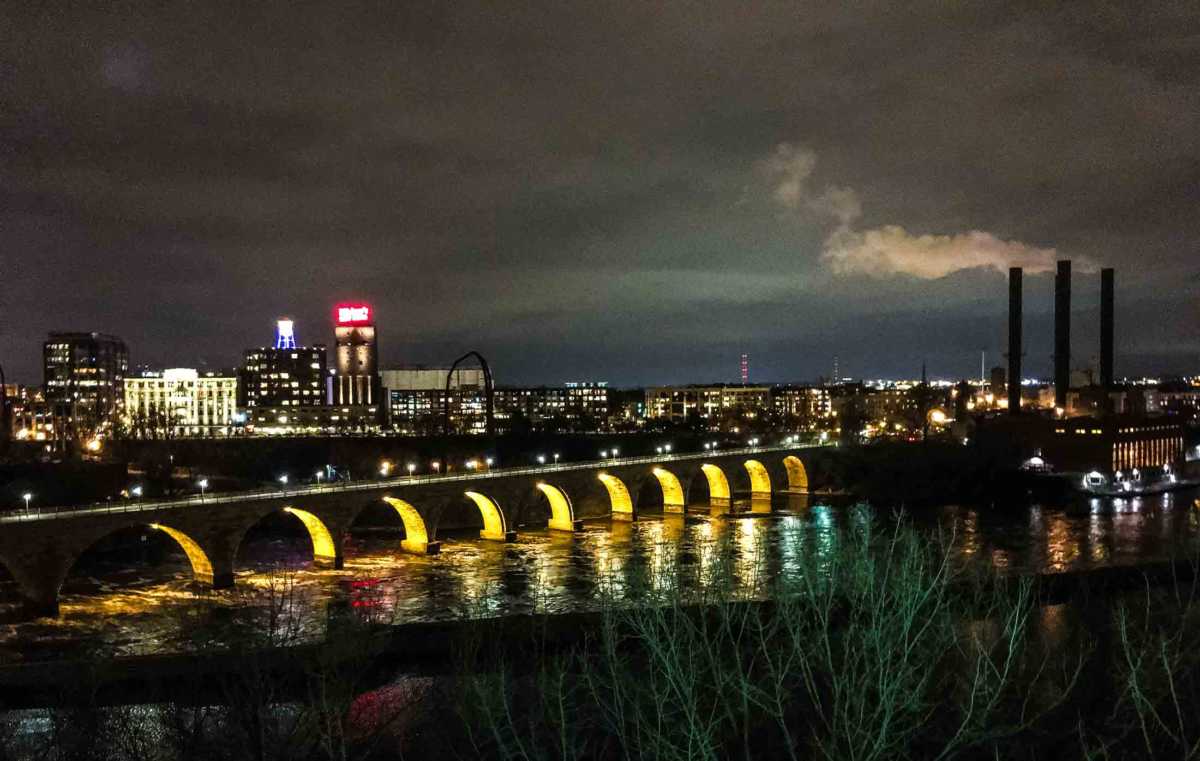 Bonus: A Definition of the Famed "Minnesota Nice"
In 2008, we published the Secrets of the City Guide to Minneapolis-St. Paul. Here's an excerpt, for example, from Neal Karlen's essay, "The Interesting Culture of Minnesota Nice." Neal, btw, is the author of several books, many of which deal with quirky Minnesota history, such as the Saint Paul Saints, the Minneapolis mob scene, and the making of a Minnesota women's punk band. His latest, a biography of Prince that was released in October 2020.
The nice woman at the Sons of Norway…explained the ethos behind Minnesota Nice using the word janteloven: the overwhelming credo here of don't-get-too-big-for-your-britches or be the blade of grass that dares stick out atop the lawn and thus be mowed down.
"…The B-side of Minnesota Nice is a hellish underworld where pitchforks are thrust into victims from behind with a wink, handshake, and goodbye smile in exchange for ruining your life.
"…Unfortunately, in Minnesota, it is infinitely harder to tell when another is lying, because virtually no one looks anybody in the eyes, even during sex."
The guidebook is long out of print. But we're still inclined to brag about our towns to visitors, and offer our idiosyncratic and arts-centric take on what to do in Minneapolis and St. Paul. Have fun discovering the nooks and crannies.

More info from MNTrips
See the list of all Minnesota State Parks, including basic permit information. We're adding our commentary to them as we visit.
Check out our recommendations for what to carry in your hiking day pack when you check out the extensive Minnesota State Park system.
Some of the links on this page are affiliate links, which means we may receive a small commission if purchases are made through those links. This adds no cost to our readers and helps us keep our site up and running. Our reputation is our most important asset, which is why we only provide completely honest and unbiased recommendations.