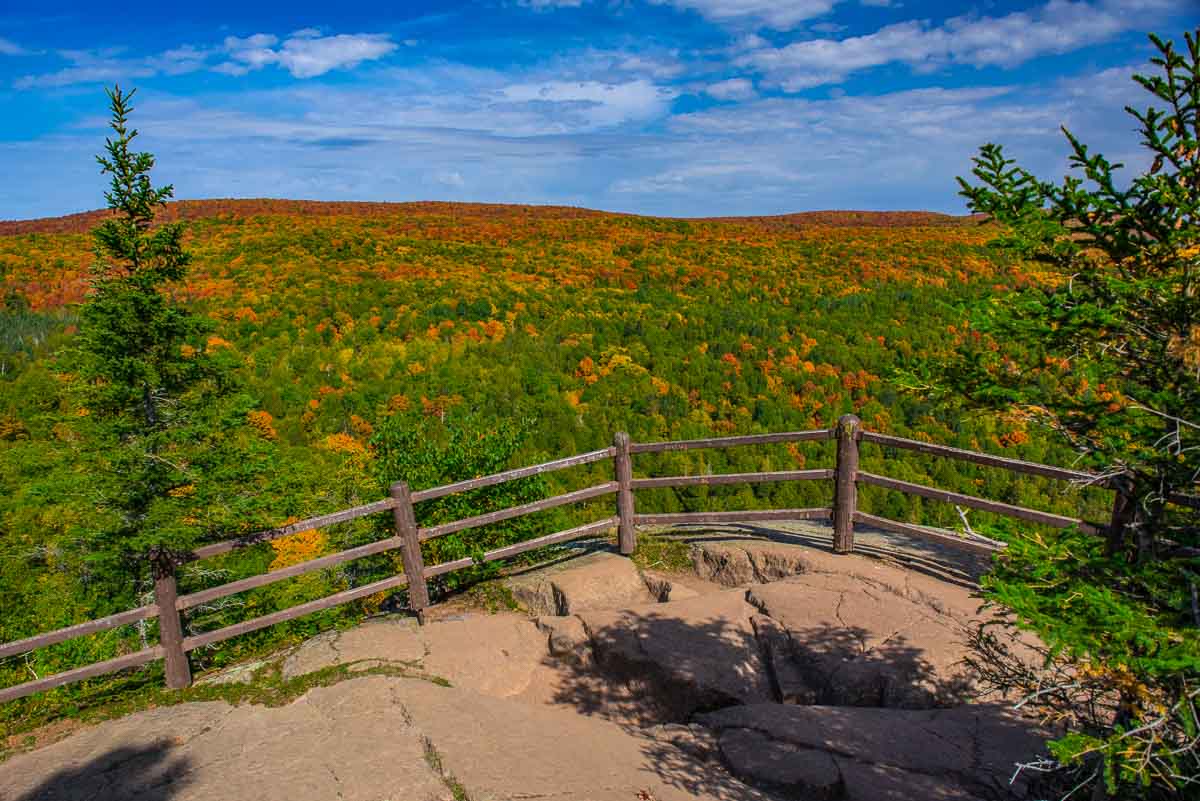 The North Shore of Lake Superior is not only approached near the water. It's also good to get above it all sometimes, like the hike that gets you a thousand feet above the lake: the Oberg Mountain Loop.
The Oberg Mountain Trail starts up the hill from Tofte a ways and is basically designed to give you a bird's eye view of the Lake and the Superior National Forest all around and below you. And in late September, you'll also get a spectacular sample of Minnesota's fall colors and lovely views of Lake Superior.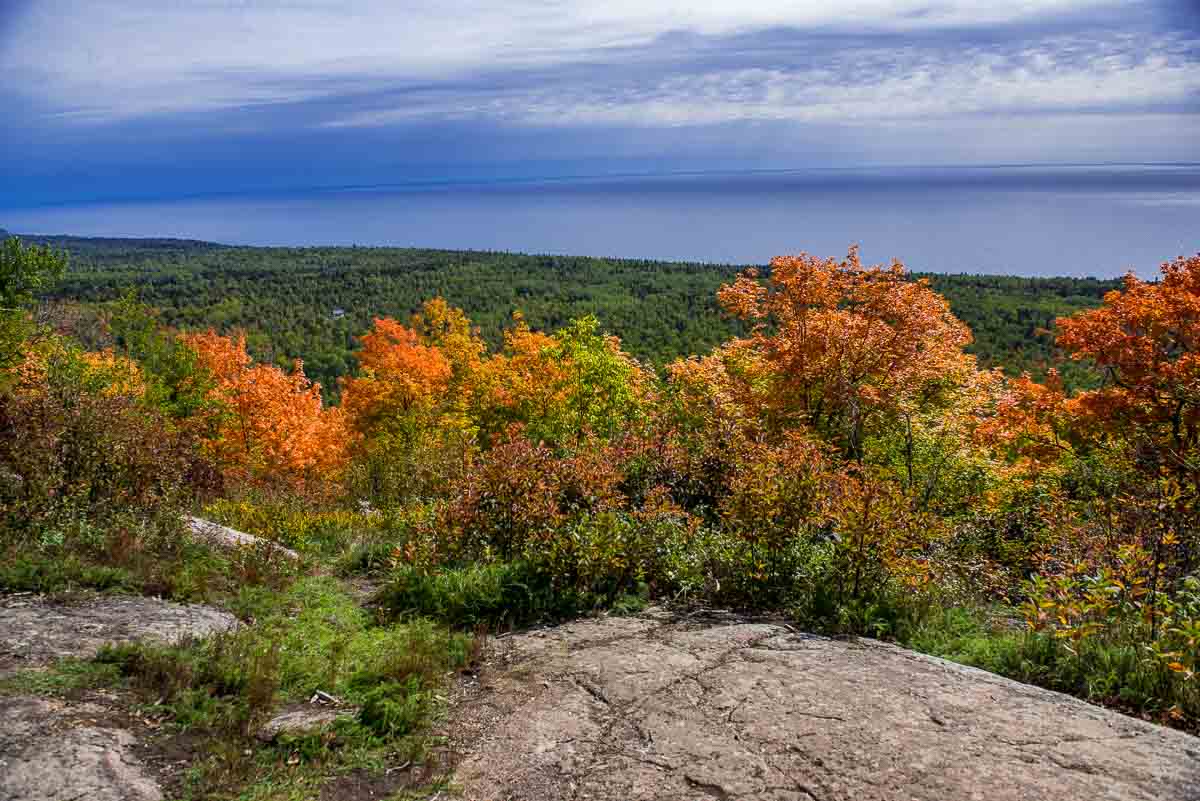 This trail, along with its mirror image LeVeaux Mountain Trail on the other side of the road, are spurs of the Superior Hiking Trail.
To reach the trail head, take Highway 61 north approximately 4.5 miles from Tofte. Turn left onto Forest Road 336 (Onion River Road.) Proceed up the Onion River Road for about 2 miles to the parking area on the left. The Onion River Road sign is small and you could miss it. Look for the larger Superior Hiking Trail road sign on the right and keep your eye out to the left. The Onion River Road is only a hundred yards or so past the Superior Hiking Trail sign.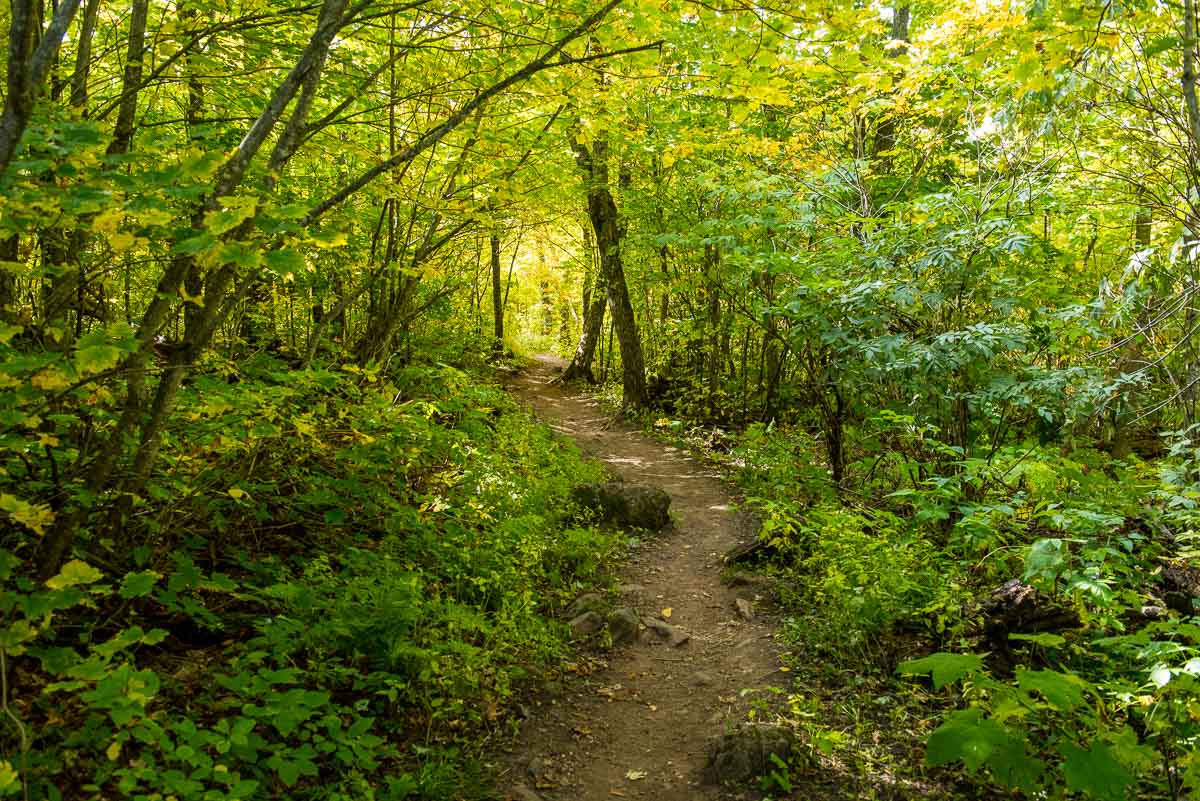 The hike itself is about 2.5 miles and has only gradual climbs (no steps!) Most of your ascents will be climbing back up to the trail after you've carefully descended to the edge of the hill to get your photos. The whole walk, including a lot of stopping for photos, took me an hour and 45 minutes. Most of the time, you'll be on a groomed shaded path walking among the dozen or so varieties of trees that are all changing color at their own pace and hue. The sun filtering through the golden leaves is beautiful.
If you go on a weekend during the fall leaf season, count on there being lots of people, including lots of children, on the trail with you. There were at least 50 cars parked along the road at the trail head. My advice: get there early. I got there around 10 a.m. on a Saturday and it was already crowded.
You can see all my posts from my trip to the North Shore here.
Where to stay on the North Shore
I based my latest exploration of the North Shore from a beautiful apartment in Two Harbors that I found on AirBnB. If you book it, we'll receive a small commission at no additional cost to you. If you're not an AirBnB member, join AirBnb here, and you'll get up to $65 off your first stay.
More info from MNTrips
The Superior Hiking Trail is part of the North Country National Scenic Trail, which is one of the U.S. National Park sites in Minnesota. When you finish your hike, I recommend another nearby National Park site, The Grand Portage National Monument for a fascinating bit of Minnesota History.
See the list of all Minnesota State Parks, including basic permit information. We also have a list of all Minnesota Historical Society sites. We're adding our commentary for the park and historical sites as we visit them.
When you plan on hiking or biking the Minnesota State Parks, be sure to download the Avenza Maps app to your phone. The app allows you to download the trail maps for almost every state park, and they are invaluable for navigation, especially because many of the parks don't have as many directional signs as they should.
Also, if you're planning on camping at Minnesota State Parks, you'll need a reservation. Here's the online reservation form.
Check out our recommendations for what to carry in your hiking day pack when you check out the extensive Minnesota State Park and National Park system.
Some of the links on this page may be affiliate links, which means we may receive a small commission if purchases are made through those links. This adds no cost to our readers and helps us keep our site up and running. Our reputation is our most important asset, which is why we only provide completely honest and unbiased recommendations.