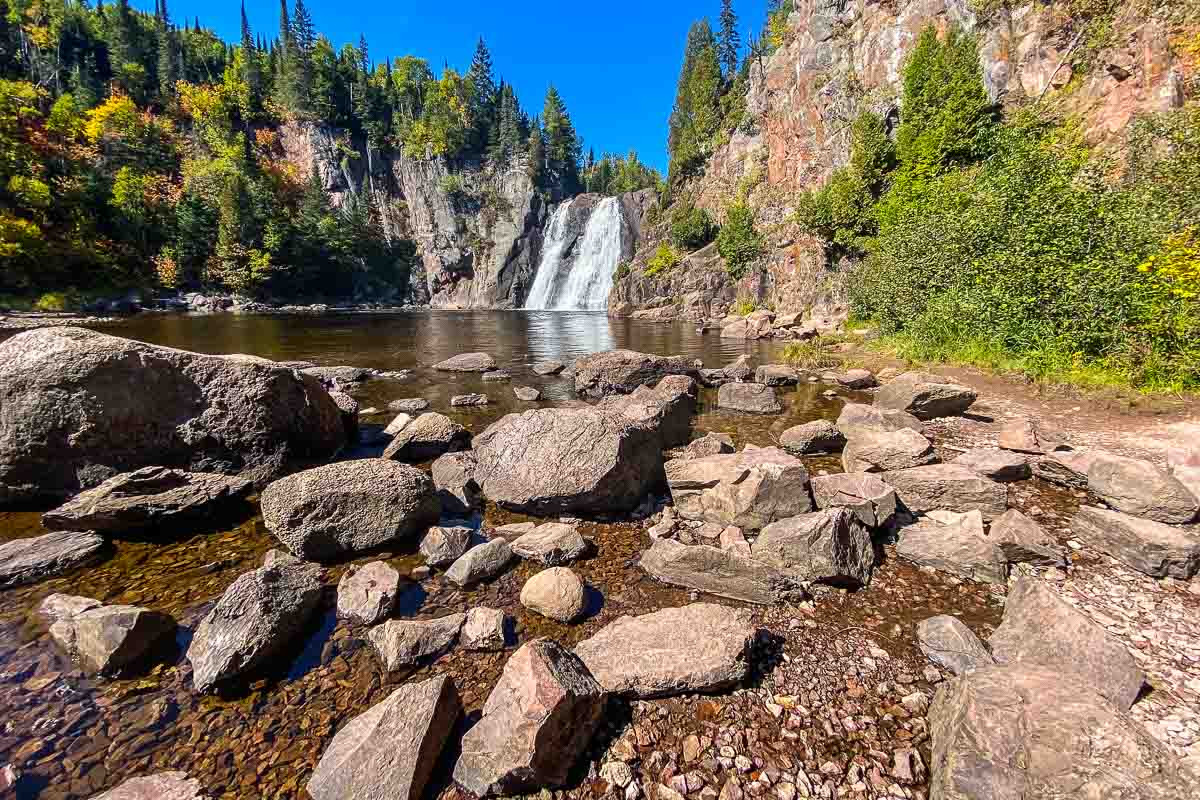 Once you know that Tettegouche State Park has the highest waterfall in the state, that sort of makes it an obligatory visit. But, unlike neighboring Gooseberry Falls State Park where the falls are but a short easy walk from the parking lot, Tettegouche's High Falls are going to require a bit more effort.
The trail to the High Falls starts from the lower parking lot that's just to the south of the Visitors Center. (You can save a few steps by parking in that lower lot.) Right away out of the lot, you're going to be climbing up some steps that are a taste of what's to come: an uphill hike of a mile and a half (and a lot more steps.)
Some posts on MN Trips may contain affiliate links. If you buy something through one of those links, we may earn a small commission. As an Amazon associate, we earn from qualifying purchases.
When you make that 1.5 mile climb, you're not quite there yet. You'll get to a sign that tells you that your view of the High Falls is 83 steep steps down to the river level. While you're down there, take your time. Sit on the rocks or on the solidified lava flows and admire the dramatic view. Catch your breath, because your next challenge is going to be going back up those 83 steps.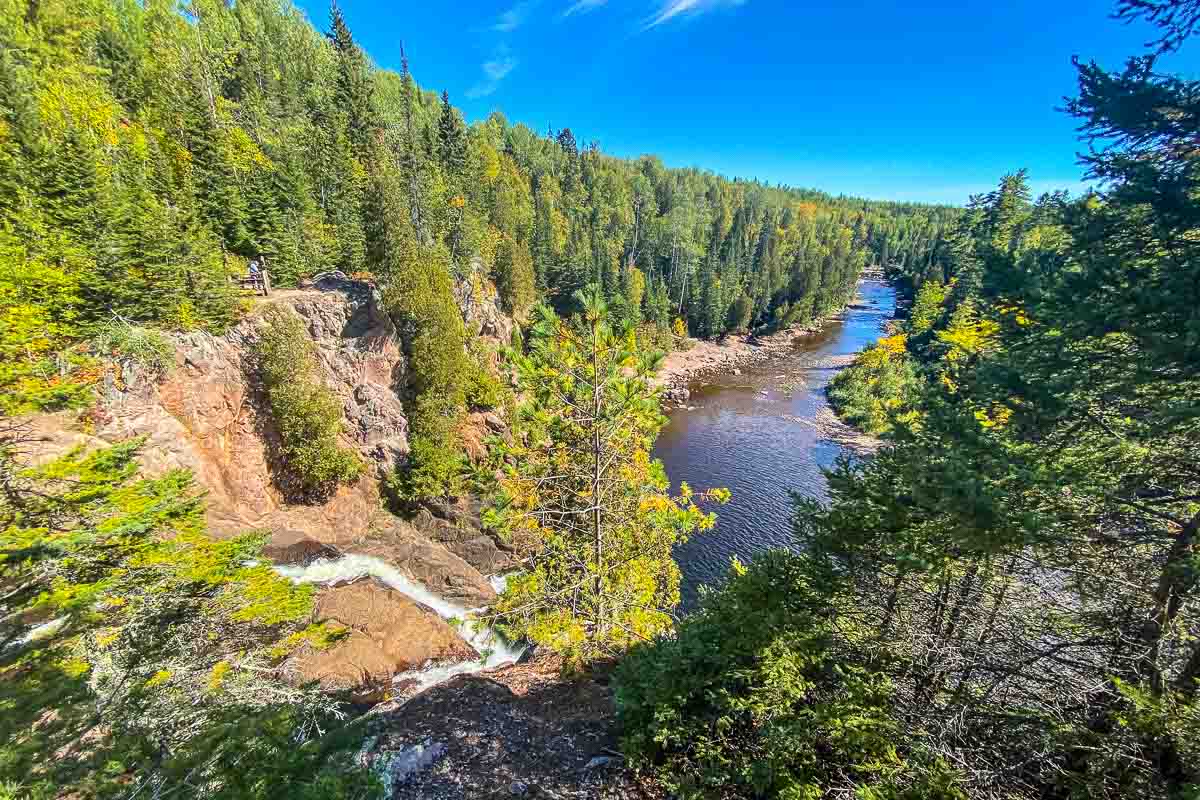 After seeing the High Falls, you have the choice of going back the way you came, or continuing on another climb up to the "Swinging Bridge" which will take you over the river to the other side and eventually to an overlook right above the falls where you can see all the way down the Baptism River, which to me was actually a more beautiful and dramatic vista.
Once you've seen that, you can backtrack the way you came, or continue three tenths of a mile on to the Two Step Falls. What you don't see on the map is that when you get to the Two Step Falls turn is that it's more than a 200-step descent to the river level.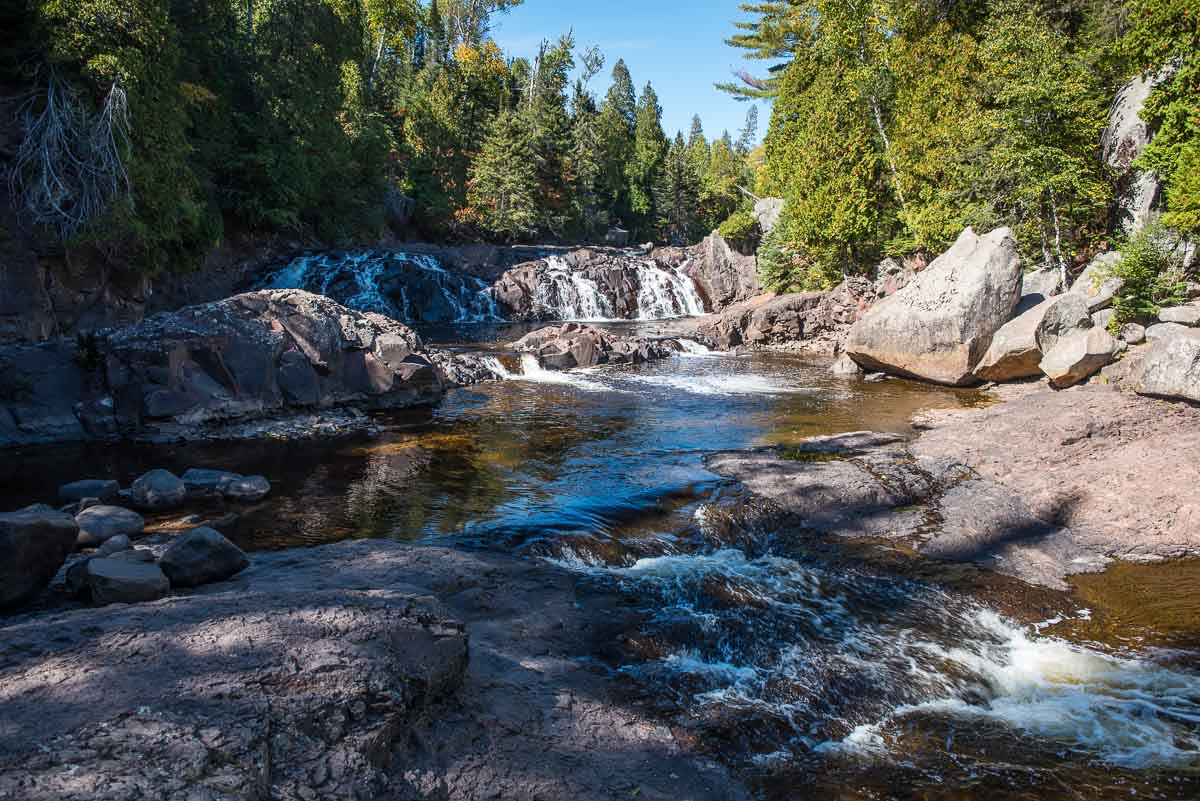 The Two Step falls are certainly not as dramatic as the High Falls, but there is some shade down there and a nice breeze, which are some consolation as you sit and contemplate that now you have to walk back up those 200 steps to the path.
At the top of those steps, you have the option of returning the way you came, which is not a bad idea, because the alternative is to come to the paved road and go through the Baptism River campground, which is essentially a parking lot full of motorhomes. If you don't go back the way you came, the alternative is walking through the campground and then a mile or so down a paved road.
Before you go all the way back on the paved road, you do have a choice to veer off for the last mile on the snowmobile track that parallels the road, which will at least put you back in the shade.
When you get back to the lot, you have the choice to take another 1.6 mile round trip to Cascade Falls. But I decided to save that for another day.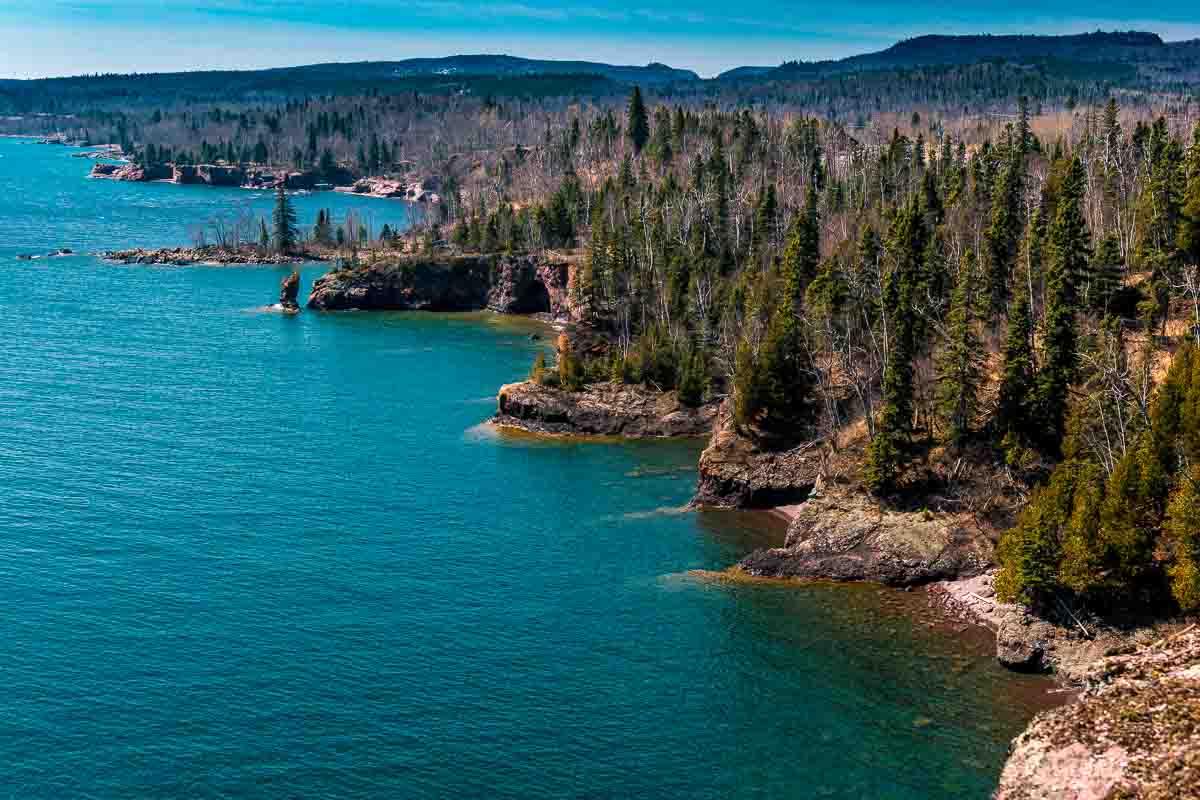 Note: the hike to High Falls and Two Step and back amounts to about 4.7 miles, but that amounts to only about a fifth of the 23 miles of trails that cover the park. You could spend days at Tettegouche and not see it all. However if you are in the mood after your waterfall hikes from the upper parking lot it's only about a mile round trip out to Shovel Point, where you get a spectacular view of the Superior coastline.
Click the link here to get a map of Tettegouche State Park.
You can see all my posts from my latest trip to the North Shore here.
See our list of other waterfalls along the North Shore of Minnesota.
Where to stay on the North Shore
I based my latest exploration of the North Shore from a beautiful apartment in Two Harbors that I found on AirBnB. If you book it, we'll receive a small commission at no additional cost to you. If you're not an AirBnB member, join AirBnb here, and you'll get up to $65 off your first stay.
More info from MNTrips
See the list of all Minnesota State Parks, including basic permit information. We also have a list of all Minnesota Historical Society sites. We're adding our commentary for the park and historical sites as we visit them.
When you plan on hiking or biking the Minnesota State Parks, be sure to download the Avenza Maps app to your phone. The app allows you to download the trail maps for almost every state park, and they are invaluable for navigation, especially because many of the parks don't have as many directional signs as they should.
Also, if you're planning on camping at Minnesota State Parks, you'll need a reservation. Here's the online reservation form.
Check out our recommendations for what to carry in your hiking day pack when you check out the extensive Minnesota State Park and National Park system.
Some of the links on this page may be affiliate links, which means we may receive a small commission if purchases are made through those links. This adds no cost to our readers and helps us keep our site up and running. Our reputation is our most important asset, which is why we only provide completely honest and unbiased recommendations.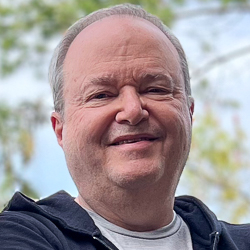 Latest posts by Tom Bartel
(see all)