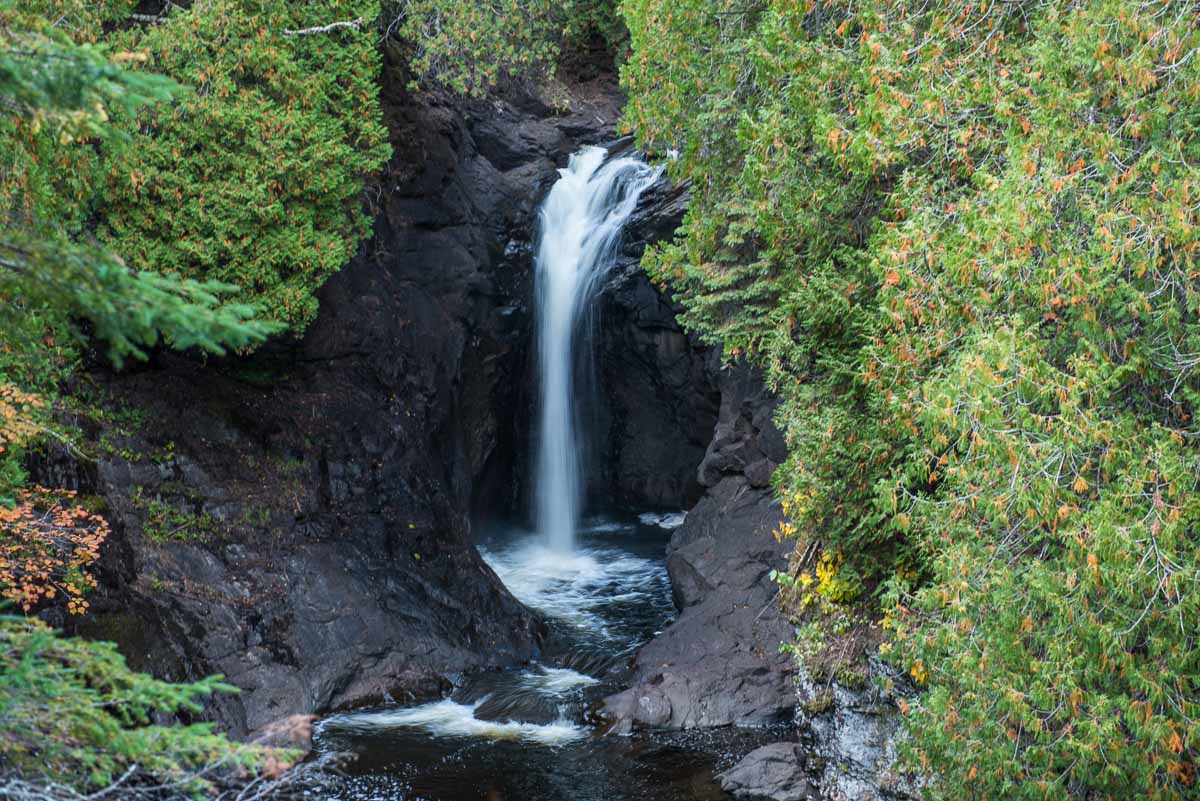 Although Cascade River State Park has more than 18 miles of hiking trails, it also features one of the shortest paths to the main attraction. There's a brief, easy, half mile loop from the parking lot right on Highway 61 to the main falls and back. Sometimes when you've spent a good part of the day hiking other waterfall locations on the North Shore, such as Temperance River or Devil's Kettle, a short hit is just what you want at the end of the day.
You can park at the lot at the trail head and be back at the car in about 20 minutes, photo of the high white falls against the black basalt rock in hand. There is, of course, more to Cascade River State Park, including more falls upriver only a short walk longer. In fact, the Cascade River flows over one ledge after another for a total drop of 900 feet in the last three miles before it reaches Lake Superior.
If you're in the mood and have the energy, there's a long segment of the Superior Hiking Trail that also passes through the park and takes you into the high ground for views of Lake Superior and the forest below. But, like I said, I was already tired from a long day on the other two hikes. If you're going to take Cascade seriously, you'll probably want at least half a day.
Next time to the North Shore, we'll give it its due.
You can see all my posts from my trip to the North Shore here.
See our list of other waterfalls along the North Shore of Minnesota.
More info from MNTrips
See the list of all Minnesota State Parks, including basic permit information. We also have a list of all Minnesota Historical Society sites. We're adding our commentary for the park and historical sites as we visit them.
When you plan on hiking or biking the Minnesota State Parks, be sure to download the Avenza Maps app to your phone. The app allows you to download the trail maps for almost every state park, and they are invaluable for navigation, especially because many of the parks don't have as many directional signs as they should.
Also, if you're planning on camping at Minnesota State Parks, you'll need a reservation. Here's the online reservation form.
Check out our recommendations for what to carry in your hiking day pack when you check out the extensive Minnesota State Park and National Park system.
Some of the links on this page may be affiliate links, which means we may receive a small commission if purchases are made through those links. This adds no cost to our readers and helps us keep our site up and running. Our reputation is our most important asset, which is why we only provide completely honest and unbiased recommendations.