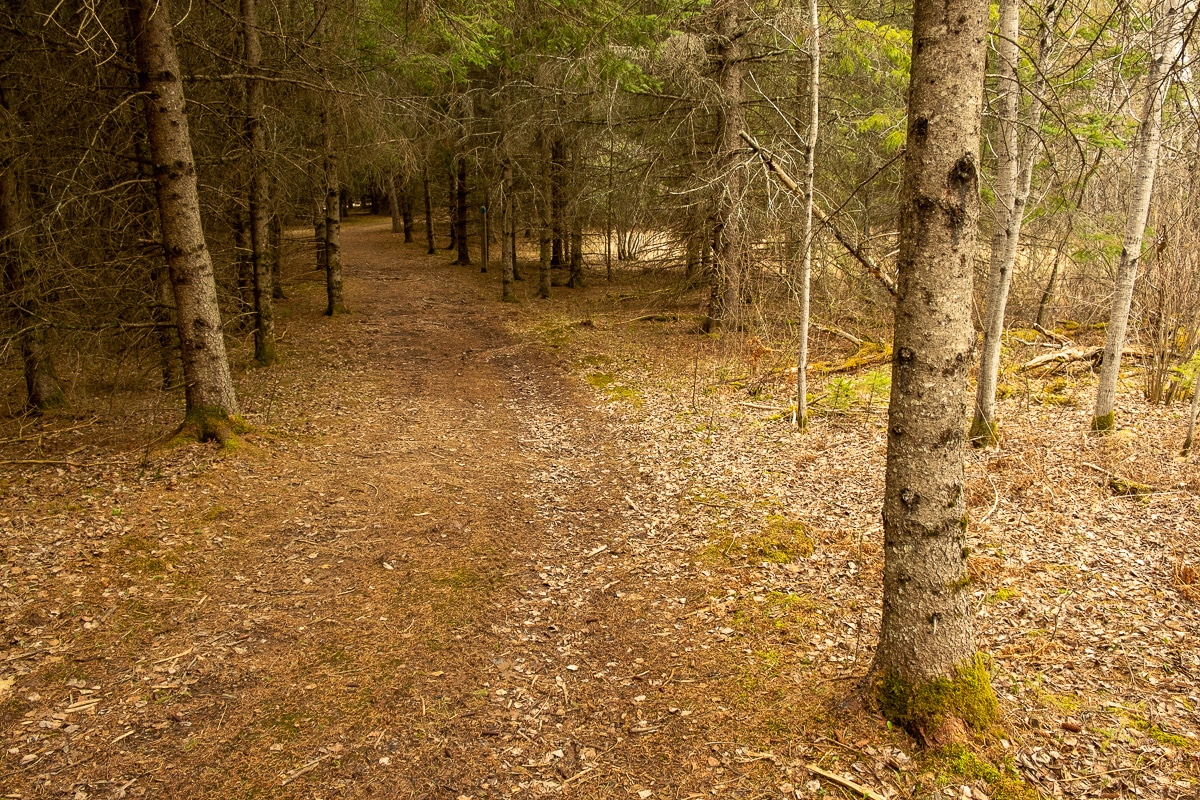 Although the drive from the Twin Cities to Duluth (or vice versa in this case) is only a couple of hours, I do like to take a break at one of the State Parks such as Banning or Jay Cooke along the way to stretch my legs and break up the monotonous freeway ride.
My choice this time was Moose Lake State Park. It's about 40 miles south of Duluth, and just off I-35, so it makes a convenient stop for a short hike. As we were returning from Duluth, my brother and I got off the freeway, and within about a mile, drove into the small parking lot.
We chose the Rolling Hills and Wildlife Pond trails, a total of about 2.4 miles (3.9 km), which we did in about an hour. It could take less time if you're in a hurry, but we were slowed because in many spots the path was very soggy from recent rain and a dearth of sunny days so far in early May. So, we ended up detouring slightly off the path in those spots to avoid sinking up to our ankles in mud.
That will slow you down slightly. But we did manage to complete the hike with dry feet, expect for my brother's one misstep that got him a wet sock for the rest of the trek. (I've had that experience more than once, which is why I always carry a spare pair of dry socks in my day hiking pack.)
But the hiking trail is flanked by a high pine forest with, at least at this time of year, very little intervening undergrowth. It was easy to leave the muddy path when necessary and walk just a few feet into the wood to find firmer footing.
I should note here, too, that the Minnesota Department of Natural Resources does a great job of grooming trails and usually repairs the muddy spots of hiking trails with yards of river rock. Sometimes, they even builds boardwalks to aid the casual hiker. There was evidence of both techniques at Moose Lake State Park, but the rocks looked to be left over from last year. I'm guessing they just haven't got to the spring cleanup of all the state parks yet this Spring.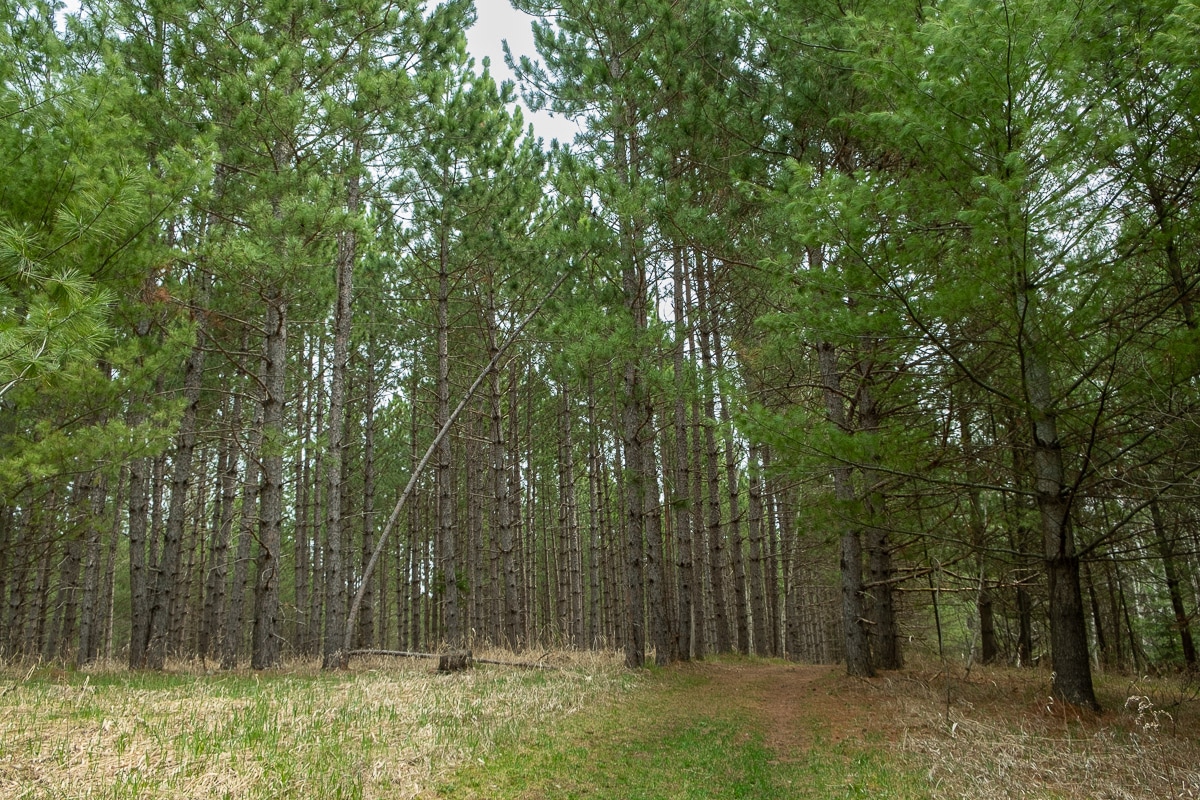 As the name of the Rolling Hills path suggests, the first part of the hike was over, well, rolling hills. Very slight hills, I might add, as my Strava app told me the entire hike only involved a total of about 160 feet in climbs.
The entire walk is in shade, which would be perfect for hot summer days. On this overcast spring day in early May, we didn't have the sun and heat to contend with, but you can see that the Moose Lake hiking trail would be ideal for those summer treks as well.
Speaking of summer, the mosquitos weren't out yet, but we were reminded that you need to be vigilant even in early spring. When we got back to the car, my brother found a tick crawling on his arm. I guess we should have used our insect repellent even at this time of year.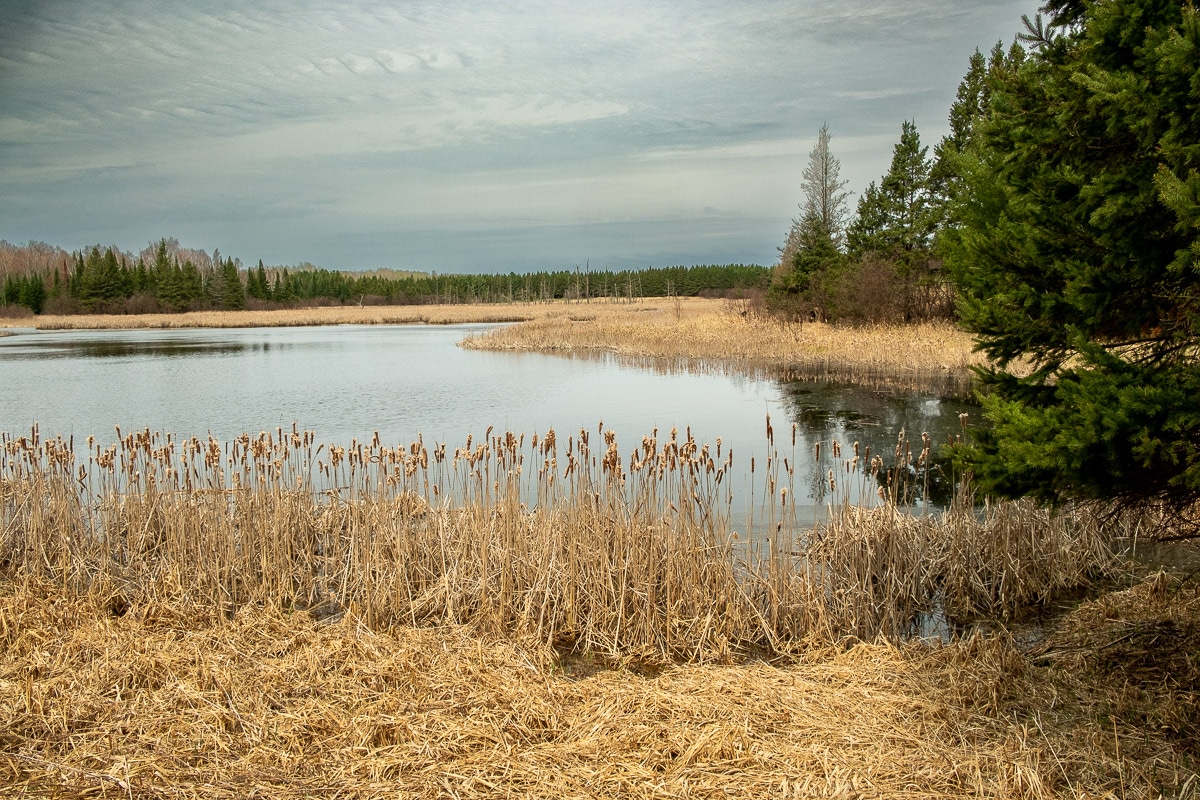 The town of Moose Lake is also the home of Craig Blacklock, Minnesota's premier landscape photographer, so that's another reason to stop in Moose Lake. Stop in when you're in the area and have a look at his stunning work. If you don't buy one of his prints, be happy to get one of Craig's signed books available at the gallery.
More info from MNTrips
See the list of all Minnesota State Parks, including basic permit information. We also have a list of all Minnesota Historical Society sites. We're adding our commentary for the park and historical sites as we visit them.
When you plan on hiking or biking the Minnesota State Parks, be sure to download the Avenza Maps app to your phone. The app allows you to download the trail maps for almost every state park, and they are invaluable for navigation, especially because many of the parks don't have as many directional signs as they should.
Also, if you're planning on camping at Minnesota State Parks, you'll need a reservation. Here's the online reservation form.
Check out our recommendations for what to carry in your hiking day pack when you check out the extensive Minnesota State Park and National Park system.
Some of the links on this page may be affiliate links, which means we may receive a small commission if purchases are made through those links. This adds no cost to our readers and helps us keep our site up and running. Our reputation is our most important asset, which is why we only provide completely honest and unbiased recommendations.